Human rights groups staged rallies in more than 100 cities worldwide on July 26 to voice support for Iranians following Tehran's brutal crackdown on postelection protests.
From New York and
San Francisco
to Seoul, Madrid, and Sydney, thousands of people took to the streets in a coordinated show of support for Iranians.
The demonstrators were demanding that Iran's government end its clampdown on the opposition and free scores of activists detained during peaceful postelection protests.
They were also calling on the United Nations to investigate rights abuses against detainees.
The group behind the "Global Day of Action" was United For Iran, a loose alliance of nonpartisan rights organizations and individuals.
United For Iran is backed by some of the world's leading rights organizations as well as prominent figures such as Iranian Nobel Peace Prize Laureate Shirin Ebadi, who appeared with other critics of Tehran's policies at a rally in Amsterdam.
Among other calls for justice and freedom amid "growing" violence in Iran, Ebadi urged UN Secretary-General Ban Ki-moon to investigate recent events there and to prevent her country from becoming "another Zimbabwe."
In a video posted on the group's website, another Nobel Peace Prize laureate, South Africa's Archbishop Desmond Tutu, urged people around the world to join the event.
"Join me in a worldwide rally on July 25 to support and echo the voices of millions of Iranians who are demanding their civil and human civil rights," Tutu said. "The people of Iran need you."
Hundreds of protesters, journalists, academics, and lawyers have been arrested since Iran's disputed June 12 presidential vote, which critics say was rigged in favor of incumbent Mahmud Ahmadinejad.
Iranian Supreme Leader Ayatollah Ali Khamenei and the powerful Guardians Council have insisted the results are final.
Khamenei has bluntly warned dissenters from making their grievances public and cautioned foreign governments from interfering in Iranian affairs.
At least 20 people have been reported killed in the unrest.
The Global Day of Action was part of a larger campaign to express solidarity with political prisoners and protesters.
On July 22, more than two dozen people went on a three-day hunger strike in front of United Nations headquarters in New York.
The rallies come amid reports that the son of Abdolhossein Ruholamini, an adviser to Iran's defeated conservative presidential candidate Mohsen Rezai, died in a Tehran prison after being detained in postelection unrest.
Iran's opposition leaders have appealed to top clerics to help secure the release of detainees. In a joint statement, they said they were "very worried about [detainees'] physical and mental health."
In a Youtube video that purports to show the road outside Tehran's Evin prison on July 25, a small group of people hold signs and chant "God is great!" toward the prison gates.
In New York City's Times Square, approximately 350-400 people had gathered by midday to express their support for Iranians. Waving flags and wearing bandanas of green, which is revered in the Muslim world and was adopted by the Iranian opposition around the June election, participants chanted "Free Iran!" and "Long Live Democracy!"
Speaking at the New York rally, Tala Dowlatshahi, the U.S. representative for Reporters Without Borders, the Paris-based media watchdog, called on the Iranian authorities to release jailed journalists.
"If the election results were indeed free and fair, then why all the censorhip?" Dowlatshahi said. "As an Iranian-American and representative of Reporters Without Borders, I call on the Iranian government to immediately release all bloggers and journalists being held illegally in Iran's Evin Prison with no due legal process."
Hamid Dabashi, a professor of Iranian Studies at New York's Columbia University, evoked in his speech the U.S. struggles for civil rights in the 1950-60s and compared those events to the current situation in Iran.
"We have gathered here to bring you the good tide of a magnificent civil rights uprising half way around the globe in Iran where our brothers and sisters [cheers], young and old, rich and poor, men and women, at home or abroad, have began a march toward justice and liberty," Dabashi said.
More people joined in the New York' rally as it proceeded under police escort from Times Square toward the Iranian Mission at the United Nations and then toward the UN headquarters on Manhattan's East Side.
compiled from agency and RFE/RL reports; RFE/RL's Nikola Krastev contributed to this report from New York

Iran Election Diary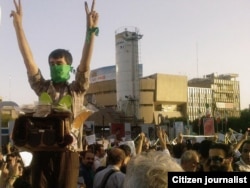 Disputed Presidential Vote
There have been protests and clashes with police on the streets of Tehran following the disputed reelection of Mahmud Ahmadinejad. RFE/RL collects videos, photos, and messages on social-networking sites coming out of Iran to attempt to get a picture of what is happening inside the country.
Click here
The Battle For Iran's Future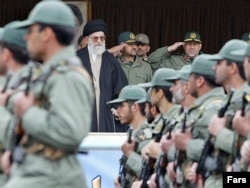 The Battle For Iran's Future
With much more than a disputed presidency at stake for Iranians, RFE/RL's Charles Recknagel and Mazyar Mokfi explore the power plays that could reshape Iran's political establishment.
Click here
for news, blogs, and analysis of the presidential election and aftermath.