MOSCOW -- Well over 500 protesters gathered outside Moscow's Mayakovskaya subway station on May 31, many chanting slogans calling for the rule of law and a shakeup of Russia's "power vertical," the informal system of state control that emerged under Vladimir Putin.
Aleksandr Artemyev, a journalist and activist for the opposition Solidarity movement, was one of them. Today, he is hospitalized with injuries sustained when police tried to take him into custody.
"My arm is broken in three places," he said in a phone interview with RFE/RL's Russian Service. "I'm going to spend at least 10 days at the hospital and will have to wear a cast for three months."
Artemyev was one of more than 100 protesters who were forcibly detained in Moscow. Many were beaten by police officers and shoved into waiting police buses shortly after the rally began. More than 50 were taken into custody at a parallel protest in St. Petersburg led by the banned National Bolshevik Party. Still others were detained at a protest in the southern city of Kemerovo.
Reports said that the protesters were eventually released but Sergei Kanayev, the leader of the Russian Car Owners' Federation and a participant in the Moscow protest, told RFE/RL's Russian Service that one of his group's members is still being held without charge.
The May 31
demonstrations
were the latest in a series of rallies across Russia organized by human rights activists and members of the political opposition under the so-called "Strategy 31," which calls for demonstrations on the final day of any month with 31 days. The idea is to recognize Article 31 of Russia's constitution, which guarantees freedom of assembly.
Veterans Not Persuaded

While opposition rallies in Russia are routinely banned by city authorities and often broken up by brutal police action, there was hope that this week's demonstrations would be allowed to proceed peacefully. That optimism came unexpectedly when Russian Prime Minister Vladimir Putin voiced rare support for public protests at a televised charity event on May 29.
In response to
pointed questioning
by Yury Shevchuk, a well-known Russian musician and Kremlin critic, Putin said protests "don't hinder but, on the contrary, help" the government. "If I see that people are pointing to crucial issues that the authorities should pay attention to, what can be wrong with that?" Putin said. "One should say, 'thank you.'"
But veteran opposition figures didn't put much stock in Putin's words.
"I think [protesters will be treated] as usual," opposition politician Eduard Limonov said before the police crackdown. "Putin has a very ornate way of expressing himself and he often lies."
The head of Moscow's Helsinki Group, Lyudmila Alekseyeva, also sounded pessimistic. "As usual, he said something for both sides of the fence," she said. "We heard him say that we could [hold a protest], the authorities heard him say that they could break it up."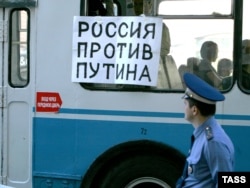 A poster attached to a trolley car in Moscow on May 31 reads "Russia Against Putin."
Ilya Yashin, a leading member of the Solidarity movement, said Putin's statements actually ensured that this crackdown would be harsher than usual. "Many people have already noticed that if Putin promises something, you can expect a completely opposite reaction," he said. "When Putin said people should be allowed to protest, we thought immediately that this time they would be dispersed with special cruelty."
More Demonstrations Planned
Russian human rights ombudsman Vladimir Lukin, one of the founders of the opposition Yabloko party, said the authorities' actions in Moscow were "savage and inappropriate" and called for an investigation.
"People were caught and dragged across the asphalt," Lukin said. "There were people with disabilities and war veterans.... The response was very brutal."
A spokeswoman for the Moscow police department told Russian news agency RIA Novosti that the Moscow rally had not been sanctioned by the authorities because the nearby Triumfalnaya Square was already being used for a rally by pro-Kremlin youth groups.
But Lukin said the authorities didn't have the authority to "permit" rallies and that only prior written notification is required to hold one.
The May 31 protests occurred on the opening day of the EU-Russia summit, which is being held in the southwestern Russian city of Rostov-na-Donu.
While economic cooperation is expected to top the agenda, rights groups have urged European leaders to prioritize Russia's troubling human rights record during discussions.
Russian opposition leaders say they plan to hold their next round of demonstrations on July 31.
written by Richard Solash in Washington with reporting by RFE/RL Russian Service's Kristina Gorelik in Moscow, and additional reporting by Russian Service's Anastasia Kirilenko