Fighting between Russian and Georgian forces is reported continuing undiminished in and around the breakaway Georgian region of South Ossetia.
Georgia's Foreign Ministry said more than 50 Russian military aircraft were carrying out fresh bombing raids over Georgia. It said the capital, Tbilisi, was bombed, as well as the village of Kojori and the Makhata mountain.
"Several dozen Russian bombers are in the Georgian skies and have been attacking throughout the country over the past several hours," the ministry said in a statement. "Overnight, as many as 50 Russian bombers were reported operating simultaneously over Georgia."
Russia's Interfax news agency reported that Georgian forces shelled the South Ossetian capital, Tskhinvali, early on August 11, killing three Russian peacekeepers and wounding 18 others.
There is no direct independent confirmation of either assertion. The Georgians have said their troops have withdrawn from South Ossetia. Russia says they are still there.
Interfax quotes Russian President Dmitry Medvedev as saying the Russian military operation in South Ossetia is nearing its conclusion. Medvedev says a "significant part" of the operation against Georgian forces in the breakaway Georgian region is now over.
He said Tskhinvali is under the control of an enlarged Russian peacekeeping contingent. Georgian troops were forced out of the city in days of heavy fighting.

Bush Condemns Russia
U.S. President George W. Bush, in an interview on U.S. television, has condemned Russia for what he called its "disproportionate" and "unacceptable" response. He called for international mediation to settle the dispute and urged the troops of all sides to return to where they were before hostilities broke out on August 6.
U.S. Vice President Dick Cheney has said that what he called Russia's military "aggression" in Georgia "must not go unanswered." The statement was issued by Cheney's office after the vice president spoke by telephone on August 10 with Georgian President Mikheil Saakashvili.
NATO Secretary-General Jaap de Hoop Scheffer deplored what he called Russia's use of excessive force and lack of respect for Georgia's territorial integrity. Saakashvili -- who wants his country to join the alliance, despite Russia's opposition -- has called on NATO and the United Nations to stop what he called "Russian aggression."
Kremlin Talks
In Moscow, Russia's president, prime minister, defense minister, and top generals have met to discuss the crisis, according to a Kremlin spokesman. He gave no details of the meeting.
Russian news agencies said the meeting took place in the command center of Russia's Armed Forces' General Staff headquarters.
French Foreign Minister Bernard Kouchner held talks in Tbilisi on August 11 with Saakashvili. He said he found Saakashvili "determined to make peace."
"Peace has to return and civilian populations have to be protected, that's the only thing, and from that point of view President Saakashvili accepted pretty much all the proposals we made," Kouchner said, speaking from Tbilisi on French radio.
Kouchner, whose country holds the European Union presidency, said afterward that his main priority is to get a "controlled withdrawal of the troops" from South Ossetia.
He is also due to travel later in the day to Moscow on a mission to mediate in the conflict on behalf of the EU, but those talks may be delayed until the expected arrival of French President Nicolas Sarkozy on August 12.
Sarkozy is due to hold talks on the crisis with his Russian counterpart, Dmitry Medvedev.
Russian Ultimatum
Meanwhile, Russian troops have reportedly issued an ultimatum to Georgian forces near its other breakaway region of Abkhazia to disarm or face attack, but Georgia swiftly rejected the demand.
Interfax quoted the head of the Russian peacekeeping force in Abkhazia, Sergei Chaban, as saying Russian forces were nearly ready for an operation to disarm Georgian troops in the area.
"If the ultimatum is rejected all necessary enforcement measures will be used," Chaban said.
A Georgian Interior Ministry spokesman replied, "We are not going to surrender any arms to the Russians."
Russia, which has more than 9,000 paratroopers and 350 pieces of armor in the breakaway region, said the ultimatum expired at 0600 GMT on August 11.
Georgia's Interior Ministry has denied that Georgian soldiers are cornered by separatist rebels in a part of the breakaway region. Ministry spokesman Shota Utiashvili said in Tbilisi that there had been several attacks on the Georgian-held Kodori Gorge area, but all of them had been repelled.
UN observers in Abkhazia earlier confirmed that Kodori had come under aerial bombardment, and that the separatists were moving troops and heavy weapons toward Kodori.
The West, already alarmed by the speed at which the conflict between Russia and Georgia over South Ossetia has escalated, is worried fighting could spread to Abkhazia.
compiled from agency reports
Crisis In Georgia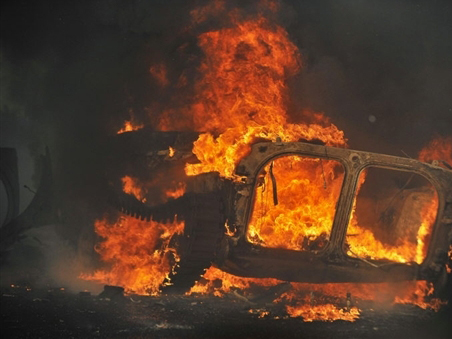 For RFE/RL's full coverage of the conflict that began in Georgia's breakway region of South Ossetia,
click here
.