Romania's President Traian Basescu has won reelection by a very narrow margin -- less than 1 percentage point -- in a fiercely contested second round against leftist opponent Mircea Geoana.
The Central Election Bureau said today that final results from the December 6 poll show that center-right Basescu had 50.3 percent of ballots cast, while Geoana, a Social Democrat and former foreign minister, had 49.6 percent.
Geoana has not conceded defeat, however. The Social Democrats said a large number of annulled ballots and evidence of multiple voting may force them to contest the results.
If confirmed, Basescu will be tasked with naming a new government that can restart talks over a stalled 1.5-billion-euro rescue loan deal from the International Monetary Fund.
Ironically, the final result of the race -- the hardest-fought in postcommunist Romania -- was influenced decisively by the Romanian diaspora and by Moldovans holding Romanian passports, who voted overwhelmingly for Basescu.
Both Basescu and Geoana claimed victory the moment the polls closed, even as most exit polls indicated Geoana had won by 2 or 3 percentage points.
In scenes of parallel reality, puzzled viewers watched on split TV screens as both candidates, surrounded by supporters, claimed victory.
An ebullient Geoana, surrounded by family and supporters, was shown jumping repeatedly with happiness, before thanking Romanians for what seemed like a victory.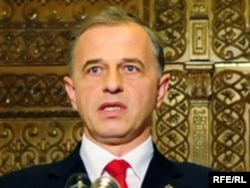 Mircea Geoana
"It is a wonderful night for democracy in Romania; it is a victory we worked for," he said. "It was also a very emotional time; it is difficult to explain. I want to thank you all, the millions of Romanians who came to vote."
But Basescu, in a scene reminiscent of the previous presidential runoff in December 2004, ignored the exit polls and claimed victory.
"Victory in this election is thanks to the Romanian people," Basescu said. "Five million Romanians showed they had a clear choice, in favor of modernizing Romania."

'We Must Contest'
As in the 2004 runoff, the Social Democratic candidate's claim of victory soon appeared to be premature. As time passed, updated exit polls and parallel vote tallies showed Geoana's projected lead narrowing by the hour. Overall turnout was 56 percent – some 3 percent larger than in the first round.
A senior Social Democratic official, Liviu Dragnea, said the party is considering contesting the results, alleging massive fraud had taken place.
"Based on the exit-poll results, based on the large number of void ballots when compared with the [actual] difference between the two candidates as shown by the Central Election Bureau, based on records which were modified by regional electoral bureaus without verifying the number of valid ballots, based on massive electoral tourism [people who voted in stations other than their local ones], as well as based on other things which we have noticed, we must contest this election," Dragnea said.
But it was unclear whether an official complaint would be lodged.
A report by the OSCE's monitoring mission said the vote was "generally" in line with the organization's standards. The report called on authorities to investigate reports of irregularities, most of which were tied to claims of media bias, "without delay."
Basescu's hard-fought victory ends a turbulent two-month period in Romanian politics that brought the country to a virtual standstill. A coalition of center-left and center-right parties in parliament brought down center-right Prime Minister Emil Boc in October, leaving Romania without a functioning government.
A top priority for the president, therefore, will be to quickly appoint a new prime minister after consultations with parties. Basescu last week said, should he win, he would opt for a center-right coalition government comprising his former party, the Liberal Democrats (PDL), and the National Liberals (PNL).
Basescu's statement came in spite of the fact that PNL leader Crin Antonescu, who came third in the first round of the presidential vote on November 22, enthusiastically supported Geoana's candidacy in the runoff. Basescu lead the first-round vote with more than 32 percent of the vote, but was forced into a runoff because he failed to garner more than 50 percent.
The top priority of a new government will be to unlock a $2 billion International Monetary Fund bailout loan which was put on ice amid the government crisis.
Ironically, it was Romanian citizens living outside its borders who appear to have given Basescu the decisive edge in his last-gasp triumph.
According to complete results, Basescu won by a mere 78,000 votes. The final count from the Romanian diaspora showed that some 115,000 Romanians living abroad voted for Basescu -- four times more than those who chose Geoana. Romanians living and working outside the country have been instrumental in sustaining the Romanian economy via remittances.
That number also included some 12,000 Moldovans who hold Romanian passports -- 94 percent of the votes cast by Moldovans. Some of their support may be explained by the fact that, during the only direct TV debate between Basescu and Geoana last week, Dorin Chirtoaca, the pro-Western mayor of the Moldovan capital, Chisinau, was featured prominently among the president's supporters.
"I especially want to thank Romanians beyond our borders," Basescu said today in Bucharest. "I am thinking of Romanians from Spain, from Italy; Romanians from France, Germany, Great Britain, and Ireland, but also Romanians from the Republic of Moldova. Last but not least, I am grateful for the effort put in by Romanians from North America."


Modernize And Reform
Basescu, a formidable and charismatic candidate, ran a campaign centered around his efforts to modernize and reform Romania, and, in the first round, scored a considerable victory by pushing through a referendum to change the constitution to scrap the bicameral parliament and reduce the number of members of parliament from 471 to 300.
But Basescu's main target during the campaign was a group of what he sees as corrupt oligarchs and media moguls who control large swathes of Romania's economy and who, he alleges, maintain ties to Geoana and his party.
The incumbent president's 11th-hour victory came as a particular surprise because he had serious trouble getting his message across to voters, amid a hostile media campaign led by several private television stations -- -- a factor acknowledged in the OSCE report. The only exceptions were a couple of niche televisions channels which had limited reach within Romania but, importantly, were available via satellite to Romanians living abroad.
Public television, in turn, chose largely to ignore Basescu's campaign, while giving extensive coverage to Geoana's camp.
Basescu's victory is likely to have a large impact on Romania's neighbors, mainly Moldova. Basescu came out strongly against Moldova's Communist rulers after this spring's postelection violence in Chisinau. His reelection is likely to be regarded as a much-needed boost for Moldova's pro-Western liberal coalition, which today failed again in choosing a head of state due to a Communist boycott in parliament.
In Ukraine, where President Viktor Yushchenko came to power in 2004 at almost precisely the same time as Basescu -- and under the same orange colors as Basescu's party -- the outcome in Romania might likewise give a boost to pro-Western forces in the run-up to the January election.
Basescu's expanded stay at the Cotroceni Palace is also likely to convince Moscow that the Romanian president is a leader worth talking to, after years of cold relations.
Relations with Russia have always been a sore spot for Romanians, and it seems that the most serious tactical mistake Geoana may have made before the campaign was to go to Moscow on as many as three secret visits.