NATO Secretary-General Jaap de Hoop Scheffer says NATO and Russia have agreed to resume military cooperation.
The announcement came as NATO foreign ministers and Russian Foreign Minister Sergei Lavrov met for talks on June 27 on the Greek island of Corfu.
De Hoop Scheffer said despite the renewal of ties, "fundamental differences" of opinion remain between the alliance and Moscow over Georgia.
Lavrov said Russia's recognition of Georgia's two breakaway regions of Abkhazia and South Ossetia after the war is "irreversible."
The talks are at the highest level since relations plummeted to a post-Cold War low over last year's war in Georgia.
They are being held on the sidelines of a meeting of the Organization of Security and Cooperation in Europe (OSCE), Europe's biggest security and human rights group.


Troubled Ties
Moscow froze relations with NATO in August 2008, after the alliance expressed dismay about a five-day war between Russia and Georgia over the breakaway region of South Ossetia.
Ties began improving after U.S. President Barack Obama took office in January, as NATO ambassadors met with Russia's envoy to the NATO-Russia Council, a panel set up in 2002 to improve cooperation between the former Cold War foes.
But formal military relations remained suspended. Russia cooperated with individual NATO nations such as the United States, France, and Germany by allowing them to use its rail network to resupply international forces in Afghanistan. Russia's Navy also has worked with the warships of a number of NATO members during their joint anti-piracy patrols off the Somali coast.
U.S. Secretary of State Hillary Clinton, who is recovering from a broken elbow, will not attend the Corfu meeting. Deputy Secretary of State Jim Steinberg will replace her.
The talks come two weeks ahead of Obama's visit to Moscow, during which the two sides are expected to reach an agreement to fully and formally restart military cooperation.
'New Security Architecture'
The NATO-Russia meeting will precede a meeting of foreign ministers from the Vienna-based OSCE.
Greek Foreign Minister Dora Bakoyannis, whose country currently holds the organization's chairmanship, said this week she anticipated a positive atmosphere for both the OSCE and NATO-Russia talks. She said Lavrov would expand on Russia's proposal to create "new security architecture" in Europe.
Reports say foreign ministers of the 56-nation OSCE will also try to reach a last-minute deal on extending the mandate of the OSCE office in Georgia. That mandate expires on June 30.
The Kremlin has blocked its renewal to press demands for a separate mission in South Ossetia, which Moscow recognizes as independent.
The Greek Foreign Ministry said the OSCE talks, which start on the night of June 27 with a dinner, will be followed on June 28 by a meeting between European Union ministers to discuss Iran.
with agency reports
NATO: 60 Years In Eight Minutes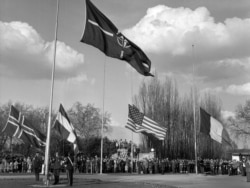 60 Years In Eight Minutes
In Washington in 1949, the North Atlantic Treaty Organization was born. RFE/RL looks at the dramatic and difficult moments in NATO history with rarely seen archive films and exclusive interviews. Play

NATO At 60 series:
Rolling With The Changes
End Of Expansion?
The Article Of Faith
Getting The Balance Right