Georgian officials and witnesses reported that Russian armored vehicles advanced deep into Georgia.
The assault on Gori -- which was targeted along with the Georgian towns of Senaki, Zugdidi, and Kurga -- could allow Russian forces to divide eastern Georgia from its Black Sea coast. Georgian President Mikheil Saakhashvilli said Russian troops had all but cut his country in half.
He told a national security meeting that Russian forces "came to the central route and cut off connections between western and eastern Georgia."
Interfax news agency quoted a Russian Defense Ministry official as denying reports that Gori was captured.
In a press conference at the White House on August 11, U.S. President George W. Bush said that "Russia's government must respect Georgia's territorial integrity and sovereignty. The Russian government must reverse the course it appears to be on and accept this peace agreement as a first step toward resolving this conflict."
The United States and its allies are pressing Russia to accept an immediate cease-fire with Georgia and agree to international mediation over the crisis in Georgia's separatist areas.
Russian warplanes continued to pound Georgian targets on August 11, hitting targets near the capital, Tbilisi, and the Black Sea port of Poti. Saakashvili said 90 percent of his country's casualties in the conflict are civilians.
The European Commission has called on Russia to "halt military activity on Georgian territory," while foreign ministers from the G7 reportedly called on Russia to accept an immediate cease-fire to end the fighting in Georgia's breakaway regions of Abkhazia and South Ossetia. The Council of Europe has asked aid organizations be given full access to the conflict areas.
Finnish Foreign Minister Alexander Stubb, whose country currently chairs the OSCE, told RFE/RL's Russian Service from Tbilisi that the organization helping to mediate the conflict, and that the top priority is to work out a cease-fire.
"What we have proposed now and it has been signed by [Georgian] President Saakashvili is a non-paper [a proposed agreement], which calls for a cease-fire, humanitarian aid, and a withdrawal of troops back to the positions that there were in before the conflict started," Stubb said.
Stubb added that "I'm not in the blame game. I'm in the business of trying to find a peaceful solution to a very difficult situation." He said all the parties involved "need to be cool, calm, and collected on this one. And I'm sure that at the end of the day we'll find a solution."
Video: Chronology Of The Conflict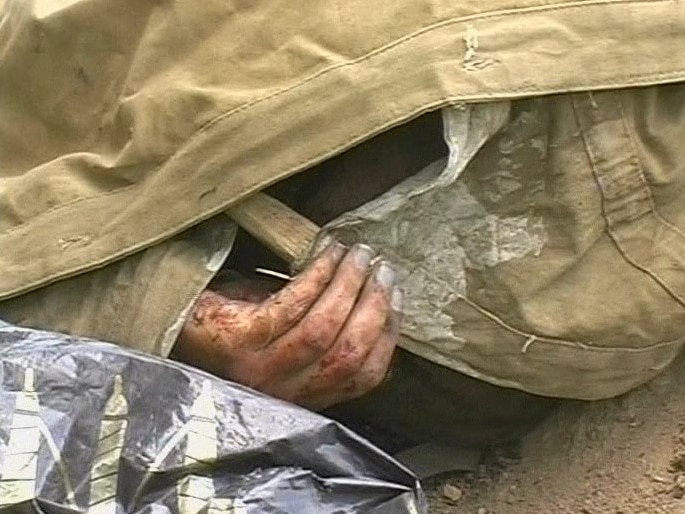 Click for video of the clashes in Georgia's breakaway regions, and the latest effort to end the conflict.
Russian President Dmitry Medvedev, who earlier on August 11 expressed Moscow's openness to having an OSCE mission sent to South Ossetia, said at a meeting with leaders of Duma parliamentary factions that Russia was prompted to act in the region to keep the peace.
"Russia is historically a guarantor of security for the peoples of the Caucasus. It is our mission and our duty," he said. "We have never been and never will be a passive observer in that region."
Georgia moved into South Ossetia on August 7 in a large-scale operation to regain control of the Moscow-backed separatist region, following days of clashes in which both sides exchanged gun and mortar fire. Each side accuses the other of initiating the hostilities.
The offensive sparked a furious reaction from Russia, which sent troops, military aircraft, and tanks to repel Georgian forces. It was the Russian military's first large-scale operation outside its borders since the 1991 Soviet breakup.

Fighting Spreading To Abkhazia?
The Russian president said on August 11 that the military operation against Georgian forces in South Ossetia was nearing its end following several days of fierce fighting, and that the capital Tskhinvali was under Russian control.
But the focus has now shifted to another pro-Moscow, breakaway province of Georgia.
The Abkhaz separatist government on August 10 announced the mobilization of its military forces and said it was sending 1,000 troops to the Kodori Gorge, the only party of Abkhazia that is still controlled by Georgia.
Russia confirmed on August 11 that its troops have advanced from Abkhazia into western Georgia. The Defense Ministry said the operation in Senaki, a strategically important city on the direct rail link from Tbilisi to the Black Sea port of Poti, was necessary to prevent Georgian forces carrying out new attacks on South Ossetia.
Attack On Gori
Earlier, the Georgian Interior Ministry claimed that the city of Gori, located close to the border with South Ossetia, was under a "massive attack."
Russian Colonel General Anatoly Nogovitsyn, deputy chief of the General Staff of the Russian Armed Forces, said that Russia would abide by the terms of the peacekeeping agreement for South Ossetia worked out between Georgia and Russia in 1992.
"We are not moving beyond the boundaries," Nogovitsyn said. "This is a matter of principle. The 1992 agreement, which was signed by the Georgian side too, clearly defines the boundaries of responsibility of the Russian contingent, and the peacekeepers do not have the task of invading Georgian territory."
French Foreign Minister Bernard Kouchner spoke with journalists earlier in the day after surveying the damage in Gori, a city near the border with South Ossetia that has been pounded by Russian air strikes in recent days.
"Unfortunately, [the fighting] has hurt civilians like all the conflicts of the world. This is a misfortune. This is impossible to support," Kouchner said. "That is why we [don't just have to] denounce only, but we have to work to stop the fight, and that is the purpose of our common visit with [Finish Foreign Minister] Alexander Stubb."
RFE/RL correspondent Koba Liklikadze reported from Gori that Kouchner's visit to a military hospital in the city was cut short for security reasons.
"The reason stemmed from an incident that took place today when the Georgian president and Kouchner were visiting the site destroyed by the bombing, at that moment an alarm sounded and bombers appeared again."
Liklikadze said that guards at the hospital, where Kouchner was visiting with civilians and troops injured as a result of the conflict, told Kouchner that he had to leave immediately because of the threat that it could be targeted as a military site.

Trading Accusations
Both Tbilisi and Georgia have declared that their actions in the conflict were in keeping with international law.
"With regard to the Georgian leadership, which has unleashed aggression, I have said that we are using a tact of enforcing peace in accordance with the UN Charter," Russian President Medvedev told Duma faction leaders. "We believe this is an absolutely effective and the only possible tactic."
In an interview with RFE/RL's Georgian Service, Georgian presidential press secretary Marika Verulashvili said, "we are just observing international law, and listening to all sides."
"From our side, hostilities were ceased a long time ago. We don't want any more bloodshed, and we are calling for peaceful negotiations. After all, it all happened on our territory," Verulashvili said.
"Many people are arriving, and representatives of Europe and the U.S. unequivocally assert that they all respect Georgia's territorial integrity. But it is very difficult to predict what steps Russia will undertake. Who would have imagined that they would bomb four large civilian apartment blocks in Gori? This is psychological warfare already, declared against the civilian population. People are very scared."
Speaking at a news conference in Brussels, Georgia's ambassador to Belgium, Luxembourg, and the EU, Salome Samadashvili, accused Russia of trying to "prevent the expansion not [only] of NATO, but of democracy."
"We hope that the international community will move to some sort of action to protect our statehood because, if there was any doubt up until now, I hope that no one has any doubts anymore that we are facing a full-blown operation directed at abolishing the sovereignty of our country," Samadashvili said.
"And this is something that we have lived through in the 1920s and we hope that the world will not let this happen again."
East Vs. West
Samadashvili also called on the West to "show that there will be a political cost for this action in terms of the relationship of the Russian Federation with its Western partners."
But the West also heard from Russian Prime Minister Vladimir Putin, who at a cabinet meeting in Moscow expressed his surprise at the "scale of cynicism and the ability to cast white as black and black as white."
The former president had especially harsh words for the United States. "It's a pity that some of our partners are not helping us, but instead are essentially trying to get in the way," he said. "I mean, among other things, the United States airlifting Georgia's military contingent from Iraq effectively into the conflict zone."
The comments came after the U.S. military started transporting some 2,000 Georgian troops stationed in Iraq back to Georgia after they were recalled.
Putin also compared Russia's actions to the U.S. invasion of Iraq. "Saddam Hussein, as you know, had to be hanged, of course, for destroying several Shi'ite villages. And the current Georgian rulers, who simply razed 10 Ossetian villages to the ground, who ran elderly people and children over with tanks, who burned civilians alive in their sheds, those leaders are, of course, being taken under protection."
He said the West should not "blame the victims for the consequences."
In an interview with the U.S. television network NBC, U.S. President Bush harshly criticized Russia and called for a return to the state of affairs before armed conflict broke out.
"I said this violence is unacceptable. I not only said it to Vladimir Putin, I said it to the president of the country, Dmitry Medvedev," Bush said.
U.S. Vice President Dick Cheney has said that what he called Russia's military "aggression" in Georgia "must not go unanswered." The statement was issued by Cheney's office after the vice president spoke by telephone on August 10 with Saakashvili.
NATO Secretary-General Jaap de Hoop Scheffer deplored what he called Russia's use of excessive force and lack of respect for Georgia's territorial integrity.
Foreign ministers from the powerful Group of Seven (G7) nations urged Russia to agree to an immediate cease-fire with Georgia and respect its territorial integrity.
A U.S. State Department spokesman said the ministers discussed the situation in Georgia and the breakaway region of South Ossetia in a conference call on August 11 and expressed support for mediation efforts led by France.
The G7 consists of Italy, France, Germany, Japan, Britain, the United States, and Canada.