MOSCOW -- Russia wants an international police presence in "security zones" along the line separating Georgia from its breakaway regions of South Ossetia and Abkhazia, the Russian Foreign Ministry has said.
Spokesman Andrei Nesterenko told a news briefing that such a presence, arranged by the Organization for Security and Cooperation in Europe (OSCE), was a confidence-building measure needed for Russia to withdraw its forces from the disputed zones.
"It would be reasonable to provide an international police presence in the security zone," Nesterenko said. "Such a presence could be carried out on the basis of an OSCE mandate and include EU resources, given the interest shown by EU members," he said.
"We will be ready to consider the participation of Russian representatives in the international police presence," he added.
In a five-day war last month, Russia crushed Georgian troops sent to retake South Ossetia by force and seized buffer zones on Georgian territory along the border of the region and another breakaway province, Abkhazia.
Russia, which faces international isolation over its conduct in Georgia, has recognized the two provinces as independent.
Under a six-point plan brokered by French President Nicolas Sarkozy, Russia withdrew many of its troops but said it would maintain a presence in the buffer zones to ensure the pro-Moscow regions are not attacked again.
It has said it would pull out from buffer zones once international security mechanisms are in place there. Moscow has previously said it would favor the presence of international monitors in the buffer zones, namely from EU countries and the OSCE.
A consent to the presence of international police, announced as EU leaders gathered in Brussels to try to work out a common stand on how to handle relations with Russia, appeared to be designed to ease its confrontation with the West over Georgia.
Nesterenko said that Russia needed to agree with international institutions on a security regime in the buffer zones and how to demilitarize them.
"Russia has no intention of maintaining its forces beyond the borders of South Ossetia and Abkhazia," Nesterenko said. "But we will insist on ensuring...reliable international control of the adjoining Georgian territories."
He said Russia would be ready to revisit the situation in the buffer zones "after international mechanisms, including additional military monitors, a police component and possible other elements of international participation...are in place and start functioning in full."
A comprehensive agreement on the security zones should be drafted as legally binding document, and Georgia should pledge in writing not to use force against South Ossetia and Abkhazia, he added.
Crisis In Georgia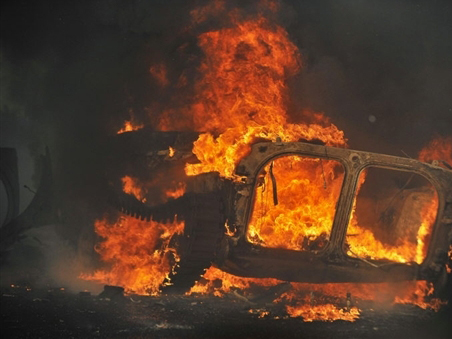 For RFE/RL's full coverage of the conflict that began in Georgia's breakway region of South Ossetia,
click here
.