SVETLOGORYE, Russia -- Workers at the Russky Volfram plant in Russia's Far East received their unpaid salaries from the last seven months after they officially asked Russian Prime Minister Vladimir Putin for help, RFE/RL's Russian Service reports.
A resolution adopted by the plant's trade unions on June 10 urged Putin to put the facility under state control.
A local bank then provided the plant's administration with cash that was guaranteed by the local government.
In an address to his representatives in the federal regions the same day, President Dmitry Medvedev said he will fire the governors who fail to control unemployment and let wages go unpaid on their territories.
Medvedev's representative in the Far East region, Viktor Ishaev, said that the payment of the back wages to the workers at Russky Volfram would help soothe social tensions but would not guarantee a resumption of the facility's operations.
The plant -- which produces wolfram, a metallic element used in electrical products -- laid off many employees and reduced operations last year.
Workers were warned about the facility being completely closed on June 12.
World Economic Crisis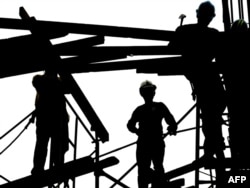 Multimedia coverage on the impact of the global financial crisis on markets and individuals across RFE/RL's broadcast region. More