TBILISI -- Georgian President Mikheil Saakashvili won the right to a five-year term in early presidential elections in January 2008. But Russian President Dmitry Medvedev's recent likening of Saakashvili to a "political corpse" has fueled speculation the Georgian leader, embattled by the brief war with Russia in August over South Ossetia, may serve only a fraction of that time.
Such statements, coming from Moscow, only strengthen the conviction among Georgia's pro-Western population -- even those critical of Saakashvili's conduct before and during the war -- that replacing the president at this critical juncture would mean subjecting the South Caucasus country to Russian will for years to come.
If change is needed, they say, early parliamentary elections would be the most painless step toward addressing the current predicament. Still, several names have already been suggested as potential substitutes to Saakashvili should he be forced to step down before his natural term ends in January 2013.

Nino Burjanadze

Among the camp of pro-Westerners, former parliamentary speaker Nino Burjanadze has emerged as the likeliest choice to serve as Georgia's next head of state.

Saakashvili's onetime Rose Revolution ally, Burjanadze, 44, has twice served as acting president. Ahead of this year's May parliamentary elections, however, she broke ranks with Saakashvili's National Movement, refusing to head the party list.
The decision prompted speculation at the time that Burjanadze was planning an eventual presidential run. That buzz has only intensified as Saakashvili's fortunes have waned in the wake of the war with Russia. Burjanadze, despite her Western-leaning stance, is also seen as a pragmatist who can do business with Russia while avoiding the antagonism with the Kremlin that has marked Saakashvili's rule.

Irakli Alasania

Georgia's 34-year-old ambassador to the United Nations, Irakli Alasania, is also widely discussed as a potential future leader.

Before moving to the UN, Alasania's political career was largely related to the resolution of the Abkhazia and South Ossetia conflicts, and he is one of the few Georgian officials to enjoy the trust of de facto authorities in Sukhumi and Tskhinvali. (His father, Mamia Alasania, was killed in fighting with separatist forces in Abkhazia in 1993.)

A born diplomat, he is said to excel at coaxing political opponents into dialogue. Well-known and respected within U.S. political circles, Alasania is seen by many Georgians as a calm, seasoned alternative to the charismatic, high-intensity officials currently in charge.

Given the frequent clashes with Russia in the UN Security Council, however, it's not clear how palatable an Alasania presidency would be to the Kremlin.
Levan Vasadze

A more Moscow-friendly potential candidate includes Levan Vasadze, a 37-year-old Georgian businessman based in Russia. Young, prosperous, and sociable, Vasadze is a father of five and a close friend of the head of the Georgian Orthodox Church, Patriarch Ilia II. All those factors could work in his favor, although any perception that his candidacy would be supported by Moscow could ultimately work against him at home.
Bidzina Ivanishvili

Another entrepreneur with close ties to both Russia and Georgia is Bidzina Ivanishvili. The 52-year-old banking and mining tycoon, with a net worth of $6.4 billion, this year ranked 149th in Forbes' annual list of the world's billionaires. Ivanishvili divides his time between Russia and Georgia, but is appreciated at home for his numerous charity projects and support for arts and religion. That said, Ivanishvili is a largely reclusive person -- people are acquainted with his works but know little about the actual man.
Others Will Rise

Additional candidates will no doubt rise from the ranks of the current political parties, whose leaders currently enjoy popularity rankings between 5 and 8 percent. Levan Gachechiladze, who in January stood as the main opposition option to Saakashvili with a promise to abolish the presidency if he won, is expected to refrain from another run.
Much depends, as well, on efforts to clean up Georgia's voting procedures, which are generally seen by the public as archaic and susceptible to manipulation. If clear steps are taken to clean up voting procedures -- bringing in new machines and ballot-counting devices -- then an even more diverse crop of candidates can be expected to rise from the ranks of civil society.

The ideal outcome, for those who favor the process of democracy over the outcome, would be an even playing ground leading to a transparent first round and a fair and decisive second round.
Crisis In Georgia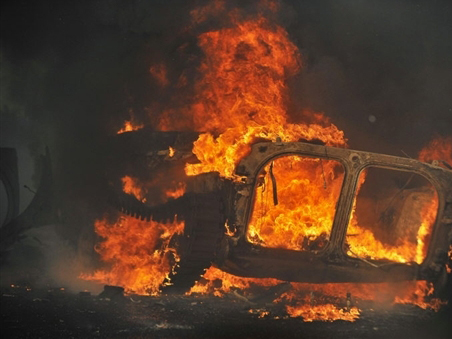 For RFE/RL's full coverage of the conflict that began in Georgia's breakway region of South Ossetia,
click here
.
RFE/RL Caucasus Report

SUBSCRIBE For weekly news and in-depth analysis on Armenia, Azerbaijan, Georgia, and Russia's North Caucasus by e-mail,
subscribe to "RFE/RL Caucasus Report."