BELGRADE -- A Serbian national sentenced in connection with the March 2003 assassination of Prime Minister Zoran Djindjic has been detained in Zagreb, and Belgrade says it will seek his extradition, RFE/RL's Balkan Service reports.
Sretko Kalinic was detained in Zagreb on June 8 after being injured in a shootout, apparently with another fugitive.
Kalinic, a member of the so-called Zemun criminal gang, was sentenced in absentia to 30 years in jail for his involvement in Djindjic's assassination.
Serbia's Interior Minister Ivica Dacic told journalists today that Kalinic had a Croatian passport with a different identity at the time of his arrest.
Kalinic reportedly told police that he was wounded by his former associate Milos Simovic, who was also sentenced to 30 years in jail over the assassination.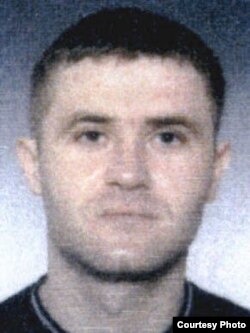 Sretko Kalinic in an undated photograph
"We expect Milos Simovic to be arrested soon, which finally opens the way for the whole Zemun clan to be brought to justice," the head of the Serbian police, Milorad Veljovic, told RFE/RL's Balkan Service. "It is a fact that the good cooperation between Croatian and Serbian police is giving good results. This is also confirmed by the recent signing of an agreement on the establishment of regional centers for the fight against organized crime."
Rajko Danilovic, a lawyer for the Djindjic family, told RFE/RL: "The criminals have shown a long time ago that they respect the principles of brotherhood and unity; there is no difference for them between Croatia and Serbia. They always enjoy the protection of criminal structures on both sides."
Djindjic was shot dead by a sniper in Belgrade on March 12, 2003.
Two former members of a paramilitary unit, Milorad Ulemek and Zvezdan Jovanovic, were sentenced in 2007 to 40 years in jail for conspiring to assassinate Djindjic.
Five other co-conspirators are also in jail.