DUSHANBE -- Tajikistan's Supreme Court has reportedly sentenced two sons of slain Emergency Situations Minister Mirzo Ziyoev to prison terms of up to 30 years, RFE/RL's Tajik Service reports.
The two men faced charges of establishing unlawful armed groups, illegal possession of arms and ammunition, and plotting to overthrow the government and change the constitutional order.
The elder son, Sayed Akhmad Ziyoev, was sentenced to 30 years in prison and the younger son, Muhammad Reza, to 28 years.
Several other relatives and supporters of Ziyoev were also sentenced to jail.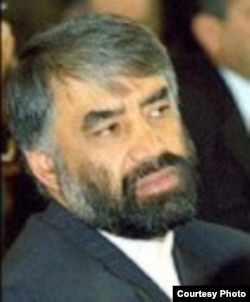 Mirzo Ziyoev in 2006
Residents of Ziyoev's home district of Tavildara told RFE/RL on July 5 about the closed-door trial. The exact day of the court session is unknown, as officials refused requests for information.
Mirzo Ziyoev was the top military commander of the United Tajik Opposition during the country's 1992-97 civil war. He was subsequently named emergency situations minister.
Tajik officials said he was killed in an ambush by his own supporters during an antidrug operation in Tavildara in July 2009. His supporters deny any responsibility for his death.
Some 50 militants were detained during a crackdown in Tavildara that took place between May and December 2009, including 11 who had either Russian or Uzbek citizenship. What has happened to them remains unclear.
After Ziyoev's death the government accused him and his supporters of drug trafficking and supporting the banned Islamic Movement of Uzbekistan.