Georgia's Foreign Ministry has declared the country to be in "a state of war" and approved a state of martial law that saw reservists mobilized and government authorities working around the clock.
The actions came as Russian tanks rolled into the breakaway province of South Ossetia and Russian aircraft bombed a Georgian town, escalating a conflict that already has left hundreds dead.
Russian President Dmitry Medvedev said Moscow sent troops into South Ossetia to force Georgia into a cease-fire and prevent Georgia from retaking control of the province.
Prime Minister Vladimir Putin said Georgia was committing "genocide" and said it had effectively lost the right to rule the breakaway region -- a sign Moscow could be preparing to fulfill the separatists' wish to be absorbed into Russia.
Putin arrived late on August 9 in the Russian city of Vladikavkaz to talk to South Ossetian refugees who have fled the fighting. He said there were at least 34,000 refugees. "The territorial integrity of Georgia has suffered a fatal blow," he said.
The risk of the conflict setting off a wider war also increased when Russian-supported separatists in another breakaway region, Abkhazia, targeted Georgian troops by launching air and artillery strikes to drive them out of a disputed border region.
An Appeal For Help
Georgian President Mikheil Saakashvili appealed to the international community, calling on Georgia's friends and allies around the world to urge Russia to cease hostilities immediately.
"We appeal to our friends and allies to call on Russia to cease hostilities immediately. Georgia is a peace-loving nation, but today we are being attacked north to south, east to west," he said.
Saakashvili also accused Russian forces of "ethnic cleansing."
"Russian troops, Russian tanks that moved into South Ossetia, on their way expelled the whole ethnically Georgian population of South Ossetia," he said. "They've committed, as of this morning, ethnic cleansing in all areas they control in South Ossetia."
The conflict has spilled over the borders of the separatist region, with Georgian officials saying Russian aircraft have bombed the Georgian Black Sea port of Poti and the town of Gori.
Saakashvili accused Russian forces of deliberately targeting civilian targets around the country.
"Russian forces have been specifically targeting civilian quarters. They specifically attacked and blew up the whole civilian quarter in the town of Gori, far away from the place where the conflict area is and where direct friction between forces is," Saakashvili said.
"They attacked civilian installations in the western part of Georgia. They've attacked residential quarters all around the country. They've attacked civilian hospitals. And most of the casualties are among civilians."
'A Dreadful Sight'
RFE/RL correspondent Koba Liklikadze was at the scene of an aerial bombing that hit Gori, where he saw many civilian casualties.
"Close to the artillery base [located near the entrance to the city] we saw a dreadful sight. Aside from the base itself, two apartment blocks were on fire. The yard was full of bodies, he said. Liklikadze said that the wounded were being taken to the capital, Tbilisi, "because Gori's hospital is already full."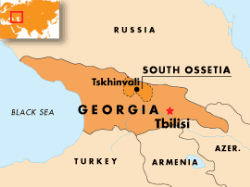 South Ossetia: Timeline Of A Crisis
Elsewhere, Abkhaz Foreign Minister Sergei Shamba said separatist armed forces launched an operation to drive Georgian forces out of the Tbilisi-controlled part of the disputed Kodori Gorge." A spokesman for the pro-Tbilisi Abkhaz government in exile said Russian warplanes had bombed two villages.
In Beijing, U.S. President George W. Bush said he is "deeply concerned" about the situation in South Ossetia and he called for an immediate cease-fire. He also had a reminder for Russia.
"Georgia is a sovereign nation and its territorial integrity must be respected," Bush said. "We have urged an immediate halt to the violence and a stand-down by all troops. We call for an end to the Russian bombings and a return by the parties to the status quo of August 6."
Bush said the United States was working with its partners to launch international mediation.
The U.S. president and his Russian counterpart, Medvedev, spoke by telephone to discuss the situation in South Ossetia and Georgia.
Medvedev said the only way out of the current situation is for the Georgian government to withdraw all its forces from the zones of conflict, return to peace talks and sign a binding treaty, pledging not to resort to violence.

UN Emergency Session
The UN Security Council on August 9 held a new round of informal talks on the fierce fighting between Russia and Georgia in the breakaway Georgian enclave of South Ossetia with little hope of an accord on a truce call.
The council's 15 ambassadors met behind closed doors to hear a briefing from Edmond Mulet, the UN assistant secretary general for peacekeeping operations, on the latest developments in the volatile Caucasus region.
The fighting is the worst violence in the region since South Ossetia and Abkhazia broke away from the central Georgian government in a war in the early 1990s.
Meanwhile, Russian Foreign Minister Sergei Lavrov said 1,500 people had been killed in the conflict so far -- a claim rejected by Georgia.
General Anatoly Nogovitsyn, deputy chief of Russia's General Staff, acknowledged the loss of two Russian planes. Georgia had claimed to have downed several Russian planes, but this was the first confirmation from Moscow.
In a statement issued on August 9, Swedish Foreign Minister Carl Bildt called Russia's action "an act of aggression that is incompatible with international law and fundamental principles of security and cooperation in Europe."
He said Finland, as chair of the Organization for Security and Cooperation in Europe, "has a particularly important role to play" in settling the conflict.