By Abubakar Siddique
After a slow start, voting is picking up across Afghanistan for presidential and provincial council elections, despite reports of scattered violence aimed at disrupting the poll.
The August 20 vote will determine whether incumbent President Hamid Karzai, a heavy favorite, will be able to secure a first-round victory over more than 30 other candidates.
Within hours after polling stations opened at 7 a.m., incumbent President Hamid Karzai cast his vote and urges his fellow Afghans to do the same.
"I'm sure that, inshallah, this will be for peace, for progress, and for the well-being of the Afghan people," Karzai said.
"And I request the Afghan people to come out and vote, so that through their vote Afghanistan can be a more secure, more peaceful, and a better country," he said.
Afghan President Hamid Karzai displays his finger, marked with indelible ink, as he leaves a Kabul polling station.
Rockets attacks, gun battles, and bomb blasts were reported in the capital and the insurgency-plagued southern Pashtun regions as voting began.
Reports say two Taliban fighters were killed in Kabul during a gunbattle with police. The Taliban said 20 of their fighters had infiltrated the capital in an effort to disrupt voting.
Before the vote, the Afghan government tried to impose a controversial ban on the media reporting on such incidents, which the UN says it has asked the authorities to lift.
Karzai is a heavy favorite to win a second five-year term but will need more than 50 percent of the vote to score a first-round victory. The incumbent is expected to face his greatest challenge from former Foreign Minister Abdullah Abdullah. Former Planning Minister Ramazan Bashardost and former Finance Minister Ashraf Ghani are other top contenders.
Defy Threats
Abdullah urged voters to defy the Taliban's threats to use violence to disrupt the polls, which will also determine 420 provincial council seats in 34 provinces. High turnout is seen as a key benchmark for the legitimacy of the election.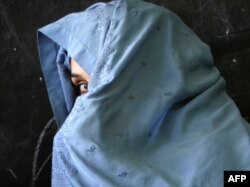 A burqa-clad woman at a polling center in Herat.
"I am happy that a lot of people are participating in this election despite security concerns and concerns about fraud in the election," he said. "Our people are participating all over Afghanistan. I hope none of these concerns stop our people from going to the polls, so people can make their own future with their free vote."
A slow start this morning led to fears that the threat of violence would keep people away. But as the day went on there were signs that Afghans, including increasing numbers of women, were indeed turning out to vote.
Glitches reported in early voting ran from the unavailability of voting supplies -- such as indelible ink, stationery, and ballot-punching equipment -- to refusals by polling staff to serve in remote, insurgency-plagued villages. Some 300,000 Afghan and international troops are providing security for the process, but there will be no voting in nine Taliban-controlled districts.
The Independent Election Commission says most of the country's approximately 6,500 polling stations are open and the process is moving forward smoothly.
'With Confidence'
Interior Ministry spokesman Zmarai Bashari says the country's security plan is working.
"The security plan we have implemented in Kabul and the rest of the country has great benefits," he told RFE/RL's Radio Free Afghanistan. "And our compatriots are moving toward polling bravely and with confidence."
Reports from across the relatively stable northern, northeastern central and western Afghan provinces indicate that long lines of voters could be seen outside polling stations. In the eastern province of Nangarhar, people were reportedly turning out to vote in large numbers.
Atiqullah Ludin, governor of Logar Province, south of Kabul, says that despite a rocket attack this morning in rural districts, people are participating in the elections.
"The voting process simultaneously began across all districts of Logar. In some districts crowds of people can be seen waiting in lines. The situation is normal," he said.
In southwestern Nimroz Province, Governor Ghulam Dastageer Azad said people are lining up to cast their votes in the provincial capital, Zaranj, and in rural districts of the province.
"Fortunately, so far we have not seen any major problems," Azad said. "I hope that people's participation increases. The overall interest of the people in the elections is very good."
RFE/RL's Radio Free Afghanistan contributed to this story.