(RFE/RL) -- Sudanese President Omar al-Bashir, the target of an international arrest warrant over alleged war crimes, has canceled his plans to attend a meeting today of the Organization of the Islamic Conference (OIC), the world's largest Islamic grouping.
The one-day meeting in Istanbul has been billed as an economic summit to discuss trade and antipoverty measures among the organization's 57 member states, including Iran and Afghanistan.
Al-Bashir's expected attendance had placed EU-hopeful Turkey in an uncomfortable position after the European Union and human rights groups called for al-Bashir's invitation to be withdrawn, or for him to be arrested upon his arrival in Istanbul.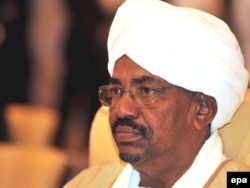 Sudanese President Omar al-Bashir
Turkish officials had said they had no intentions of arresting al-Bashir because Turkey is not a signatory to the International Criminal Court (ICC) that has indicted the Sudanese leader on charges of war crimes and crimes against humanity in Sudan's western Darfur region.
Turkish officials also pointed out that the OIC, not the Turkish government, had invited al-Bashir to attend as the head of a member state.
Sudan announced that Bashir's trip was called off due to key political negotiations in Khartom that required the president's presence.
Earlier, Turkish media reported that Turkish Prime Minister Recep Tayyip Erdogan had questioned the ICC charges against al-Bashir and said that "no Muslim could perpetrate a genocide."
The Anatolia news agency quoted Erdogan as saying, "If there was such a thing, we could talk about it face to face with President Bashir."
Ekmeleddin Ihsanoglu, the secretary-general of the OIC, earlier said the Istanbul meeting was an economic summit and so had bigger things to discuss than al-Bashir.