Tajikistan's top security chief has been dismissed along with his three deputies, days after 25 inmates broke out of a security agency prison in Dushanbe.
Khairiddin Abdurahimov, head of the State Committee for National Security, the successor agency to the KGB, was replaced by former career diplomat Saymumin Yatimov.
Abdurahimov had led the country's security services since 1999. Yatimov has served as Tajikistan's ambassador to the European Union in Brussels. He had previously worked as deputy intelligence minister for five years.
The dismissals came in a decree by President Emomali Rahmon. The move is widely seen as linked to the August 22 prison break by high-profile convicts serving long jail sentences on serious charges such as plotting to overthrow the government, terrorism, and drug trafficking.
The men killed five prison guards before escaping along with the guards' weapons.
Most of them remain at large, but authorities said today they had recaptured one escapee, during an operation by law enforcement forces in the village of Chutqaisha, near Dushanbe.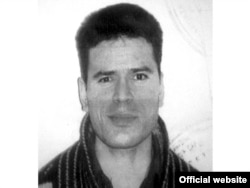 Ibrohim Nasriddinov
He is Ibrohim Nasriddinov, who was extradited to Tajikistan three years ago from the U.S. prison at Guantanamo Bay. Interior Ministry spokesman Muhammadjon Nazriev told RFE/RL that Nasriddinov was captured with a "pistol and a grenade."
According to Nazriev, some 200 law enforcement troops dispatched to Chutqaisha were searching all houses in the village, as the authorities believe one more escapee is hiding there.
Ziyoev Connection
Other fugitives include relatives of Mirzo Ziyoev a slain former Islamic opposition commander, who eventually joined the government to become emergency situations minister. The former warlord with ties to the banned Islamic Movement of Uzbekistan was killed in mysterious circumstances last year in the former stronghold of opposition fighters in the eastern Tavildara region.
Following Ziyoev's death, some of his family members, including his two sons, uncle, and brother, were arrested and sentenced to long prison terms. Like many other escaped prisoners, Ziyoev's relatives were arrested in Tavildara.
According to the official list of escaped prisoners, Ziyoev's uncle and brother were among the fugitives.
The State Committee for National Security came under fire after the prison break, which took place just meters away from President Rahmon's house in downtown Dushanbe.
Justice Ministry prisons division spokeswoman Parvina Alizoda told RFE/RL this week that many questions about the escape remained unanswered, including why only three guards were on duty that night to supervise 90 prisoners.
Alizoda also noted other apparent lapses of security. On the night of the prison break, she said, the guards had performed the Taroveh Ramadan night prayer together in a prison corridor -- and Nasriddinov had access to cell keys and did not sleep with the other inmates.
The State Committee of National Security prison is located within Prison No. 1, which is under the jurisdiction of the Justice Ministry.
Security officials have not commented on the situation surrounding the prison break, saying disclosing details would hamper the ongoing search operation.

written by Farangis Najibullah, with material from RFE/RL's Tajik Service