Dozens of Tajik students, professors, and scholars were taken off a Tehran-bound plane at Dushanbe's airport as they were traveling to Iran on various religious education programs, officials in Dushanbe have said.
Officials removed the group from the plane on September 4, but did not publicly comment on the issue until today.
Education Ministry officials said the authorities had acted because they did not have enough information about the aim of the trip to Iran.
Rajabali Sangov, head of the ministry's department of international relations, told RFE/RL's Tajik Service that the ministry received a vague letter from the Iranian Embassy in Dushanbe informing them that 71 Tajik students and professors, among others, were traveling to Iran to undergo short-term educational courses.
He said the letter came only the day before the group was planning to get on a flight to Tehran. Sangov said the ministry found out that none of the group had official permission from the relevant authorities to leave their studies or jobs to go abroad.
"If they were indeed going with educational programs, why didn't they inform the Education Ministry about their plans?" Sangov asked.
"After all, the ministry is in charge of educational matters and projects in Tajikistan. Besides, most of them are students and teachers and they were going away at the beginning of the academic year," he added.
"They should have informed education officials that they were going to be absent for some time. They were to spend one month in Iran, and we don't know what exactly they would study there."
'Bring Them Home'
It's not the first time Tajik officials have stopped students from traveling abroad to study at foreign religious schools.
Late last month, the ministry canceled its earlier decision to send 10 Tajik students to Pakistani madrasahs, citing "technical" reasons and a "lack of clarity" in their learning programs.
The moves came days after President Emomali Rahmon urged parents to remove their children from foreign madrasahs.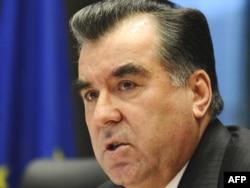 President Emomali Rahmon urged Tajiks to bring their children home to study.
During a trip to southern Khatlon province shortly before the new academic year started, Rahmon said foreign madrasah graduates could pose security threats to the country.
"We have opened our own religious university, and we prepare our mullahs right here," Rahmon said, and implored parents to bring any of their children studying abroad home, "otherwise the majority of them would turn into extremists and terrorists in five, 10 years time."
"They don't only study religion there," the president said. "They will come back and create problems for the nation and government."
Religious Renaissance
People in the predominantly Muslim country have attained considerable religious freedom since the collapse of communism nearly two decades ago.
Tens of thousands of mosques have been built, thousands of Muslims have been given an opportunity to perform the hajj pilgrimage each year, and major celebrations in the Islamic calendar have been approved by the government as public holidays.
At least 20 official Islamic madrasahs and an Islamic university operate in the country. In addition, hundreds more students attend religious schools in countries like Iran, Pakistan, Egypt, and Saudi Arabia.
However, Rahmon's secular government has come under criticism in recent years for restricting Islamic practices.
Security and law enforcement agencies have conducted raids on mosques and private houses to prevent mullahs from running unsanctioned religious classes. Officials have outlawed the Islamic head scarf, or hijab, in schools and public offices.
And this week, Tajikistan's Council of Islamic Ulema, a pro-government independent religious body, urged imams not to call children and students for prayers in mosques.
The council insists its only aim is not to harm school attendance, as some prayers take place during school hours. Yet the call has outraged some imams, who say the authorities are unhappy with the steadily increasing number of children turning up for mosque prayers.

Importing Extremism?
The authorities have repeatedly highlighted the threat of extremism and terrorism posed by graduates of foreign religious schools, notably by those who attend unofficial madrasahs.
Authorities say officially 2,000 Tajiks are studying at foreign madrasahs through educational grants and quotas, and intergovernmental agreements.
But regional media estimate that several thousand more students have been sent privately to foreign religious schools. An estimated 4,000 Tajiks reportedly study in Pakistani madrasahs alone.
Tajikistan's embassy in Islamabad has repeatedly expressed its concern that some of the students have ended up in underground schools run by extremist groups.
Tajikistan has banned a number of religious groups, including the Salafi movement, which the government claims is being run by foreign madrasah graduates with radical ideas.
Many such graduates, however, insist the authorities' fears are baseless.
Dushanbe resident Said Muhammad Ghozi says he studied in a madrasah in Pakistan along with his four brothers in the 1990s. Now his sons and several of his nephews study at the same religious school.
"We didn't study anything remotely radical there," Ghozi said. "Our educational program solely focused on Islam and also on computer studies."
Many others in Tajikistan, however, share the government's concerns.
Abdullo Rahnamo, a Dushanbe-based analyst of religious and social issues, says that unfortunately, there have been real security threats posed by graduates of foreign schools, particularly those who attend underground schools, and promote the ideas of different religious sects upon their return.
RFE/RL's Tajik Service contributed to this report