At 4:15 p.m. on the 40th day of mourning for Neda, I arrived with my cousin at the Behesht Zahra cemetery.
The dust here is so fine the particles don't just stick to your clothes but find their way into your lungs.
With a capacity of 1.8 million plots, of which 1.2 million have already been filled, Behesht Zahra is the largest cemetery in Iran. With the boiling sun beating down, and later the fog of tear- and pepper-gas, today it was a place of suffering.
We arrived at block 256 (Neda is buried in block 257) and quickly realized that the police and guards were separating people by barricading them in different sections.
The guards (including plainclothes militia in protective clothing) stood in two parallel lines. They periodically picked out and attacked people, separating them and beating them over the head.
When we saw the stones flying, we knew people were fighting back
Because opposition leader Mir Hossein Musavi had already been there just before 4 p.m., the atmosphere was highly charged. News quickly spread that the parents of Neda had been prevented from saying a prayer over their daughter's grave. The crowd chanted: "Allah Akbar" and "Brave Iranians, help Iran, help Iran."
The guards used parked cars to create a wall (by pushing them together bumper to bumper) around block 257 in order to prevent people from reaching Neda's place of burial. Around 4:25 p.m., reformist presidential candidate Mehdi Karubi arrived at block 255 in a four-car convoy. As Karubi walked into block 256 with his entourage, people started to swarm around him. Then the guards started attacking Karubi's bodyguards and the people around him.
The guards' behavior seems to have changed. Where once they might have shown a modicum of restraint, now they just keep hitting people in the face and head, cursing as they do it. Three people (two women and one man) were hit right in front of me, blood spurting out of their faces and heads.
Fighting Back
Some of the protesters fought back, throwing the small stones recently placed on new graves. Every time we heard women screaming, the dust spreading, and we could feel our eyes and throats burning, we knew there was an attack. When we saw the stones flying, we knew people were fighting back.
While people were saying a prayer for the dead, a large group of people approached Karubi's entourage. We were scared as we were sandwiched between the newcomers and everyone else, but then we realized that the group was led by a cleric, Hadi Ghafari.
The guards attacked again but Ghafari's bodyguards fought back. Constantly coughing and sweating profusely, my cousin and I tried to leave. As we were leaving we saw Karubi's entourage get into its convoy of cars. At the very last moment the guards attacked Karubi's son, hitting him on the back.
On our way back downtown, the word on the street was that "Mosalaa," a monumental building continually under construction in north Tehran, was the site of the next protest.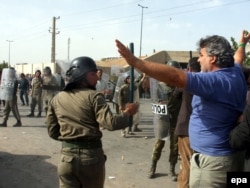 Iranian riot police attempting to disperse protesters at the cemetery
When we arrived at our parked car, we saw guards attacking another driver and trying to pull him out of the window.
His wife and children were screaming for help and grabbing the driver's legs, trying to pull him back into the car. When the guards started beating the car with their clubs and breaking the windows, the crowd started chanting "velesh kon" ("leave him alone") and charging towards the car.
The guards fled and this gave the driver enough time to get his bloody upper body back into the car and speed away. By the time we got out of there, it was 5:15 p.m.
The violence continued into the night. Later we heard gunshots, ambulance sirens, and honking horns. At 10 p.m., the "Allah Akbar" chants from the rooftops were much louder than usual. A friend of mine called me later that evening: "Ahmad, some people have used water-based paint and made the fountain turn blood red."
Ahmad is a pseudonym for a journalist in the Iranian capital, Tehran, who contributed this piece to RFE/RL's Radio Farda
Iran Election Diary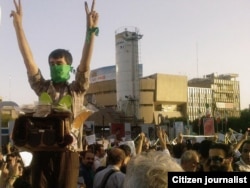 Disputed Presidential Vote
There have been protests and clashes with police on the streets of Tehran following the disputed reelection of Mahmud Ahmadinejad. RFE/RL collects videos, photos, and messages on social-networking sites coming out of Iran to attempt to get a picture of what is happening inside the country.
Click here
The Battle For Iran's Future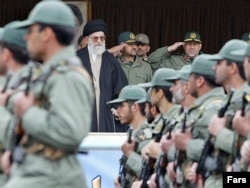 The Battle For Iran's Future
With much more than a disputed presidency at stake for Iranians, RFE/RL's Charles Recknagel and Mazyar Mokfi explore the power plays that could reshape Iran's political establishment.
Click here
for news, blogs, and analysis of the presidential election and aftermath.