Heavy clashes were reported in central Tehran on July 30 between police forces and protesters after thousands of mourners gathered to commemorate the memory of slain protesters who opposed the reelection of Mahmud Ahmadinejad.
According to some reports, police used tear gas and some protesters set garbage bins on fire and chanted slogans against Iran's Supreme Leader Ayatollah Khamenei and his son Mojtaba.
Thousands of people, including opposition leaders Mir Hossein Musavi and Mehdi Karrubi, earlier gathered at Tehran's Behesht Zahra Cemetery to mark the 40th day since the death of Neda Agha Soltan and a number of other Iranians who were killed during protests in Tehran on June 20.
It is not clear how many people died that day, but many Iranians are referring to it as "Bloody Saturday."
Witnesses told RFE/RL's Radio Farda that mourners at Behesht Zahra urged each other not to be afraid, and chanted "Allah Akbar" and "Death to the dictator."
Musavi was reportedly forced to leave the cemetery by the police a few minutes after he arrived.
A video posted on YouTube shows a crowd surrounding opposition leader Mehdi Karrubi at the demonstration.
One mourner said that security forces beat people with batons and arrested several mourners.
Among those arrested was internationally known filmmaker Jafar Panahi, who went to the cemetery to lay flowers at the graves of Neda and others who lost their lives in the brutal postelection crackdown. A female documentary maker, Mahnaz Mohammadi, was also arrested.
Another amateur video shows police beating protesters and firing into the crowd after they left the cemetery.
Remembering Neda, Others Killed
There were clashes and arrests at the grave of 27-year-old Neda. A video of her last moments was captured on a mobile phone and quickly posted on video-sharing websites.
The footage has been viewed by millions of people around the world, and made Neda an iconic symbol of the anti-Ahmadinejad protests that followed his disputed June 12 reelection.
Neda's mother
told Radio Farda on July 29 that she and her family were planning to visit the grave. But some sources quoted her as saying on July 30 that for "some reasons" she would not go to the cemetery.
Musavi and Karrubi have asked the authorities to allow them and their supporters to gather at Tehran's Grand Mosala mosque on July 30.
Witnesses told RFE/RL a number of mourners made their way from the cemetery to the Mosala Mosque, where a heavy security presence was reported. Some mourners flashed victory signs and chanted slogans as police tried to disperse them.
As groups of people made their way toward Tehran's central squares and streets, they were met by the security forces.
Musavi, who was welcomed at the cemetery by his supporters with chants of "Ya Hossein, Mir Hossein," said during a July 27 meeting with teachers that people should be allowed to mourn in public.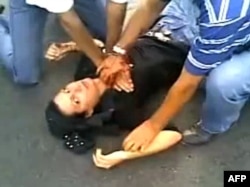 The video of Neda Agha Soltan being shot in the chest during a protest in Tehran has become a symbol of the authorities' harsh response to protests.
"We don't want to do anything; we don't want to have speeches; we just want to gather at the Mosala that has been built with a multimillion budget, we would like to use it," Musavi said.
"The 13 million people you said voted for me, we say no more. Although we know that you turned the vote upside-down, never mind. But they also have the right to use the Mosala. It has been built with their money. Let us gather there and read the Koran. We won't chant any slogans; we will read the Koran."
The Interior Ministry, however, turned down the request.
Demanding Justice
Iranian officials have said that about 30 people died in the postelection unrest. But rights groups believe the real number of dead to be higher.
In recent days, authorities have informed some families about the deaths of loved ones in prison or in some of the peaceful demonstrations that took place following the announcement of the election results.
The French media watchdog Reporters Without Borders (RSF) on July 29 urged the Iranian authorities to shed light on the death of a former journalist, Alireza Eftekhari, who died on June 15.
RSF says the he exact circumstances of his death are still not known, but that the group has been told he died as a result of cerebral hemorrhaging after being beaten. Eftekhari's family received his body about a month after his death.
A number of clerics and reformists, including former President Mohammad Khatami, have condemned the postelection crackdown, including the killing and the jailing of hundreds of protesters, key reformist figures, and journalists.
Khatami on July 30 denounced what he said were "crimes" being committed against those who protested against Ahmadinejad's reelection.
Iranian authorities have announced that 20 people will go on trial this weekend for their role in the protests. They face serious charges, including carrying out bombings, possessing weapons, and attacking security forces.

RFE/RL's Radio Farda broadcaster Armand Mostofi contributed to this report
Iran Election Diary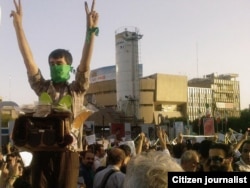 Disputed Presidential Vote
There have been protests and clashes with police on the streets of Tehran following the disputed reelection of Mahmud Ahmadinejad. RFE/RL collects videos, photos, and messages on social-networking sites coming out of Iran to attempt to get a picture of what is happening inside the country.
Click here
The Battle For Iran's Future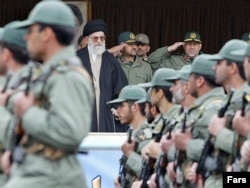 The Battle For Iran's Future
With much more than a disputed presidency at stake for Iranians, RFE/RL's Charles Recknagel and Mazyar Mokfi explore the power plays that could reshape Iran's political establishment.
Click here
for news, blogs, and analysis of the presidential election and aftermath.