July 30 marks 40 days since the death of 27-year-old Neda Agha Soltan, who has become a symbol of Iran's brutally suppressed "Green movement" protesting the results of last month's presidential election. Neda was shot dead during a peaceful protest on June 20 in Tehran, and the video of her bleeding to death on the street has been watched by millions of people around the world. RFE/RL's Radio Farda broadcaster Roya Karimi talked with Neda's mother.
RFE/RL: Please tell us about the day Neda died.

Agha Soltan:
Neda and I used to go to the demonstrations. Neda got suddenly involved in this issue and it was very interesting to her. We went out together for one week, then on [that] Saturday she asked me to go out again, but since I have some [health problems] I could not go with her. I asked her not to go because [the protests] that day [seemed] dangerous and I was worried about her, but she did not accept [my worries] and she left home at 4 p.m.
We were in touch by phone twice and I asked her where she was and what was she doing. She said the police were using tear gas, and that she had escaped to smaller streets and was heading to the car. In fact, the distance between the spot where she was shot to her car was about 26 steps.
Her uncle had the last contact with Neda at 5:50 p.m. He asked her where she was. She said there was tear gas [in the air] and that she and her friends were using cigarettes to stop the effect of the tear gas. We did not have any contact with her anymore until 6:30 p.m., when her teacher rang me from Shariati Hospital and asked me to go there because Neda had been shot.
RFE/RL: What did you see when you got there?

Agha Soltan:
Because I was alone at home, I called Hoda and Mohammad, Neda's sister and brother, to go to hospital. They got there before me. When I got there I saw Hoda. Neda was in a very bad shape. Her teacher told me she was shot in her leg, but I saw her clothes were fully covered with blood from top to bottom. It was like her clothes had been washed in blood.
I asked [Neda's teacher], "Tell me what's happened to my Neda?" He said she was shot in her shoulder...[inaudible]. In fact, Neda had died on the way to hospital and they took her to hospital to take care of the legal process of her death.
I begged them to let me see my child but because they did not want to tell me directly [what had happened], they said she needs an operation. Then they told Hoda's husband. Then someone told me that she was dead. I actually found out from [seeing] Hoda's face. And [then] she told me, "Mom, Neda is dead." And then I lost consciousness.
RFE/RL: When did they give her body to you?

Agha Soltan:
I came home and we did not sleep until the morning. The legal processing was done by Hoda's husband. They cooperated with us. At 3 a.m. they called us and said that Neda's body was going to go to the coroners in Kahrizak, [which is] close to the Behesht-e Zahra cemetery. Neda's father, with some of our relatives, went there at 8 a.m., and they gave us Neda's body at 2 p.m., and she was buried before 3 p.m.
RFE/RL: It has been said that you were not allowed to hold a mourning ceremony for Neda. Is that right?

Agha Soltan:
We were not told anything about the mourning ceremony but when we asked for permission to have a ceremony at Nilufar mosque on the third day after her death, they said, "We can't give you a mosque." Then we applied for Imam Jafar Sadeq mosque, and it was agreed, but because I was concerned for the [young people] who would want to [come], I canceled the whole ceremony. Then we asked Behesht Zahra for the seventh day of her death and they said that they needed approval for it, and they rang us and said, "We cannot get approval for that."
RFE/RL: What is your plan for the 40th day since Neda's death?

Agha Soltan:
We will just visit her grave at 4 p.m.
RFE/RL: The video of Neda's last moments has been viewed by millions of people around the world and provoked an international reaction. What was your reaction when you saw it for the first time?

Agha Soltan:
Can you believe that I haven't seen it yet? They haven't let me watch it, whenever I want to see it [family members] don't let me, but I know it is very painful and moving. Whenever Neda's brother Mohammad watches the video, he starts to cry every time.
translation from Persian by Mazyar Mokfi
Iran Election Diary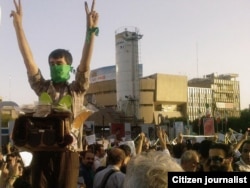 Disputed Presidential Vote
There have been protests and clashes with police on the streets of Tehran following the disputed reelection of Mahmud Ahmadinejad. RFE/RL collects videos, photos, and messages on social-networking sites coming out of Iran to attempt to get a picture of what is happening inside the country.
Click here
The Battle For Iran's Future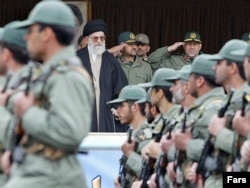 The Battle For Iran's Future
With much more than a disputed presidency at stake for Iranians, RFE/RL's Charles Recknagel and Mazyar Mokfi explore the power plays that could reshape Iran's political establishment.
Click here
for news, blogs, and analysis of the presidential election and aftermath.