The streets of the Iranian capital are reportedly quiet one day in the wake of clashes that erupted in several neighborhoods after police forcibly dispersed a mourning ceremony to honor those killed in Iran's postelection unrest.
After a graveside ceremony at Tehran's Behesht Zahra Cemetery was broken up, mourners took to the streets in defiance of an ongoing government crackdown that has left a number of dead, injured, and many jailed.
Some of the participants were detained and police forces reportedly used force and tear gas to disperse the protests, which were organized to mark the 40th day since the deaths of 27-year-old Neda Agha Soltan and others during protests in Tehran on June 20.
One protester in central Tehran told RFE/RL's Radio Farda that people seem less intimidated by police and more eager to defend themselves.
"[Police forces] were beating a girl [and] people ran after [the officers and] two of them fell. People started clapping their hands," the demonstrator said. "It's amazing, worth seeing. It's the first time that I've seen in recent protests that people are attacking the riot force and they're escaping."
Iranian authorities say 30 people have been killed in the unrest that erupted following the country's June 12 elections, which handed President Mahmud Ahmadinejad a landslide victory.
The actual number of dead is estimated by activists and word-of-mouth reports to be much higher.
Police forces tried desperately to turn back mourners after thousands went to the Behesht Zahra Cemetery where Neda, who has become a symbol of the brutality that followed the disputed vote, is buried.
Opposition candidate Mir Hossein Musavi, who came to pay his respects to the postelection victims, was reportedly forced to leave the cemetery a few minutes after his arrival. Iranian websites posted pictures of his wife, Zahra Rahnavard, holding flowers and surrounded by supporters.
One video clip from the event shows people gathered around what appear to be Neda's grave. A man who appears to be a security officer is seen standing at the grave and telling people that they have five minutes each to say a prayer and leave.
A female mourner reacts by asking whether the police are "afraid of the dead" and is told that if she and others don't leave "they will kill you -- you become like Neda."
In what was reportedly a prepared move after they were dispersed, many of the mourners moved from the cemetery to the central streets of Tehran to protest.
A number of the chants targeted the core of the clerically dominated Iranian establishment. Some demonstrators cried out, "Independence, freedom, Iranian Republic!" in a play on a refrain from the Islamic revolution three decades ago, "Independence, freedom, Islamic republic!"
Many targeted Iranian Supreme Leader Ayatollah Khamenei -- who holds ultimate political and religious authority under Iran's constitution -- and his son, Mojtaba Khamenei, in their chants.
"Khamenei is a murderer! His Velayat is null!"
they shouted
.
Witnessed told RFE/RL that police forces used considerable force against the gatherers.
A number of protesters were detained at the cemetery or during the ensuing protests that continued into the night.
Among them was award-winning filmmaker Jafar Pahani, who was detained at Behest Zahra but has reportedly been released.
In some places, police used tear gas to disperse the protests, and protesters fought back by setting garbage bins and other items alight.
U.S. State Department spokesman Ian Kelly said during a July 30 news briefing in Washington that the United States stands by the Iranian people.
Kelly said Iranians "are seeking to exercise their universal right to self-expression, to demonstrate peacefully."
"I think it's particularly disturbing to see security forces use force to break up a graveside demonstration -- to break up a group of people who are trying to exercise an important ritual under Islam, the mourning after 40 days."
Shi'ite Muslims traditionally honors their dead at several stages, including 40 days after their passing.
Beyond The Capital
Protests were also reported in other cities, including Isfahan, Shiraz, Rasht, and Ahvaz.
Iran has announced that about 20 people will go on trial on August 1 for their alleged roles in the recent protests. They face charges that include illegal possession of explosives.
A senior cleric, Aytollah Makarem Shirazi, was quoted as saying after the clashes that the key to restoring calm in the country is to free the detainees arrested in the postelection crackdown.
While a number of detainees have been released in recent days, many remain in jail and there is growing concern about their condition.
Members of the opposition Green movement say they are preparing to protest against the swearing-in of President Mahmud Ahmadinejad for a second term, scheduled for August 5.
The opposition says he was reelected as the result of massive fraud. Musavi and other opposition leaders have called the government "illegitimate."
The June12 vote has plunged Iran into its worse crisis in the past three decades.
Iran Election Special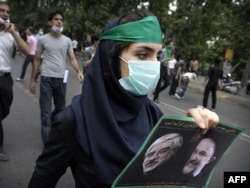 RFE/RL's Full Coverage
Following the disputed reelection of Iranian President Mahmud Ahmadinejad, supporters of Mir Hossein Musavi have taken to the streets to protest.
Click here
for news, blogs, and analysis of the presidential election and aftermath.