TEHRAN (Reuters) -- Dozens of opposition supporters chanted "death to the dictator" near the building of a reformist newspaper that says it has been temporarily closed down by the authorities, a witness told Reuters.
Police at the scene in downtown Tehran prevented the demonstrators from gathering in front of the offices of the "Etemad-e Melli" newspaper of leading reformist Mehdi Karrubi, the witness said.
"They tried to gather in front of the building but police did not let them and asked them to leave," the witness told Reuters, declining to be named.
"While leaving they started to chant 'death to the dictator.' When police followed them, they started to run," the witness added, estimating the number of demonstrators at up to 60.
Karrubi, a cleric, finished fourth in the disputed June 12 presidential election. He and the moderate runner-up, Mir Hossein Musavi, say the vote was rigged to secure hard-line President Mahmud Ahmadinejad's reelection. Ahmadinejad denies it.
The website of Karrubi's party, which is also called Etemad-e Melli (National Trust), said the newspaper was closed down late on August 16 on the orders of the prosecutor's office.
The newspaper's managing editor, Mohammad-Javad Haqshenas, said he did not know whether it could be published again on August 18.
Tehran prosecutor Said Mortazavi denied "Etemad-e Melli" had been banned, saying technical problems had prevented it from being published on August 17, the semi-official Mehr news agency reported.
Iran Election Special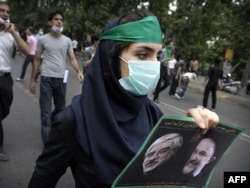 RFE/RL's Full Coverage
Following the disputed reelection of Iranian President Mahmud Ahmadinejad, supporters of Mir Hossein Musavi have taken to the streets to protest.
Click here
for news, blogs, and analysis of the presidential election and aftermath.