Behzad Mohajer called his family on June 15, just days after Iran's hotly disputed election, from a demonstration taking place at Tehran's Azadi Square.
It would be the last time they would hear from him.
Some six weeks later, Mohajer's family was informed of his death and was called in to identify his body.
During the trip to the morgue, family members learned that a coroner had recorded the 47-year-old's death on June 21, but they have little information to work with regarding the circumstances. They saw bruises on his body and an apparent gunshot wound near his heart.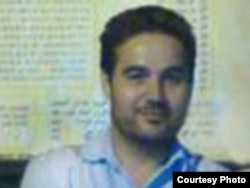 Behzad Mohajer
Mohajer's family believes he is one of the many victims of the crackdown that the Iranian government launched to end mass protests over the reelection of President Mahmud Ahmadinejad.
His cousin, Nima Namdari, believes the killing of Mohajer carried a clear message.
"When we buried him at Behesht Zahra cemetery, we visited also the graves of Neda Agha Soltan and others who've suffered the same fate as [my uncle]," she says. "I believe there was a political determination for it to happen. These and other people had to be killed so that a message was sent to society that, 'This is it -- there won't be any changes in the election.'"
'Excessive Force'
Following the announcement of the results of the June 12 vote, which gave Ahmadinejad a landslide victory, protesters took to the streets en masse in Tehran and several other cities.
Rights groups say the massive outcry was met by the government with "excessive force" not seen in recent years.
Tehran's morgues haven't been emptied yet because if they had returned the bodies in the first days there would have been a riot. So they're returning the bodies gradually.
The authorities say that about 30 people died during the unrest. Rights activists the true figure is in the hundreds. Of the thousands who were rounded up during the protests, most were released, about 200 remain in detention, and more than 100 have emerged in court proceedings that the United States has criticized as "show trials."
The whereabouts of others remain unknown.
The runner-up in the election, reformist candidate Mir Hossein Musavi, has accused Iranian authorities of using "medieval torture methods" against detainees.
Another defeated reformist candidate, Mehdi Karrubi, painted a graphic picture in a letter delivered to cleric and former President Hashemi Rafsanjani on July 29, a copy of which was obtained by the French news agency AFP.
"A number of detainees have said that some female detainees have been raped savagely. Young boys held in detention have also been savagely raped," the news agency quoted the letter as saying. "The young boys are suffering from depression and serious physical and mental damage since their rapes."
'Violations And Carelessness'
Calling for an investigation, Karrubi urged Rafsanjani to bring the issue up with Supreme Leader Ayatollah Ali Khamenei.
And others are joining the calls, as well. Prosecutor-General Ghorban Ali Dorri Najafabadi has said that an order not to take protesters to a prison outside Tehran went unheeded. Abuse claims had prompted the supreme leader to order the facility closed; rights groups say at least three protesters who were detained there have died.
Prosecutor-General Ghorban Ali Dorri Najafabadi
Najafabadi says that those who have mistreated detainees should be punished for "violations and carelessness."
Tehran police chief General Ismail Ahmadi Moghaddam, meanwhile, admitted in comments to the state news agency IRNA that some protesters were beaten at Kahrizak and that there had been an "outbreak of diseases" there. Fars news agency has quotes him as saying that the protesters "died of viral illness and not as a result of beating."
Scenes of violence flooded from the streets of Iran in the days after the June 12 election. Citizens managed to post shocking videos and pictures showing police and security forces beating up protesters and shooting at them from rooftops. Student dorms were attacked by plainclothes agents, leaving about five dead and many injured.
One of the bloodiest crackdowns took place on June 20, a day after the supreme leader called for an end to the street protests. It is today referred to by many Iranians as "bloody Saturday."
Despite Khamenei's warning, many took to the streets in the capital and were met with force. A number of protesters lost their lives, including Neda Agha Soltan, a young woman whose dying moments were captured on a video that was quickly posted on the Internet.

'Pretty Sure'
Hadi Ghaemi from the International Campaign for Human Rights in Iran tells RFE/RL that at least 30 people were killed that day.
"On June 20, when the government claimed that 11 people were killed, three hospitals alone received 34 dead in their morgues," Ghaemi says. "We don't have the names of all of them, but we're pretty sure about the figure."
The international Campaign for Human Rights in Iran has so far managed to document the deaths of 20 people in the postelection unrest.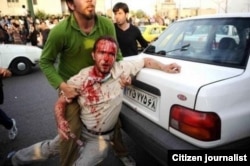 The postelection unrest on June 20 is referred to by many Iranians as "Bloody Saturday."
Ghaemi says gathering reliable figures has been difficult.
"One thing that is clear is that people didn't die only in Tehran. The government has never mentioned it, but we're 100 percent sure there are dead in Isfahan, Shiraz, and Kermanshah," Ghaemi says. "Overall, it is possible that the lists of 100 to 300 dead that is circulating are reliable."
Alireza Beheshti, a senior adviser to Musavi who has been investigating the number of dead and arrested, was quoted earlier this month as saying he's heard figures of 100 to 300 dead, while declining to confirm or reject those counts.
Prominent cleric Mohsen Kadivar also mentioned the figure in a recent speech in the United States.
"The number of dead is not 60 or 90 people. According to some figures, about 360 died," Kadivar said. "Tehran's morgues haven't been emptied yet because if they had returned the bodies in the first days there would have been a riot. So they're returning the bodies gradually."
'Considerably Higher'
Drewery Dyke, a researcher for Amnesty International, tells RFE/RL that the Iranian government has put in place comprehensive measures, including intimidating families of victims and preventing them from holding mourning ceremonies, in order to slow the flow of information.
His organization has recorded the cases of 53 individuals who died in the postelection crackdown. He says the true figure is "considerably higher" than the cases recorded thus far.
"These individuals include those who had been released from custody, whether from Evin or from Kahrizak, an illegal detention center whose closure was ordered by the supreme leader, and include those who died in the streets," Dyke says. "They include students, they include individuals who are in no way exceptional for their political activism or otherwise."
There is growing concern over the fate of those missing.
Musavi's adviser has said that the names of 1,700 detainees have been gathered, but notes that it is not clear how many of them are alive. Adding to the mix are the arrests of journalists and activists that are being reported almost on a daily basis.
Not In 'Normal Mental State'
Families of some of the detainees, including prominent reformist figures, have said they are under pressure in prison.
The wife of former student leader Abdollah Momeni, who campaigned for Karrubi, told Radio Farda after meeting with her jailed husband that he could barely walk or talk. Momeni has been in jail for more than 45 days.
"He has lost between 10 to 15 kilograms. He couldn't talk properly; he wasn't in a normal mental state," she says.
Amnesty International's Dyke says there is an "absolute burning need" for the truth to come out about the ongoing crackdown.
"Sadly, there seems to be no attempt at the moment in any case to address that need, to address the needs of thousands of Iranians who have been affected by this unrest, their needs in respect of closure, in respect to dignity that's really needed for those who have been injured and who suffered," Dyke says.
Abdol Karim Lahidji, the deputy director of the Paris-based International Federation for Human Rights, believe the UN should send a fact-finding mission to Iran.
"We've called on the UN secretary-general to send a representative to Iran so that the depth and dimensions of this tragedy with regard to victims, missing persons, and prisoners is unveiled," Lahidji says.
In Tehran, a senior commander of the Revolutionary Guards, who are effectively responsible for the facilities at the center of the accusation, responded by questioning why the orchestrators of a "velvet coup" had not yet been arrested.
"If Musavi, Khatami...and Karrubi are the main elements of a velvet coup in Iran, which they are, it is expected that judicial bodies and intelligence officials go to them to put out the fire of sedition -- arrest, try and punish them," IRNA quoted Yadollah Javani as saying.
Radio Farda Broadcaster Mohammad Zarghami contributed to this report.
The Battle For Iran's Future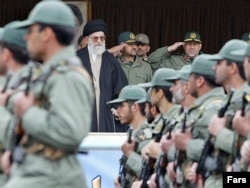 The Battle For Iran's Future
With much more than a disputed presidency at stake for Iranians, RFE/RL's Charles Recknagel and Mazyar Mokfi explore the power plays that could reshape Iran's political establishment.
Click here
for news, blogs, and analysis of the presidential election and aftermath.
Iran Election Special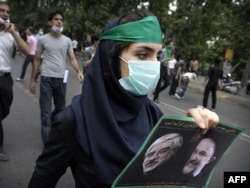 RFE/RL's Full Coverage
Following the disputed reelection of Iranian President Mahmud Ahmadinejad, supporters of Mir Hossein Musavi have taken to the streets to protest.
Click here
for news, blogs, and analysis of the presidential election and aftermath.
Iran Election Diary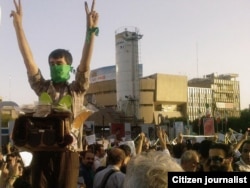 Disputed Presidential Vote
There have been protests and clashes with police on the streets of Tehran following the disputed reelection of Mahmud Ahmadinejad. RFE/RL collects videos, photos, and messages on social-networking sites coming out of Iran to attempt to get a picture of what is happening inside the country.
Click here