(RFE/RL) -- Russian folk art has never been much collected in Western Europe.
But now, there are signs it is drawing greater interest, including in the Western antique market.
One measure is an exhibit concluded last month at Pushkin House, London. Entitled "Carved And Colored Village Art From Tsarist Lands," it filled the rooms of the old Georgian mansion in Bloomsbury Square with traditional peasant art collected from as far north as the Arctic Circle to as far south as the mountains of Daghestan.
Among the largest objects present were the elaborately carved wooden panels that traditionally framed the windows of Russian rural homes, from peasants' cottages to rich merchants' log-built estates.
The frames, known as "window surrounds," drew on sources ranging from pre-Christian animism to Russian folklore, as well as from the baroque and art nouveau movements, to give the Russian countryside an unmistakable look of its own.
A wide variety of other types of folk art common in tsarist Russia was also on display. It included carved and colored stands used for spinning, known as distaffs, chests, cradles, tables, textiles, and spoon boxes -- a box up to a meter high for storing spoons used with ritual hospitality soups in Daghestan,
New To The West
Much of the art is little known -- and has been little seen -- outside of its homeland.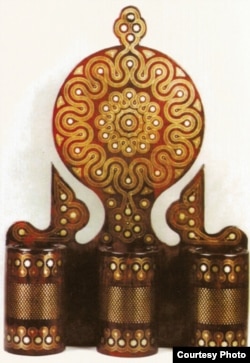 Decorative spoon box from Daghestan
Robert Chenciner, an independent expert on the former Soviet Union who organized the exhibit, says the last time so much folk art from the former Russian Empire was shown in the United Kingdom was at the International Exhibition in Glasgow in 1901.
That, Chenciner notes, was when Western publics were just beginning to learn about the distant eastern ends of Europe and become interested in its ethnic art.
"This art was discovered by the West only in the early 1900s as rail and roads improved and academics and romantics took voyages of discovery through pre-industrial Europe," he says. "They brought back enthusiastic reports of rich folk craft being produced in time-locked villages."
But the growing Western interest was cut short when the Iron Curtain came down after World War II. That happened before the Western art world could acquire any major collections of Eastern Europe's folk art or develop any body of literature about it.
Many of the larger pieces for the Pushkin House exhibit came from British antiques dealer John Cornall, who has collected tsarist-era folk art since it began coming out of the former Soviet republics with the collapse of communism.
Cornall says the window surrounds, which are salvaged from old buildings by Russian dealers, are now beginning to be appreciated by the Western antique and interior design markets.
He says the most common use for the window surrounds in the West is to turn them into fanciful mirrors for home interiors:
"When I first sort of showed a few to people in England, most people regarded them as stunning," Cornall says. "A lot of them, because I think they are coming from quite far east into Russia, have this bright blue paint on them which has sort of gone very dry and crackled and it is a very attractive color. People like that."

Popular In Russia
Russian woodwork can be either colored or left plain and designs may be carved or painted upon them. The designs often contain a wealth of symbolism.
Among popular motifs were grapevines symbolizing the prosperity and wealth of the house, lions symbolizing protection, and the mythological "Sirin" bird symbolizing the joy of life. The Sirin is an ancient symbol of heaven and water whose cult survived into the Christian epoch and became linked to earthly happiness.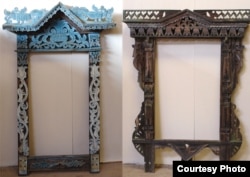 Window surrounds from the Urals and Western Siberia
Talented woodworkers and painters not only decorated their own homes but traditionally took to the road looking for commissions. Hundreds of master painters each year traveled along the major routes, stopping at regular points where they could meet and be hired by customers.
The best examples of this folk art are well preserved in state collections in parts of Russia today. Pieces are kept in museums and, sometimes, entire houses have been moved to outdoor museums. Some of these outdoor museums are now popular stops on package tours, including boat tours from Moscow to St. Petersburg.
...But Is It Enough?
But in many other areas of Russia, old houses are entirely neglected.
One is the region around Tomsk, where a once-rich concentration of elaborately decorated log homes has been left to fall apart with time.
Olga Sevan of Russian Institute for Cultural Research says that in 1980 there were about 2,800 wooden houses in Tomsk which could be considered as monuments. But by 2003 there were only half as many, and 70 percent of those were in extremely poor condition.
The houses are echoes of a time when folk art reached a peak of popularity among country builders during the 18th and 19th centuries. Their fate now likely hinges upon how much new public interest can be generated in them.
Chenciner says that one of the main goals of the exhibit at Pushkin House was to raise appreciation in the West of Russia's folk art and thereby encourage local governments to attach greater value to preserving what is left.
The art has already proven to be a lucrative tourist draw in northwest Russia. The question now is how much that business can be extended in time to more remote areas as well.
The 40-page color catalogue of the "Carved And Colored Village Art From Tsarist Lands" exhibit is available from the publishers Bennett and Bloom