(RFE/RL) -- Thousands of Kyrgyz opposition supporters have rallied in the capital and elsewhere to air wide-ranging grievances against the government.
Participants in Bishkek and the central town of Naryn called on officials to release imprisoned political opponents, stop media harassment, and lower utility prices, among other demands.
Other, smaller-scale antigovernment demonstrations took place in the southern distinct of Alay, the northwestern town of Talas, and the village of Aksy in western Jalalabat Province.
The opposition says more than 5,000 people took part in the People's Congress (Eldik Kurultai), the protest action in Bishkek, while some 3,000 gathered in Naryn. Officials in Bishkek, however, put the number of protesters in the capital at around 2,000.
Leading opposition figures, including lawmaker Roza Otunbaeva and Ata-Meken (Fatherland) party leader Omurbek Tekebaev, addressed the gathering in Bishkek, saying the people should take power into their own hands if the government failed to meet their demands.
WATCH: Opposition supporters rally in Bishkek, and release black balloons in memory of slain fellow activists.Specific Demands
The People's Congress adopted a resolution with seven demands on the government:
To release all political prisoners
To stop ongoing constitutional reforms they say would boost the president's political powers
To remove President Kurmanbek Bakiev's son Maksim from his post -- as head of the state agency on development, investment, and innovation -- and abolish the agency
To restore rebroadcasts of RFE/RL's Kyrgyz-language programs by local affiliates and strengthen freedom of speech
To lower energy tariffs
To renationalize stakes in Kyrgyz Telecom and several other companies, which the opposition says were privatized under dubious circumstances
To remove Bakiev's relatives from government posts
"Bakiev's sons, Maksim and Marat, and his brothers Janysh, Adyl, and Marat must be dismissed from their official positions," Duishen Chotonov, a former lawmaker and member of the Ata Meken party, told attendees. "Interference of his family members in state and local administrations' affairs must end."
The congress set up a special body, with Otunbaeva, a former foreign minister, at its head, to monitor the implementation of the opposition's demands by authorities.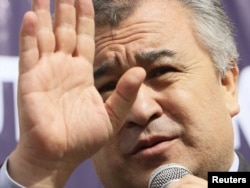 Omurbek Tekebaev speaks to demonstrators in the capital.
Speaking to the crowd, Tekebaev, a former speaker of parliament, said the congress reflected the mood in the country, with people increasingly dissatisfied with Bakiev's policies.
But a leading member of the ruling Ak-Jol (Bright Path) party, Ulukbek Ormonov, was dismissive of the opposition gathering, telling RFE/RL that organizers had shown little interest in dialogue with authorities.
"We cannot achieve any positive results by dividing people into two opposing parts," Ormonov said. "In every matter, both the government and opposition leaders have to make steps toward each other in the interests of the nation as a whole."
A Range Of Criticism
Bakiev, who swept to power amid street protests dubbed the Tulip Revolution in 2005, has come under severe criticism for widespread corruption and nepotism, as well as his apparent clampdown on independent media.
Access to several independent news websites, including centrasia.ru and ferghana.ru, has been blocked and some rebroadcasts of RFE/RL Kyrgyz-language programs have been suspended over the past week.
Some 200 people gathered outside the Bishkek office of the Organization for Security and Cooperation in Europe on March 15 asking the international organization to help restore freedom of speech in Kyrgyzstan.
Opposition leaders accuse the government of persecuting its opponents, saying there are around 100 political prisoners in the country, including Ismail Isakov, a former defense minister, and Erkyn Bulekbaev, the leader of the Green Party.
On the eve of the congress, a Kyrgyz court sentenced Alikbek Jekshenkulov, a former foreign minister and the head of the For Justice movement, to a five-year suspended prison term on financial mismanagement charges. Jekshenkulov is currently under house arrest.
Some 50 supporters of politician Ismail Isakov gathered in his native village in southern Alay district in Osh Province today to protest his imprisonment. Found guilty of misuse of power, Isakov is serving an eight-year prison term after being sentenced in January.
Opposition supporters in Bishkek hold portraits of those killed in the 2002 clash in Aksy.
However, it was the appointment of Maksim Bakiev to the top official post in November that infuriated many Kyrgyz. Thousands of protesters took to streets in Naryn last week to demand that the president's son leave the country.
Bakiev has also appointed other relatives to top jobs. His brother Janysh, the head of the State Protection Service, has been accused of manipulating law-enforcement agencies against the president's opponents.
Today's protest in Aksy drew some 100 people to mark the eighth anniversary of bloody, antigovernment protests in that village, where six people were killed and many injured after police opened fire on unarmed demonstrators.
written by Farangis Najibullah with contributions from RFE/RL's Kyrgyz Service