People across the world have taken to the streets to mark international Labor Day and, in many places, call for better working conditions amid the global financial crisis.
In Greece, tens of thousands of furious demonstrators denounced planned austerity measures needed to secure rescue loans for the country, which is battling a severe debt crisis.
Police clashed with protesters in Athens and in the second-largest city of Thessaloniki, where more than 5,000 people demonstrated.
The protests come as Greek officials today wrap up negotiations with the European Union and the International Monetary Fund to dramatically cut spending and raise taxes in return for the international loan package, which is worth $60 billion this year alone.
The austerity measures, which will also include freezing pensions and wages, have met fierce resistance in Greece. A nationwide general strike is expected on May 5 against the budget cuts.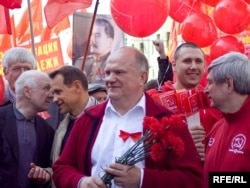 Communist leader Gennady Zyuganov leads May Day demonstration in Moscow.
In the port city of Piraeus, communists, union leaders, and port workers called for a revolution, chanting, "People, don't bow down, it's time for revolution!"
Russia's Communists March
May Day demonstrations were more peaceful in Moscow.
Communists, nationalists, and supporters of Prime Minister Vladimir Putin's ruling party marched through the city, where May 1 was once lavishly celebrated as International Workers' Day in Soviet times.
The Communists, whose leaders have avoided harsh criticism of the Kremlin, waved red flags and carried portraits of Soviet rulers Vladimir Lenin and Josef Stalin.
Russian Communist Party leader Gennady Zyuganov led the march, holding red carnations traditional of May Day rallies:
"Today, when the crisis is raging across the planet, when the situation is getting worse, workers have no other weapon than to take to the streets together to show their will and force the authorities to hear their demands," Zyuganov said.
"These demands are simple: people need work, real modernization of the country, not just talk, and an energetic fight against corruption and bandits."
Hundreds of opposition activists also rallied in Moscow, where they denounced Putin's policies and compared him with Stalin in a rare protest approved by the authorities.
Opposition leader Garry Kasparov said it was the first time the authorities allowed dissidents to demonstrate on May 1.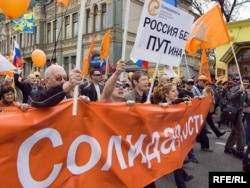 Opposition demonstration in Moscow
More than 1.5 million people across Russia were expected to take part in events marking May Day.
In Turkey, thousands of people converged on Istanbul's Taksim Square for the first May Day celebrations there since 1977, when a shooting during a May 1 rally at the site left 36 demonstrators dead.
Rallies had been banned on the square since the bloodshed, in which gunmen believed to be far-right militants aided by intelligence services fired on the demonstrators.
In Germany, police were out in force on the streets of Berlin ahead of a planned neo-Nazi march and other demonstrations.
Police said 17 officers were wounded following clashes with demonstrators in the northern port city of Hamburg late on April 30.
with agency reports