Turkish Prime Minister Recep Tayyip Erdogan has said that his decision to bar Israel from taking part in NATO military exercises this week was based on "diplomatic sensitivities" and public opinion in his country.
"There is a necessity for every political administration to take into consideration the demands of its people," Erdogan said on October 15. "This is a necessity. I can not ignore the request of my own people on this issue."
The exercises were due to start on October 12 and run until October 23, but were postponed indefinitely after the United States and Italy reportedly refused to take part without the involvement of Israel's air force.

This came as Israel protested the depiction of Israeli soldiers firing at Palestinian children in a fictional television series aired on Turkish state television. Turkish Deputy Prime Minister Bulent Arinic has denied that the show had a political agenda, saying: "There is certainly a measure of truth in it. There may be some exaggeration but ultimately this is a television series."
These developments highlight the deterioration during the past year of a long alliance between Ankara and Tel Aviv.

Realigning In The Middle East
In broader terms, analysts tell RFE/RL that Erdogan's decision to bar Israeli forces could reflect a seismic geopolitical shift in the region -- the end of the alliance between the Israeli and Turkish militaries, and the desire of the government in Ankara to improve ties with other countries in the Middle East.
Dorothee Schmid, an expert on Turkish affairs at the French Institute for International Relations in Paris, says that Erdogan's decision shows that the Turkish military is losing the strong influence it once wielded over foreign-policy decisions by the civilian leadership in Ankara.
"Turkey is now developing a new national outlook regarding its whole neighborhood. There [also] is a reframing of the internal organization of power in Turkey, which actually is, in some way, deteriorating the ability of the Turkish Army to impose political views on the government," Schmid says.
"These two evolutions, as seen at least from the Turkish side, can explain partly the latest negative developments with Israel."
George Joffe, a Middle East specialist and a professor at the University of Cambridge in Britain, that the strong relationship in the past between Turkey and Israel was based on global strategic considerations and a common assessment of risks in the region -- an alliance forged by the militaries of both countries, which share a mutual distrust of Arab states and Iran.
Joffe says the advantages of the alliance for Israel "were obvious. It gave Israel a way to consider itself to be part and involved with the events of the Middle East. It also gave Israel a space for practice for its aircraft and a partnership in the reequipping of the Turkish Army."

Outburst Or Calculated Gamble?
Political analysts now point to last December as the turning point in the relationship. That is when Israeli forces invaded Gaza -- an operation that human rights advocates say killed more than 1,400 people, including nearly 1,000 Palestinian civilians.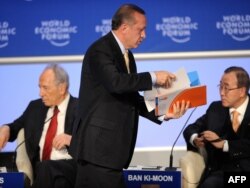 Erdogan walked out of a debate with Israeli President Shimon Peres -- emotional outburst or calculated tactic?
In January, Erdogan stormed out of a debate with Israeli President Shimon Peres at the World Economic Forum in Davos, Switzerland -- waving his finger at Peres and accusing him of "murdering children on the beaches" of Gaza.
"When it comes to killing, you [in Israel] know well how to kill people," Erdogan said. "I remember the children whom you [in Israel] killed on the beaches, and I remember two former prime ministers in your country who said to me that they felt very happy when they were able to enter Palestine in tanks."
Some Turkish experts at the time dismissed Erdogan's outburst as public theater ahead of local elections in March -- saying he was merely trying to shore up support for his Justice and Development (AK) party among Turkish voters who are sympathetic to Palestinians.
But Erdogan's outburst at Davos is increasingly seen as the beginning of a calculated effort to redefine Ankara's relationship with Israel. Schmid also sees events in the context of Ankara's efforts to play a more dominant role as a mediator in disputes with the Arab world -- a role that Turkish diplomats played in 2008 during talks between Syria and Israel.
Schmid points to increasing "signs of unilateralism" in Israel's foreign-policy decisions, and that this has "made the Turks really uneasy. Then this summer, with the coming of the new more nationalist-oriented government in Israel, the Israelis themselves told the Turks that they were not welcome anymore in doing this broker jobs with the Syrians," she says.
"So now, these maneuvers from which the Turks now want to exclude Israel, is only a new episode in a series of [events] rebalancing of the relationship on the part of the Turks, who felt in some way cheated by the Israeli diplomacy lately."

A Convenient Excuse
Indeed, after Turkey announced Israel's exclusion from this week's NATO exercises, Syria said it would conduct military exercises with Turkey. Syrian Foreign Minister Walid al-Mualem welcomed Turkey's decision, saying it "reflects the way Turkey regards the Israeli attack in Gaza."
Israel dismissed the Turkish-Syrian announcement. Israeli cabinet minister Benny Begin says Turkish-Syrian exercises are part of Syria's desire to create a new bloc of countries in the Middle East that would include Iran, Syria, Turkey, and Iraq.
But Joffe says it is not yet clear whether there has been a complete breakdown of the Turkish-Israeli alliance. "It is perhaps the Gaza incident that has persuaded the Turkish government that it can't afford to maintain too close a relationship with Israel. And therefore, it is trying to distance itself little by little," he says.
"Whether that will mean a breach and the complete transformation in relations is not yet clear. But it is quite clear that there is some fundamental change taking place, and I think that mirrors the internal changes in Turkey in terms of the relationship between the government and the army command."
Joffe says the declining influence of the Turkish military on Ankara's decisions would be a cause of concern for Israel.
"If, indeed, the government is in charge of affairs inside of Turkey, it could be argued that this [decision to bar Israel from the exercises] was simply an excuse to demonstrate to the Arab world -- with which Turkey is making better relations -- and, indeed, with Iran, that Turkey was no longer bound by its relationship with Israel," Joffe says.
"This, I think, would put a whole different cast on the relationship from the point of view of Tel Aviv. The Israelis might then consider that the relationship which has been so important to them as now in jeopardy."
On the other hand, Joffe concludes, the decision to block Israeli participation in training operations could have been supported by Turkey's armed forces because of a more practical issue.
Joffe notes that an Israeli defense company with a $140 million contract to provide unmanned drone aircraft to Turkey has failed to deliver the equipment. Turkey's military staff may have simply seized on that issue as an excuse to break off relations with Israel.