Turkey and Armenia say they have agreed upon a framework for normalizing their relations.
The brief, 95-word statement says "the two parties have achieved tangible progress and mutual understanding in this process and they have agreed on a comprehensive framework for the normalization of their bilateral relations in a mutually satisfactory manner. In this context, a road map has been identified."
The progress report -- which was issued jointly with Swizerland, the broker for the Armenia-Turkish negotiations -- gave no details as to the points for discussion between the two sides or how close to any final agreement Ankara and Yerevan might be.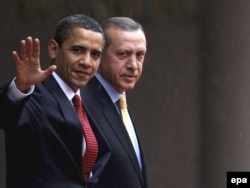 Turkish Prime Minister Recep Tayyip Erdogan (right) meets with U.S. President Barack Obama in Ankara on April 6.
Turkey broke off relations with Armenia and closed its border in 1993 in protest at Armenia's war with Azerbaijan, a close Turkish ally, over the disputed territory of Nagorno-Karabakh. The rapprochement talks are aimed at returning the two neighbors' relations to their previous state.
Political Sensitivity
The announcement immediately drew praise from Washington.
U.S. State Department spokesman Robert Wood said, "It has long been and remains the position of the United States that normalization should take place without preconditions and within a reasonable time frame."
The announcement comes at a time of great political sensitivity for both Ankara and Yerevan -- something that may help explain the timing of its release this week.
It appears just two days before the White House is due to make an annual statement marking the mass killings of Armenians in Turkey during the World War I era.
U.S. President Barack Obama promised during his campaign for president that he would recognize the mass killings as genocide.
Armenia, and genocide scholars, say 1.5 million Armenians died at the hands of the Ottoman Turks from 1915-23 in a campaign aimed at eliminating the Armenian population in the Ottoman Empire.
Armenians have made April 24 Genocide Remembrance Day in recognition of the same date in 1915 when Armenian leaders were arrested and later executed.
Turkey, which disputes the genocide charge, is eager to avoid such a U.S. presidential recognition.
Ankara says that up to 600,000 Armenians died during World War I and during deportations out of eastern Anatolia, but that the deaths were in the context of an Armenian uprising as Armenians sided with invading Russian troops at the time.
'On The Record'
Now, Ankara may hope that this week's announcement of the road map may persuade Obama to mark April 24 as previous U.S. presidents always have done -- with a statement that stops short of calling the killings genocide.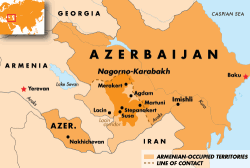 In his visit to Turkey earlier this month, Obama appeared to signal that he might not see April 24 as the time for a genocide statement if Turkey and Ankara were making progress toward rapprochement.
Speaking to the Turkish parliament on April 6, Obama said his views "are on the record and I have not changed my views."
Urging Ankara and Yerevan to work together, he said "what I want to do is not focus on my views right now but focus on the views of the Turkish and the Armenian people." He added, "If they can move forward and deal with a difficult and tragic history, then I think the entire world should encourage them."
But April 24 may not be the only reason Turkey wanted to announce a road map this week.
Richard Giragosian, director of the Yerevan-based Armenian Center for National and International Studies, says Ankara may also be seeking to manage a mounting resistance to its rapprochement with Yerevan from Azerbaijan.
"Turkey did not expect such an intense and strong, vehement reaction from Azerbaijan," Giragosian says. "Azerbaijan in many ways has been expressing in recent weeks a sense of betrayal and isolation, and they feel let down by Turkey."
Derail Rapprochment
Azerbaijan is reported to be worried that the Turkish-Armenian rapprochement could bypass the thorny issue of Nagorno-Karabakh.
One reason for worry is that Yerevan previously has ruled out direct Turkish involvement in the international efforts to end the dispute over the predominantly Armenian enclave inside Azerbaijan.
Azerbaijan in many ways has been expressing in recent weeks a sense of betrayal and isolation, and they feel let down by Turkey.
Giragosian says Yerevan also appears to feel that announcing a road map this week will help preempt the possibility that Azerbaijan's resistance could derail the rapprochement drive.
"I do think the message from Turkey to Armenia is quite clear, and that is there is a very small and closing window of opportunity," Giragosian says. "And I do think that Armenia fears that it is losing the opportunity, just as Turkey is losing an opportunity, because of Azerbaijan's reaction. So, perhaps rushing through, or re-energizing the momentum that seems to have been lost or stalled, reflects the almost desperation by the Armenian government to seal this deal."
Armenia has suffered economically from Turkey's closure of the border because it deprives Armenia of its shortest land trading route to Europe.
But if both Ankara and Yerevan view the road map as an insurance policy for future progress toward rapprochement, there are dangers that both governments could equally increase their own domestic opposition to the process by this week's joint move.
Giragosian sees the danger for the Armenian government as particularly acute.
"One of the real lessons from Turkey and Azerbaijan was that Turkey failed to prepare its society and its public opinion for any possible normalization with Armenia," he says. "Azerbaijan makes the same mistake regarding Nagorno-Karabakh.
"Yet this statement also reveals that Armenia not only has not prepared its society for a normalization with Turkey or for a potential peace deal over Nagorno-Karabakh, but the Armenian government, by agreeing and issuing this statement two days before April 24, actually opens itself up to attack and only bolsters the more nationalist line within Armenia."

Steps Of The Deal
Giragosian says that if Turkey and Armenia normalize relations, the deal would come in several steps.
There would be an agreement to open the border, followed by an agreement to move toward diplomatic relations, with the Turkish ambassador in Georgia most likely assuming the portfolio of representing Turkey in Armenia.
He says there also would be an agreement to form a large, all-encompassing governmental commission to resolve several issues, most importantly including the "Armenian genocide" issue.
He says there are also signs that Turkey would unveil a new document or road map on Nagorno-Karabakh committing all sides to work within the OSCE Minsk Group mediation process and committing all sides to working hard to resolve the Nagorno-Karabakh conflict.
It is exactly the question of what form this commitment over Nagorno-Karabakh would take that is now becoming the potential deal-spoiler for the rapprochement process. This week's road map may be as much a measure of the level of worry over that possibility as it is a progress report that all is going well on the road to a deal.