The global economic crisis has stopped, or at least slowed, construction projects in countries around the world. But there are exceptions and Turkmenistan is one.
Turkmenistan's leader is anxious that his country look its best when it marks 20 years of independence in October 2011, and to make sure it will, President Gurbanguly Berdymukhammedov plans to spend a large amount of money.
"Through attracting national and foreign investment, in 2010 and 2011, hundreds of new buildings will be constructed in Turkmenistan at a cost of some $23.6 billion," the Turkmen president told a government meeting.
Berdymukhammedov already announced in November 2009 that $12 billion would be spent in 2010 on constructing or completing construction of more than 240 "major" facilities. The Turkmen government's budget for 2010 is some $16 billion.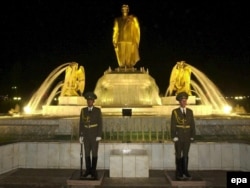 There could soon be fewer statues of Niyazov in Ashgabat.
The bulk of that construction money is slated for the capital, Ashgabat, where intensive construction has been going on since the mid-1990s. More than a decade ago, then-President Saparmurat Niyazov ordered all the ministries to construct new buildings for themselves and to build new five-star hotels. Those hotels rarely have more than about 30 percent occupancy.
Other new additions to Ashgabat include an artificial river that runs a short course through the capital with fountains placed at intervals along its banks, a zoo with facilities for penguins, an ice-skating rink in a country where temperatures reach 50-plus degrees Celsius during summer months, and a new, air-conditioned equestrian center. Turkmen are mainly desert nomads by tradition and the Akhal Teke horse is still a source of national pride.

Price Of Construction
For Ashgabat residents, the news of more construction may not be very welcome. In the past when the authorities wanted to build a new grandiose structure, it meant existing structures needed to be demolished, often apartment buildings.
Thousands of people have been forced to relocate to areas away from Ashgabat's center as new buildings went up. Compensation for their losses was minimal if it came at all. And while it is possible according to Turkmenistan's laws to seek compensation for the loss of a dwelling, in fact the complaint would be against the state and the government has a well-earned reputation for dealing harshly with people who complain.
The Turkmen authorities have not said which, if any, existing buildings may be headed for demolition but such a large-scale project seems certain to lead to the destruction of some dwellings.
One structure in Ashgabat that is scheduled for dismantling is the Arch of Neutrality, a 75-meter-high eyesore in the city center crowned by a golden statue of former President Niyazov that rotates so Niyazov's face follows the path of the sun. Built in 1998, it will be reassembled on the outskirts of the city but it's unlikely that many Ashgabat residents will be sorry to see it go.
Ashgabat residents could face evictions as more monumental construction is planned.
But a new 95-meter Neutrality Monument, celebrating the UN's 1995 recognition of Turkmenistan as a neutral state, will be built in the southern part of the capital at a reported cost of more than $200 million.
One person who's happy to see that statue relocated is independent journalist Dowlet Yazguliev. He tells RFE/RL's Turkmen Service that people have welcomed the news of the monument's removal and hope that "all the other monuments that are reminders of the former dictator, including the Ruhnama monument and some others, [will] be removed."
Some of the budgeted $23.6 billion will also go to furthering work at the Avaza tourist resort site on the Caspian Sea coast. The grandiose resort is reminiscent of structures in Dubai and when completed will likely be too expensive for average families in Turkmenistan to travel to for vacations.
The French firm Vinci appears set to receive some of the contracts for new construction, while Bouygues, another French company, has done a lot of construction in Turkmenistan in the past. The Turkish company Polymex is also said to be a candidate to receive contracts in the construction boom.
RFE/RL's Turkmen Service director Jamal Yazliyeva and correspondent Guvanch Geraev contributed to this report