Low voter turnout in a referendum in Moldova on direct presidential elections appears likely to kill the initiative.
A "yes" vote would have led to the reintroduction of a popular vote for president to replace the current system, wherein the head of state is selected through a vote in parliament.
Moldova has had an acting president for the last year and parliament has failed twice to choose a successor to two-term President Vladimir Voronin.
One-third of the electorate was required to validate the referendum, which was heavily backed by the four parties in the ruling coalition and was boycotted by Voronin's opposition Communist Party.
But Central Electoral Commission Secretary Iurie Ciocan announced on September 6 in the capital, Chisinau, that voter turnout was just 29.05 percent, more than 4 percentage points short of that goal.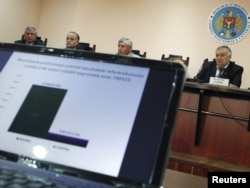 Members of Moldova's Central Election Commission at a news conference in Chisinau on September 6.
About 85 percent of those who voted backed direct elections, according to preliminary results.
But under Moldovan law, it will be impossible to hold another referendum on the question of direct presidential elections for at least two years.
Presidential Gridlock
Final official figures on the referendum are expected on September 8.
The four-party Alliance for European Integration (AIE) had scheduled the referendum in a bid to end the country's long political standoff.
Under the current system, the country's president is selected by a vote of at least 61 of the 101 deputies in parliament. Since preterm legislative elections in July 2009, the AIE parties have held 53 seats and the opposition Communist Party 48.
As a result, the legislature failed to elect a president during attempts in November and December 2009.
The AIE then decided on the referendum as a way to get past the stalemate. But the Communist Party resisted strenuously, filing numerous legal cases against the referendum and calling on supporters to boycott it.
Voronin 'Pleased'
Communist Party leader and former President Voronin told RIA Novosti on September 5 that the vote was "a real referendum of no confidence in the current regime."
Voronin expressed his satisfaction with the results in comments this morning.
WATCH: RFE/RL broadcaster Alexandru Eftode discusses what scenarios are likely to unfold:
"I am very pleased with the high level of responsibility for the country shown yesterday by our citizens," Voronin said. "That level is much higher than that of the so-called leaders of the country, as they like to call themselves."
Prime Minister Vlad Filat told journalists late on September 5 that "the lack of a coherent message from all those involved in organizing the referendum" was among "several factors" to blame for the low turnout.
He also cited an "aggressive campaign of the Communist Party to boycott the poll."
If the referendum is invalidated, parliament will be dissolved and Moldova will hold yet another set of legislative elections, most likely in November.
written by Rob Coalson, with contributions from RFE/RL's Moldovan Service