A senior UN official has called for the urgent creation of a humanitarian corridor for aid to be delivered in Kyrgyzstan after five days of deadly ethnic violence in the south of the country.
Lynn Pascoe, the UN undersecretary-general for political affairs, told the Security Council that Uzbekistan also needs international assistance to deal with an influx of refugees.
Tens of thousands of ethnic Uzbeks from southern Kyrgyzstan – mostly women, children, and the elderly -- have entered Uzbekistan's Andijon border region. The UN's special envoy in Bishkek, Miroslav Jenca, said today their number may soon pass 100,000.
'No Capacity To Cope'
Regional media report that Uzbekistan has closed its border with Kyrgyzstan, citing its inability to cope with the large number of refugees.
Aripov said Uzbekistan needs international humanitarian aid to be able to help the refugees. He said the border will reopen if the country gets the help it needs to cope with the influx.
The UN refugee agency says it is sending enough humanitarian aid for 75,000 people to Uzbekistan.
The UN called on Uzbekistan and Tajikistan to keep their borders open for refugees fleeing the Kyrgyz conflict.
Officials in Tajikistan say they have put emergency situation services on standby should refugees from Kyrgyzstan enter the country.
Death Toll Underestimated?
The Kyrgyz Health Ministry today said the violence in the south of the country has left at least 170 people dead and more than 1,700 wounded since the latest violence erupted on June 11.
WATCH: Tens of thousands of ethnic Uzbek refugees have fled from the deadly clashes in the southern Kyrgyz cities of Osh and Jalal-Abad. Emergency workers at camps in the Uzbek city of Andijon are struggling to provide the incoming refugees with food and medical care.
Ethnic Uzbeks and some international aid officials say the death toll is a gross underestimation. "The New York Times" quotes Pierre-Emmanuel Ducruet, a spokesman for the International Committee of the Red Cross in Osh, as saying that the figure could be 700 dead just in Osh, based on inspections of the city's morgues.
The riots and ethnic clashes initially began in the southern city of Osh and nearby districts. The conflict soon spread to the neighboring province of Jalal-Abad.
Most of the attacks targeted Uzbek minorities and Uzbek-operated businesses. However, there have been many deaths and casualties among the Kyrgyz population, too.
Many buildings in Osh city center, including the city's theater, concert hall, bazaars, and many shops and cafes were set alight, along with many private houses.
'Intolerable' Situation
A Russian-led regional security grouping, the Collective Security Treaty Organization, (CSTO), has proposed sending helicopters and equipment to help Kyrgyzstan's government stop the unrest.
Russian President Dmitry Medvedev said on June 14 that the situation in Kyrgyzstan is "intolerable."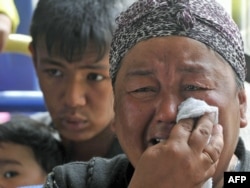 An ethnic Uzbek woman cries as she rides on a bus as it leaves Osh on June 15.
"Certainly, it's necessary to help [the Kyrgyz people] to resolve these problems. Measures of reaction and your proposals have been elaborated," Medvedev said. "Now it is the turn of the CSTO heads of states [to decide], and I can join the efforts again if needed."
Medvedev on June 12 had turned down a call by Kyrgyz interim leader Roza Otunbaeva for Russian military aid.
Meanwhile, interim authorities in Kyrgyzstan say the situation was relatively calm overnight in Jalal-Abad and Osh.
According to the press office of the Osh governor, some 2,000 ethnic Uzbeks who had fled toward the Uzbek border came back to their homes in Osh's Nookat district after persuasion from local authorities, including Nookat's district governor.
"Currently, the situation in the district is stable," the press office says.
'Signs Of Life'
RFE/RL's correspondent in Jalal-Abad, Rysbai Abdraimov, says the local government seems to be in control of the situation there today. Provincial and city administration offices have reopened and government forces are seen patrolling streets.
"The local government said humanitarian assistance has arrived in Jalal-Abad, but they didn't give more details," our correspondent says. "Bread and flour is being distributed among local residents who have run out of food supplies as shops and markets were closed in recent days."
The city's main bazaars, shops, and schools remain closed, however, and public transport has not yet resumed.
"There are signs of life returning to normal, but people are still very cautious," our correspondent reports. "And from time to time you hear rumors about imminent attacks in nearby villages."
"According to information I received from the rights ombudsman in Jalal-Abad, Alina Amanova, some people who had left their homes in Suzak district are now returning home," Abdraimov says. "There are Uzbeks, Kyrgyz, and other nationalities among them. These are people who had fled to nearby villages."
The situation in southern Kyrgyzstan has been volatile since the previous government in Bishkek was ousted in the aftermath of public protests in April. Ousted President Kurmanbek Bakiev, who hails from Jalal-Abad, has had his strongest support in the region.
Interim officials have blamed Bakiev supporters for fueling the latest violence, a charge Bakiev has denied.
written by Farangis Najibullah in Prague, based on RFE/RL Kyrgyz Service material and agency reports