The United States has called the latest report on Iran by the United Nations' nuclear watchdog "troubling to all who care about nonproliferation and global security."
In a new report released on September 6, the International Atomic Energy Agency (IAEA) says Iran is hampering the agency's work by barring some inspectors and pushing ahead with its nuclear program in defiance of tougher sanctions.
White House spokesman Tommy Vietor said the report "again demonstrates that Iran is refusing to comply with its international nuclear obligations and continues its effort to expand its nuclear program and move closer to a nuclear weapons capability."
However, Iran's envoy to the IAEA, Ali Asghar Soltanieh, said the report had tarnished the agency's "technical reputation" and was "not balanced."
Iran's Mehr news agency quoted Soltanieh as adding that the report confirmed Tehran had not diverted nuclear material toward military purposes or the creation of a nuclear weapon. He insisted that all of Iran's nuclear activities were under the IAEA's "complete supervision."
Soltanieh's comments were echoed by Foreign Ministry spokesman Ramin Mehmanparast, who said: "[The IAEA] director-general has emphasized in this report for the 23rd time that there has been no diversion in Iran's peaceful nuclear program."
He continued by saying the IAEA should look instead at Israel, which is widely believed to hold the Middle East's only nuclear arsenal.
Mehmanparast also said the latest IAEA report would have "no impact on our future cooperation with the agency and our commitments to international rules and regulations."
The United States and other Western powers suspect Iran is trying to develop nuclear weapons, while Tehran insists its nuclear program is solely for energy production.
'Repeated' Objections
In its latest report, the IAEA report voices concern about what it calls Iran's "repeated" objections to its choice of some inspectors, saying this "detracts from the agency's capability to implement effective and efficient safeguards in Iran."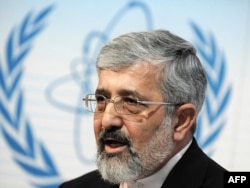 Iran's ambassador to the IAEA, Ali Asghar Soltanieh
In June, Iran barred two experienced inspectors after they reported what they called undeclared nuclear experiments.
Speaking to the ISNA news agency, the head of Iran's Atomic Energy Organization, Ali Akbar Salehi, said Iran had barred the two inspectors because they had filed reports that "were contrary to reality." He said Tehran had the right to bar some UN inspectors from monitoring its disputed nuclear program.
Iran has denied access to a senior inspector in the past and objected to other appointments.
Soltanieh told the Associated Press that the IAEA currently had 150 inspectors able to work in Iran and pointed out that the report mentioned the country had approved five additional inspectors. That, he said, was a "clear indication" that Tehran has cooperated with the IAEA.
Mixed Signals
The 11-page IAEA document also says Iran continues to enrich uranium in contravention of UN Security Council demands and despite additional sanctions imposed earlier this year.
It says Iran has produced around 2.8 tons of low-enriched uranium, up from 2.4 tons in May.
According to the IAEA, enrichment for what Tehran says will be fuel for a research reactor has produced about 22 kilograms of 20 percent-enriched uranium. Such material can be turned into weapons-grade material more quickly than low-enriched uranium.
The Iranian leadership has repeatedly rejected international demands that the country halt sensitive enrichment activity and has sent mixed signals about its readiness to negotiate with the West.
The quarterly report also says that Iran continued to stonewall the agency in its efforts to follow up on intelligence indicating past experiments meant to develop a nuclear weapons program.
It also says there had been cases when agency seals had been broken at Iran's Natanz enrichment plant. Iran said they were accidental, but the IAEA said it would look into the issue.
In reaction to the report, China expressed hope that Iran and the IAEA could fully cooperate and "establish the trust of the international community in the peaceful nature of their nuclear plants."
Foreign Ministry spokeswoman Jiang Yu also voiced hope for increased diplomatic efforts and a speedy resumption of talks aimed at seeking a resolution to the Iran nuclear issue.
Meanwhile, six countries across the Persian Gulf called on Iran to cooperate with the IAEA, saying they wanted Tehran to help efforts to make the Middle East a region free of weapons of mass destruction.
The statement was issued by the Gulf Cooperation Council, a loose political and economic alliance that groups Saudi Arabia, the United Arab Emirates, Bahrain, Qatar, Kuwait, and Oman.
written by Antoine Blua, with contributions from RFE/RL's Radio Farda and agency reports