If there was ever any doubt, it has been made clear that the Obama administration views Central Asia as an important part of U.S. foreign policy.
George Krol, the U.S. deputy assistant secretary of state for South and Central Asian affairs, sent the message during a special Senate Foreign Relations subcommittee hearing on December 15.
"This administration does not consider Central Asia a forgotten backwater, peripheral to U.S. interests," Krol said.
"The region is at the fulcrum of key U.S. security, economic, and political interests. It demands attention and respect and our most diligent efforts and the Obama administration to this very approach."
The Central Asian states have always viewed the United States as a potentially valuable partner and ally, but the leadership in the five states also resented U.S. criticism of Central Asian rights violations and failure to respect basic freedoms.
At least that was the state of relations throughout the 1990s. But after the September 11, 2001, attacks in the United States, Central Asia took on new importance for Washington.
And now, with the United States entering a new phase of the war in Afghanistan that followed the 9/11 attacks, including a troop surge and a greater emphasis on taking the fight to Pakistan, Central Asia again is coming into focus.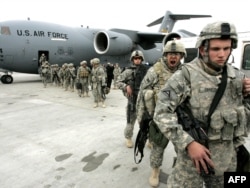 U.S. soldiers get off a plane from Afghanistan at an air base in Kyrgyzstan.
That was evident from comments made by U.S. Senator Robert Casey (Democrat, Pennsylvania) during the hearing.
"So while this hearing will focus on the main issues confronting the region, any examination of U.S. policy toward Central Asia must start with the conflicts in Afghanistan and Pakistan," Casey said.
Casey explained that with "an increase in NATO troops headed to the region and an increasingly dangerous supply line through Pakistan, Central Asia potentially becomes even more important as we seek to get material into Afghanistan."
The race for energy resources has also changed the relationship between the United States -- and the West in general -- and Central Asia, which abounds in hydrocarbon and other energy resources.
U.S. Regional Priorities
While noting that security remains the dominant issue in ties with Central Asia, Deputy Assistant Secretary of State Krol confirmed what many suspected were the U.S. priorities for the region.
Krol said that the "five main policy priorities" in the region are:
"to expand cooperation with the Central Asian states to assist coalition efforts to defeat extremists in Afghanistan and Pakistan and bring stability and prosperity to the region"


"to increase the development and diversification of the region's energy resources and supply routes"


"to encourage political liberalization and respect for human rights. President [Barack] Obama has made clear we don't seek to impose our political system on other nations, but that does not mean that we do not actively promote good governance and respect for fundamental human rights."


"to foster competitive market economies and economic reform"


"to prevent state failure"
Casey went on to note that there are still potential security threats that could come from Central Asia -- another reason for keeping close ties to governments in the region.
"Unsecure nuclear weapons and fissile material should be a top priority of our policy," Casey said.
"While these countries voluntarily relinquished their nuclear arsenals after the fall of the Soviet Union today the region is still engaged in activities relevant to the proliferation of weapons of mass destruction, namely uranium mining, plutonium production and the fabrication and testing of biological and chemical weapons."
Krol also touted an upcoming meeting with a delegation from Uzbekistan, led by Foreign Minister Vladimir Norov, by saying that holding such meetings on a regular basis will be a new facet of U.S.-Central Asian ties.
"We have begun to establish high-level bilateral mechanisms with each country in Central Asia, featuring a structured annual dialogue to strengthen ties and build practical cooperation," Casey said.