The Vatican has said it may use its moral authority to try to persuade Iran to spare the life of a woman sentenced to be stoned to death for adultery.
In its first public comments on the case of Sakineh Mohammadi Ashtiani, a Vatican spokesman on September 5 denounced stoning as a "particularly brutal form" of capital punishment and strongly hinted that the Holy See would use quiet diplomacy in an effort to influence the Iranian authorities.
The spokesman, Reverend Federico Lombardi, said in a statement that the Vatican was "following the case with attention and interest." He added: "When the Holy See is asked, in an appropriate way, to intervene in humanitarian issues with the authorities of other countries, as it has happened many times in the past, it does so not in a public way, but through its own diplomatic channels."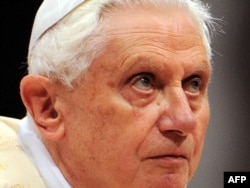 Pope Benedict XVI
The statement came after Ashtiani's son, Sajad Ghaderzadeh, told the Italian news agency Adnkronos that he had appealed to Pope Benedict XVI and to the government of Italy to help save his mother's life.
Apology Issued
On September 4, Ghaderzadeh told media outlets that Ashtiani had been sentenced to 99 lashes for "spreading corruption and indecency" over a photograph published in Britain's "The Times" newspaper purportedly of her without Islamic head covering. The newspaper said it had received the photo from Ashtiani's former lawyer, Mohammad Mostafaei, who is now living in exile in Norway after having fled Iran. It later published an apology, saying the picture was of a different woman.
Ghaderzadeh said he had heard about the lashing sentence from other inmates at the prison in Tabriz where his mother is being held. He has been unable to confirm it and did not know if it had been carried out.
The prospect of papal intervention is the latest twist in a case that has caused an international outcry. The Brazilian president, Luiz Inacio Lula da Silva, has already offered asylum to Ashtiani, a 43-year-old mother of two who was originally sentenced to 99 lashes after being convicted in May 2006 of an "illicit relationship" with two men following the death of her husband.
But after the case was reopened by another court, she was later convicted of "adultery while being married" and sentenced to death by stoning.
Mock Execution
In August, Iranian state television aired what it said was a "confession" by Ashtiani admitting involvement in her husband's 2005 murder.
In the face of international pressure, Iranian authorities have suspended Ashtiani's sentence, but it is feared she may still be executed by hanging. Last week, her son claimed that prison authorities had subjected her to a "mock execution" by telling her she was to be hanged the following morning.
The case has also triggered a diplomatic row between Iran and France after Iran's hard-line "Keyhan" newspaper described Carla Bruni-Sarkozy, wife of the French president, Nicolas Sarkozy, as a "prostitute" after she signed a petition on behalf of Ashtiani. The French government described the slur as "unacceptable" and Iran's Foreign Ministry later distanced itself from the remarks.
written by Robert Tait, with agency reports