Venezuelan President Hugo Chavez, whose whirlwind visit to the Russian capital this week was part of a nine-country tour, likes to make headlines.
In Moscow, he did so by offering a surprise announcement that his Latin American country was prepared to recognize South Ossetia and Abkhazia, the Georgian breakaway territories that last year declared independence with Russia's backing.
"Venezuela will join Russia in recognizing the independence of South Ossetia and Abkhazia," Chavez said. "From today, we recognize these two republics."
Chavez's pledge appears to make Venezuela only the third country -- after Russia and Nicaragua -- to recognize the Georgian territories. Moscow, clearly pleased by the gesture, responded by signing off on a $500 million contract to supply Venezuela with Russian tanks.
Chavez, whose anti-American sentiments make him a convenient partner for Moscow, enjoys frequent visits to Russia. His latest trip came as part of a tour that took him to Italy, Belarus, Turkmenistan, Libya, Algeria, Syria, Iran, Russia, and Spain.
But despite another round of warm meetings with Prime Minister Vladimir Putin, whom Chavez complimented as becoming "even younger," and President Dmitry Medvedev, who in turn praised the Venezuelan leader as "in fine physical form," many Muscovites asked about the visit were nonplussed, saying they had no interest in him, his politics, or his relations with Russia.
Spotty Knowledge
Some, like 47-year-old Zoya Melnikova, selling greeting cards in Central Moscow to raise money for a children's home, weren't even sure who the South American leader was.
"I've never met him; I haven't even seen him a single time; I don't know, maybe I've seen him on television," Melnikova said. "He's probably a good person, since he's president."
Melnikova said that "the Bible says all power comes from God," adding, "If he is president, then you need to honor, respect, and pray for him so that he will have success, and then God will change everything and all will be good in the country."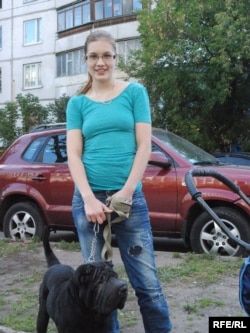 Moscow resident Viktoria Belyakova
Twenty-four-year-old Viktoria Belyakova, out for a stroll with her baby daughter and a black Sharpei named Nicholas, said she was not particularly interested in ties between Russia and Venezuela. But she praised Chavez for his leadership in Venezuela.
"As for its friendship with Russia, it's a good thing. Venezuela is quite a developed country, and I think it will be a plus for us," Belyakova said. "As for what I think about the relationship, I'm quite neutral. I'm not that interested in politics -- let's put it that way."
Wondering About Washington
Others welcomed Chavez's critical stance on the United States.
Andrei Gelbert, an unemployed lawyer, said Moscow's warm ties with the Venezuelan leader would create a new alliance of like-minded countries to counterbalance the West.
"It is Russia's ally against the axis of evil, America and Freemasons," Gelbert said. "That's what I think."
Andrei added that he believed it was Washington's aim to neutralize all of Russia's allies.
"America and its coalition eat them up, one by one -- all the regimes, like Ukraine, all our allies like Kyrgyzstan, Moldova, etc.," Gelbert said. "When they gobble up Hugo Chavez and Belarus, then probably only Russia will be left."
On the other hand, Irina, the 50-year-old director of a small advertising firm, chose to view Chavez's visit, and his pledge of recognition for South Ossetia and Abkhazia, in a more cynical light.
"You understand that, in principle, it's all a matter for politicians," Irina said. "As for the people, my opinion is that I am not against anything. I am only for friendship, good relations, with the people of Venezuela, with the people. As for the political sphere, it's just a political game."
Her ability to assess the situation, Irina added, was necessarily limited because of what she saw as biased news reports on state television.
"We judge the president [Chavez] from what we see on the news," she said. "And the news is, shall we say, not always objective."
-- interviews by Kevin O'Flynn in Moscow