Russia is waging a battle on two fronts -- one is purely military, the second ideological.
With South Ossetia back in Russian hands after Georgia's failed offensive to retake the province, Moscow has marshaled its considerable media and propaganda forces to defend its overwhelming military response and establish its own versions of the facts.
Since the start of the conflict on the night of August 7-8, Georgia has presented Moscow's actions as that of an aggressive advance against a sovereign state.
But Russian officials and the media see it quite differently. Moscow, they say, is conducting a humanitarian operation to rescue South Ossetian civilians from Georgian forces bent on destroying them.
Claiming Genocide
Some of the strongest language has come from global broadcaster Russia Today, the Kremlin-controlled English-language satellite channel, which has run its coverage of the crisis under giant captions reading "genocide" and "devastation.
"The city of Tskhinvali, which is in the midst of a humanitarian nightmare, has again come under fire from Georgian forces," Russia Today reported on August 11. "Georgians are also trying to flood the city where many remain trapped under rubble and could drown. Witnesses say Georgia has been using cluster bombs on the city."
Russian media coverage is taking its cue from the rhetoric of Russian officials like UN Ambassador Vitaly Churkin and President Dmitry Medvedev, who have branded Georgia's offensive as genocide.
"The form in which the Georgian side's actions took place cannot be called anything but genocide, because they were on a large-scale nature and targeted individuals -- the civilian population and peacekeepers who were fulfilling their duties to preserve peace," Medvedev said on August 10. "Besides, the information we receive shows that extremely serious crimes were committed, people were killed, burned, crushed by tanks, their throats were slashed."
Russia's Human Rights Ombudsman Vladimir Lukin even called for the creation of an international tribunal to punish those responsible for the deaths of South Ossetians.
"Maybe an international tribunal should be set up specially for this case, just as international tribunals were set up for other instances of massive extermination of people and massive destruction of cities," he said.
Russian news coverage has given ample air time to such statements. It has also featured nearly nonstop footage of shelled-out buildings, wounded civilians, and sobbing South Ossetian children.
Conspicuously absent are Russia's own reported strikes, including the bombing of civilian sites in the city of Gori and several additional strikes on the outskirts of the capital, Tbilisi. The bombings have drawn strong international criticism.
But Russia has stuck to its own narrative. Broadcasters like the state-run Vesti have announced unequivocally that Georgia was the first to invade South Ossetian territory and is responsible for launching a "humanitarian catastrophe."
The headline of the pro-Kremlin newspaper "Rossiiskaya gazeta" on August 11 read, "The responsibility for the deaths of innocent people in South Ossetia lies with Georgia's leadership."
"Since civilians and peacekeepers have died as a result of Georgia's attack," the daily "Izvestia" wrote, "Moscow can turn to The Hague tribunal and the Strasbourg [human rights] court to investigate the deaths of its citizens."

'Flag-Waving Patriotism'
Some policy-watchers are voicing concern that such skewed coverage of the conflict, coupled with the nationalistic rhetoric coming out of Moscow, will fan the flames of already mounting xenophobia in Russia.
Police in Moscow have already stepped up security patrols at train stations, checking documents from travelers arriving from the Caucasus region.
Many fear a repeat of the anti-Georgian campaign that swept Russia in 2006.
"Any such conflict affects the internal political situation by stimulating flag-waving patriotism," says Russian political analyst Fyodor Lukyanov. "This is particularly unpleasant, considering the extremely distressing anti-Georgia campaign we saw two years ago. If the armed conflict continues to escalate, I think the Russian leadership will have to take the utmost measures to prevent anti-Georgian agitation in the country."
Russia in 2006 rounded up and deported hundreds of ethnic Georgians, including schoolchildren, in retaliation for the arrest in Tbilisi of four Russian intelligence officers on spying charges. Russia also severed transport links with Georgia, stopped issuing visas to Georgian citizens, and raided Georgian businesses operating on Russian territory.
In terms of foreign policy, the escalating conflict over South Ossetia could well serve the Kremlin's interests by dashing Georgian President Mikheil Saakashvili's hopes of leading his country into the NATO military alliance -- a prospect that has long angered Moscow.
Besides drumming up nationalist sentiment, however, the Kremlin may have little to gain domestically from battling Georgian forces over the small rebel province.
"Few Russians know about the roots of the conflict in South Ossetia. I think that the Russian population is mostly indifferent to this problem," says Yevgeny Volk, who heads the Heritage Foundation think tank in Moscow. "The majority of people are much more concerned about economic problems such as inflation and poverty than about foreign policy."
RFE/RL's Russian Service contributed to this report
Clashes In Georgia: Chronology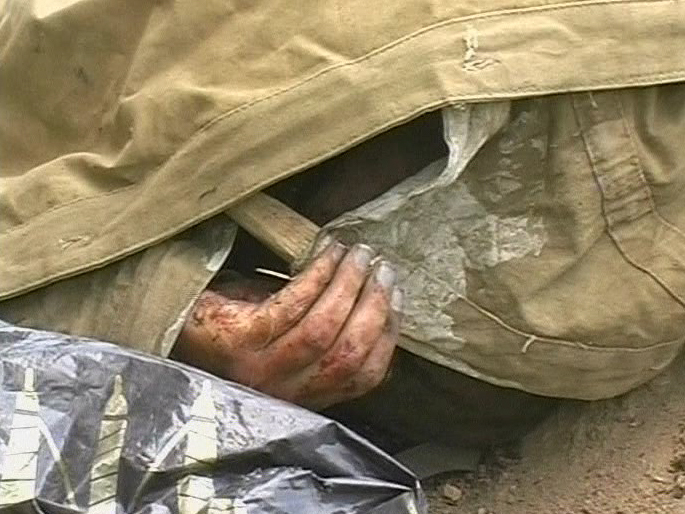 Clashes In Georgia: Chronology
Video of the fighting in Georgia's breakaway regions, and the latest efforts to end the conflict (Reuters video). Play


For full coverage of the clashes in South Ossetia, Abkhazia, and Georgia proper,
click here
.