After what is widely seen as five years of missed opportunities under incumbent President Viktor Yushchenko, Ukraine's three-month election campaign has begun.
Past presidential elections in Ukraine have been a contest for control of the "swing" region of central Ukraine that Leonid Kuchma and Yushchenko won in 1994 and 2004, respectively. But to win nationwide, a candidate needs either western or eastern Ukraine as well.
Kuchma won by winning the east and the center, Yushchenko the west and the center. The last three elections were won by slim majorities of 52-56 percent.
The upcoming presidential elections will be different, and the first in which western Ukraine will play a strategic role in deciding the winner. Central Ukraine continues to be dominated by Prime Minister Yulia Tymoshenko, whereas opposition Party of Regions Chairman Viktor Yanukovych has a dominant position in eastern-southern Ukraine.
The presidential election is set for January 17, 2010; if no candidate wins outright in the first round, a runoff will take place three weeks later.
Presidential Fragmentation
Western Ukraine's central role in the upcoming elections is the product of five years of infighting and fragmentation of the center-right. The Our Ukraine-People's Self Defense bloc (NU-NS) that entered parliament in September 2007 included nine parties that had promised to merge into a single pro-Yushchenko party that would support his bid for a second presidential term.
Instead, the nine have grown to 14, with the establishment of two new parties, led by Interior Minister Yuriy Lutsenko (Self Defense) and former chief of staff Viktor Baloga (United Center), plus three NGOs that are embryo parties led respectively by former Defense Minister Anatoliy Hrytsenko (Civic Initiative), former parliament speaker Arseniy Yatsenyuk (Front for Change), and Vyacheslav Kyrylenko (For Ukraine!).
Of NU-NS's 72 parliamentary deputies, approximately 40, a slim majority, support the democratic coalition underpinning the Tymoshenko government (together with the Tymoshenko and Volodymyr Lytvyn blocs).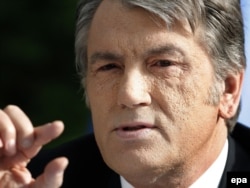 President Viktor Yushchenko's public support has dwindled.
Of the remaining 32 deputies, 17 belong to the single pro-Yushchenko group, For Ukraine!, while a further 10 belong to United Center.
President Yushchenko's election campaign is hampered not only by his low popular support, which he routinely dismisses as unimportant, but also his lack of a political machine. Yushchenko is honorary chairman of the People's Union-Our Ukraine (NS-NU) party, one of the original nine in the NU-NS bloc, and his chief of staff Vera Ulianichenko is its leader. Both the NS-NU and Yushchenko personally can count on only 2-3 percent support.
The NS-NU has been bankrupt since the spring, when Ukrainian businessmen withdrew their funding after it became evident that he was a lame duck president unable to win a second term.
At least five of the figures who played key roles in the Orange Revolution will be competing for the presidency: Yushchenko, Tymoshenko, Yatsenyuk, Hrytsenko, and Yuriy Kostenko, leader of the People's Party, one of the original nine in the NU-NS bloc.
The nationalist-populist leader of the Svoboda Party (formerly called the Social-National Party) Oleh Tyahnybok, who won a majoritarian seat in 2002 and joined the Our Ukraine faction (only to be expelled two years later for anti-Semitic remarks), will also be competing for the western Ukrainian vote.
Not Easy Breaking In
The two leading candidates in western Ukraine are Tymoshenko and Yatsenyuk. Yatsenyuk leads among younger and educated voters in the three Galician oblasts, while Tymoshenko leads in the remaining four oblasts of western Ukraine. Overall, Tymoshenko has a 6-7 percentage-point lead over Yatsenyuk throughout western Ukraine.
Yatsenyuk's popularity has catapulted him to third place in national opinion polls, but this should not make him overly self-confident, and his ratings have dropped by a third since the summer. Yatsenyuk's popularity is being squeezed from four directions: Tymoshenko, Ukraine's best election campaigner and most charismatic politician; incumbent Yushchenko, who has the same voter base as Yatsenyuk; Hrytsenko; and Serhiy Tyhipko.
In addition to Yatsenyuk, Hrytsenko and Tyhipko also figure within the "second tier" of candidates. Tyhipko has roots in the Dnipropetrovsk clan's Labor Ukraine Party, but is increasingly challenging Yatsenyuk for the position of the "new face in politics" among disillusioned voters.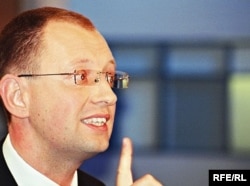 Can Arseniy Yatsenyuk sneak into the second round?
Yatsenyuk's western Ukrainian voters could also turn away from him over his inconsistency on issues that they consider crucial to Ukraine's national identity. Although elected to parliament in the NU-NS bloc, Yatsenyuk has de facto ditched key elements in its platform, such as abolishing parliamentary immunity; legal recognition of Ukrainian nationalist partisans who fought against the Nazis and Soviets in the 1940s; NATO membership; and energy independence (Yatsenyuk supports a gas consortium with Russia).
He has also recently become skeptical of EU membership and withdrew his signature from a January 2008 letter to NATO's Bucharest summit (which he signed together with Tymoshenko and Yushchenko) seeking a Membership Action Plan.
These are all issues on which Yushchenko (and to some degree Tymoshenko) are challenging Yatsenyuk. Ironically, Russian President Dmitry Medvedev's bitterly critical August letter to Yushchenko will only have served to improve his ratings in western Ukraine and therefore eaten into Yatsenyuk's popularity.
Touted last year as representing the younger generation of Ukrainian politicians and therefore by implication as "pro-Western," Yatsenyuk looked decidedly less so at the September Yalta European Strategy (YES) summit.
YES, an NGO established five years ago by oligarch Viktor Pinchuk, invited Yanukovych, Tymoshenko, and Yatsenyuk to present their platforms to a special "Freedom of Speech" ICTV live program and to European guests (ICTV is one of four television channels owned by Pinchuk). Of the three, Yatsenyuk, according to Ukrainian media reports, was the most disappointing and vacuous.

Tymoshenko Stands Up
Tymoshenko's campaign team have realized the strategic importance of western Ukraine and reached out to the North American diaspora, which retains its influence over the region. Addressing the annual meeting of the World Congress of Ukrainians in Lviv on August 21-22, on the eve of Ukraine's Independence Day, Tymoshenko stressed her support for Ukrainian remaining the only state language, an issue of particular concern to western Ukrainians and the Ukrainian diaspora.
On October 13, the Tymoshenko bloc organized a parliamentary hearing on links with the Ukrainian diaspora. Tymoshenko's reaffirmation of support for the Ukrainian language forced Yanukovych to announce prematurely that, if reelected president, he would elevate Russian to the status of the second state language. This policy, which figured in his 2004 campaign program, will ruin his chances completely in western Ukraine, and to some degree in the central region as well.
The January elections are likely to require a runoff, as in 2004, this time between Tymoshenko and Yanukovych. But unlike five years ago, when Yushchenko ran as the united opposition candidate, this time around the former Orange Revolution parties and leaders are fragmented.
Ukrainian intellectual groups are increasingly calling on the "Orange" camp to unite around Tymoshenko, as they had united around Yushchenko. That lack of "Orange" unity in turn improves Yanukovych's chances, so it is likely that this time the bitter second round will pit him against Tymoshenko.
Taras Kuzio is a senior fellow of Ukrainian Studies at the University of Toronto, adjunct research professor at the Institute of European and Russian Studies at Carleton University, and editor of the bimonthly "Ukraine Analyst"