As the Pentagon investigates the potential damage from the leak of more than 91,000 classified U.S. military reports on the war in Afghanistan, the leak is fueling debate about the role of whistle-blowers as journalistic sources in the age of digital data.
WikiLeaks, a website that tries to foster policy debates by making classified information available to the public, received the cache of documents from sources it will not disclose. Wikileaks then passed the materials on to three media organizations -- "The New York Times," "The Guardian" newspaper in the United Kingdom, and "Der Spiegel" magazine in Germany.
Officials in Washington say they are concerned the leaks pose a national security threat and may endanger people in Afghanistan or Pakistan who have worked against the Taliban or Al Qaeda.
"The State Department joins the White House and [the Department of Defense] in condemning the disclosure of classified information by WikiLeaks," U.S. State Department spokesman Philip Crowley said. "The fact that these are in many cases documents that are several years old does not change our concern that this action risks our national security."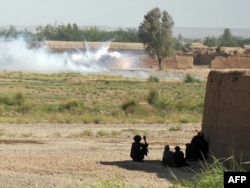 Included in the files are disclosures that coalition forces have killed hundreds of civilians in incidents that went officially unreported.
The U.S. Army announced today that it was opening a criminal investigation aimed at finding the source of the leaks.
'Maximizing Impact'
WikiLeaks has hundreds of unpaid volunteers from around the world who help maintain the website's complicated infrastructure. By running off of an array of Internet servers in many countries, WikiLeaks has been able to prevent any single government from shutting down its website.
WikiLeaks founder Julian Assange told RFE/RL today that he decided to share the documents with "The New York Times," "The Guardian," and "Der Spiegel" because those are "the most influential press organizations" within the United States, the United Kingdom, and Germany.
Assange explained that his motivation is to reform systems where abuses are covered up by officials who classify documents in order to keep politically sensitive information from becoming public.
"The vision behind [WikiLeaks] is really quite ancient. In order to make any sensible decision, you need to know what actually is going on. In order to make any just decision, you need to understand what abuses or plans for abuse are occurring," Assange said. "As technologists, we can see that big reforms come quickly when the public and decision makers can see what is really going on."
Assange also explained that by sharing the cache of documents with major news organizations, Wikileaks was able to keep its promise to the whistle-blower who provided his organization with the information.
"We make a promise to our sources. One, that we will do everything in our power, technically and legally, to protect them. Two, that we are going to maximize the impact of the submissions that they make to us," Assange said. "And we believe, in this case, [sharing the material with 'The New York Times,' 'The Guardian,' and 'Der Spiegel'] was the way to maximize impact."
Pentagon Papers 2.0
Comparisons are being made to the so-called "Pentagon Papers" case of 1971, when former U.S. military analyst Daniel Ellsberg, while employed by the RAND Corporation, released 7,000 pages of a top-secret Pentagon study on the Vietnam conflict to "The New York Times" and other newspapers.
"I do see an analogy to the situation I was in 40 years ago," Ellsberg said during an appearance on CNN's "Larry King Show" today.
The administration of then-President Richard Nixon tried to block publication of the Pentagon Papers, but was defeated in the Supreme Court, which ruled in favor of "The New York Times" and "The Washington Post's" right, under the First Amendment of the U.S. Constitution, to publish the material.
Tom Glaisyer, a Knight media-policy fellow at the New America Foundation, says that the Afghan war reports are a kind of Pentagon Papers case in the age of the Internet.
"There has always been a delicate balance between national security and the public interest, and it's been struck in the Pentagon Papers very much in favor of giving journalists and newspapers the ability to publish all but the most sensitive -- time sensitive -- of data," Glaisyer says.
"The fact of the matter is that we are entering a world where there is an awful lot more digital data around, and there is a great possibility that it can be transferred and shared very quickly. The world is going to change. We have to get used to journalism in a world of digital data."
Assange, for his part, welcomes the comparisons with Ellsberg, saying he has "great respect" for Ellsberg and "the work that he has done -- and has continued to do -- in promoting the importance of the role of whistle-blowers and their role in society."
Brave New Media World
Chris Anderson, who also is a Knight media-policy fellow at the New America Foundation, says WikiLeaks may represent the beginning of a new era in journalism -- an era of Internet whistle-blowers who serve as intermediary sources for investigative reporters.
Still, Anderson warns that journalists need to ensure that intermediaries are reliable. "No one knows what WikiLeaks is," he says. "I mean, they don't fit any of the categories of types of organizations that we are used to thinking about. They're not really journalism. They're not really hackers. They're not really activists. They are something new."
Anderson also cites the example set by Ellsberg and the Pentagon Papers. "They are both doing the same thing, except one is an organization and one is a person," he says. "We need to trust them, but interrogate them in the same way we would with any person who has got their hands on data that may cause harm or may help serve the public interest."
Anderson insists that the world of "digital data" is creating "a very different world" -- a world where it is much easier for whistle-blowers to leak classified information and remain anonymous, but where traditional journalism will remain relevant.
"WikiLeaks could have very easily just put all these documents up online themselves. I think it actually speaks very highly of the future of some form of institutional professional journalism that they worked with 'The New York Times' and 'The Guardian' on these stories because they technologically didn't need to," Anderson says.
"So I think it actually says more about why traditional institutions are still relevant. But it does show that there is a new ecosystem developing. It isn't simply newspapers having relationships with sources anymore. There are other groups and organizations and layers involved now."

Journalism More Than Just Sources
Steven Aftergood, head of the project on government secrecy at the Federation of American Scientists, agrees that basic journalism is still necessary to verify and substantiate information provided by groups like WikiLeaks.
"The service that they have been providing up to now is that of a source of documents. But documents are not journalism. Documents can mislead as easily as any other source. The function of journalism still needs to be carried out as carefully and responsibly as possible," Aftergood says.
"That means confirming the accuracy of the content of any particular document. It means placing it in some kind of political or policy context, and it means collecting a range of interpretations of the significance."
Assange said he also agrees, insisting that anyone who reads the Afghan war reports should closely examine the reliability of the original sources, especially for U.S. military reports that are based on information from an informer.
"We need to look at these reports in a subtle way. A lot of material is included," Assange said. "There are 91,000 reports from units in the field, from embassies in relation to Afghanistan, intelligence officers, and from informers. The informers make their reports for money. They are paid by the United States government for making serious allegations. They make reports to knock out a competitor, a detested neighbor or a family enemy -- and they also make reports for legitimate reasons."
Assange told RFE/RL today that he has not been threatened with any court order or legal proceedings because of leaking the Afghan war reports. Assange said he also was not aware of any such threats against "The New York Times," "The Guardian," or "Der Spiegel."
John Attanasio, a professor of law at Southern Methodist University's Deadman School of Law, says he doesn't think charges will be brought against WikiLeaks by the U.S. government because of the Afghan war reports. But Attanasio says the incident is sure to fuel professional and legal debates around the world in the years ahead.
"There are going to be journalists who are going to debate this and how this kind of activity implicates the profession, and I think journalists should debate this," Attanasio says. "But I also think, because of the international nature of the blogosphere, it's going to get debated in more than the American legal system."
contributors to this report include Ladan Nekoomaram of RFE/RL's Radio Farda in Washington and Christopher Schwartz in Prague