MOSCOW/KYIV (Reuters) -- Russia and Ukraine face another day of sparring over gas supplies as two European Union states launched fresh diplomacy to end a dispute that is weighing heavily on their economies.
Russia began pumping gas meant for Europe via Ukraine on January 13 for the first time in nearly a week. But the EU said little or no gas was flowing to countries suffering urgent energy shortages.
Russia accused Ukraine of shutting off gas to Europe, but Kyiv said there was not enough pressure in the pipeline system.
The crisis has disrupted supplies to some 18 countries at the height of winter, shutting down dozens of factories in Southeast Europe.
Two of the worst hit EU states, Bulgaria and Slovakia, were sending their prime ministers to Moscow and Kyiv on January 14 in fresh efforts to get gas supplies restored.
Bulgaria's Sergei Stanishev and Slovakia's Robert Fico are due to see Russian Prime Minister Vladimir Putin in Moscow and Ukrainian Prime Minister Yulia Tymoshenko in Kyiv. It was not clear which capital they would visit first.
Stanishev is under pressure to secure supplies for his country of 7.6 million people as limited domestic reserves are dwindling and anger among Bulgarians is mounting against his Socialist-led government.
Slovakia, which has a population of 5.4 million and gets almost all its gas from Russia, declared a state of emergency on January 6, under which gas deliveries to large clients were reduced. About 1,000 companies were forced to shut or cut production.
A deal brokered by the EU, which gets one-quarter of its gas from Russia, had been intended to get supplies moving on January 13, with international monitors in place to ensure that Ukraine was not siphoning off any gas, as Moscow has alleged.
The Russian state-controlled gas monopoly Gazprom declared force majeure on gas exports to Europe, meaning circumstances beyond its control prevented it from meeting its obligations to clients.
Ukraine told the EU there were "technical difficulties" in that the pressure of gas from Russia was too low.
Gazprom is demanding Kyiv hand over $614 million for unpaid gas bills and pay $450 per 1,000 cubic meters of gas in 2009. That is similar to rates paid by EU customers but a big rise on last year's price of $179.5.
Analysts in Kyiv say Ukraine, saddled with debt and hard hit by the global slowdown, cannot afford that price.
Poor Relations
The row, which has dented the reputation of both Moscow and Kyiv as energy suppliers, also reflects their poor political relations. Moscow is vehemently opposed to moves by Ukraine's pro-Western leadership to join the U.S.-led NATO alliance.
The European Commission said Europe needed the gas urgently and an aide to Commission President Jose Manuel Barroso said on January 13 that he had expressed disappointment over the low volumes pumped by Russia in a telephone conversation with Putin.
Gazprom's Deputy CEO Aleksandr Medvedev accused the United States of pulling the strings. "It looks like...[Ukraine] are dancing to the music which is being orchestrated not in Kyiv but outside the country," he said.
State Department spokesman Sean McCormack rejected the charge as "totally without foundation."
Russia cut off gas to Ukraine on January 1 after failing to reach agreement with Kyiv on gas fees. A week later it halted all transit flows to Europe via Ukraine, saying Ukraine was stealing gas intended for Europe. Kyiv accused Moscow of using energy blackmail.
Ukraine's economy -- based on steel and chemical exports -- has been hit hard by the global slowdown and its hryvnia currency has experienced sharp falls. Analysts predicted the Ukrainian national currency would slide further in trading if the gas row continued.
The Briefing: Gas Crisis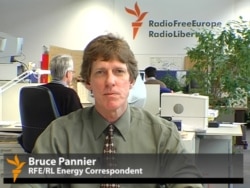 The Briefing
RFE/RL energy correspondent Bruce Pannier discusses the gas feud between Russia and Ukraine. Play
Factbox: Russian Gas Export Pipelines, Projects

A factbox on how gas gets to Europe from Russia and some of the new pipeline projects aimed at bringing more Russian gas to Europe and diversifying supplies. More