TBILISI -- In 1989, seven months before the Berlin Wall came down amid jubilant celebrations across Europe, Ghia Marghulia joined thousands in the center of the Georgian capital to protest Soviet rule.
Now the director of a Tbilisi public school, Marghulia sits in his office and recalls the tense and heady atmosphere two decades ago when, in the midst of Soviet leader Mikhail Gorbachev's perestroika-era reforms, Georgians contemplated the unthinkable -- breaking free from Moscow's grip and winning their independence.
"We had already swallowed some freedom and it was not possible to go back to the old limits," Marghulia says. "We began to talk about how Georgia needed to be a free country."
We made a lot of mistakes. We all yearned for freedom, but we did not prepare for this freedom
But the Kremlin had other ideas. In the small hours of the morning on April 9, after days of demonstrations, Soviet troops moved in to surround the demonstrators, and attacked them with military batons and spades. Nineteen Georgians were killed, including a 16-year-old girl.
Tbilisi's bloody 1989 spring was followed by an autumn of change in Eastern Europe, when peaceful protests in places like Prague and East Berlin -- and more violent clashes in Romania -- toppled Soviet satellite regimes across Eastern Europe, brought down the Iron Curtain, and ended the Cold War.
As the world marked the 20th anniversary of the fall of the Iron Curtain this year, the different fates of the countries of the 1989 revolutions came sharply into focus. Former Soviet vassal states like Poland, Hungary, the Czech Republic, and Slovakia are free, stable, and prosperous democracies safely nestled in NATO and the European Union.
But countries like Georgia, Ukraine, and Moldova, which won their independence following the 1991 Soviet collapse, have experienced a tumultuous two decades as they struggled to fully break free from Moscow's grip, establish functioning democracies, and fully join the West.
Marghulia notes that most countries emerging from Soviet rule were simply not prepared for what came next once they achieved independence.
"We made a lot of mistakes. We all yearned for freedom, but we did not prepare for this freedom," Marghulia says.
"We all thought that when we got freedom, then everything else would take care of itself. We weren't prepared. We didn't prepare people to be good ministers, good administrators. We didn't have any concept about how to develop our state."
Leadership Deficit
Analysts say these newly independent states, having spent nearly seven decades under direct Soviet rule, had largely internalized the USSR's authoritarian political culture and had scant democratic traditions to draw upon once they became independent.
Moreover, proximity to Russia gave Moscow an opportunity for meddling that simply did not exist farther to the West.
"Certainly the closer you were to Western Europe, the easier the process went. I think internal [political] factors and the Russian desire not to allow these countries to move closer to the West have been the biggest problems," says James Goldgeier, a senior fellow at the Council on Foreign Relations and author of the book "America Between the Wars: from 11/9 to 9/11," which examines the period between the end of the Cold War and the September 11, 2001 attacks.
Earlier this decade, the so-called "colored revolutions" in Georgia, Ukraine, and Kyrgyzstan appeared at the time to be great democratic leaps forward -- the start of a second wave of the 1989-type democratic uprisings that could usher a new group of countries into Western institutions.
But soon after the euphoria from the Rose, Orange, and Tulip revolutions abated, bitter disappointment and disillusionment set in as the new elites descended into political squabbling, infighting, and recriminations.
So what will it take to re-energize the democratic wave that appeared poised to sweep across much of the post-Soviet space not so long ago?
"You're going to need effective leadership in the countries themselves, and real leaders who can put aside personal vanity and their own efforts to settle scores with others and really try to help develop their countries as best they can. And I think you are going to need to see changes in Russia over time," Goldgeier says.

The Hand Of Moscow
Most experts agree that Russia is indeed a big part of the problem. After losing its Warsaw Pact satellites in Eastern Europe, Moscow has been steadfast in its determination to keep what it calls a sphere of influence in the former Soviet space.
"In the early part of the 1990s, Russia was barely able to push back. Now they are. And in countries on their border with tremendous cultural and political ties, they're going to push back very hard," says Lincoln Mitchell, a professor of international politics at Columbia University in New York and author of "Uncertain Democracy: U.S. Foreign Policy and Georgia's Rose Revolution."
After Ukraine's 2004 Orange Revolution, Moscow began using its energy wealth as a blunt weapon to punish the pro-Western government of President Viktor Yushchenko. It has also consistently sought to exploit the ongoing rivalry between Yushchenko and his Orange Revolution partner, Prime Minister Yulia Tymoshenko.
In Moldova, Russia has used the conflict in breakaway Transdniester to destabilize the government in Chisinau and keep it dependent on Moscow.
Even before Georgia won its independence from the Soviet Union, Russia was stirring up separatist sentiments in the country's Abkhazia and South Ossetia regions. The Kremlin also armed both sides in the civil unrest that rocked Tbilisi in the early 1990s as rival political clans vied for power.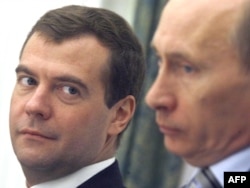 The Kremlin is still hugely influential in the former Soviet Union
And before the Rose Revolution swept President Mikheil Saakashvili's pro-Western government into office, Russia insisted on -- and received -- the right to appoint Georgia's defense and security ministers.
When Saakashvili revoked this extraordinary privilege soon after coming to power, it infuriated the Kremlin and set in motion the acrimonious relationship that endures to this day.
But despite Russia's undeniable role, analysts say the democratic deficit in most of the former Soviet space has deeper causes than Moscow's persistent meddling.
Analysts say leaders in the region who profess to democratic principles have scant understanding of what these mean in practice.
"You have to have leadership that is willing to lose an election, leadership that understands democracy. You have to have leadership that believes that the democratic mission is more important than whatever good they think they can bring to the country," Mitchell says.
Abandonment Fears
There are also concerns that the West could abandon countries like Ukraine and Georgia, especially given U.S. President Barack Obama's goal of pursuing better relations with Russia.
In July, a group of prominent Eastern European intellectuals and former officials -- including former Czech and Polish Presidents Vaclav Havel and Lech Walesa -- published an open letter to the Obama administration expressing their fears.
In an effort to assuage these concerns, Obama dispatched Vice President Joe Biden to Kyiv and Tbilisi in the summer to reassure Ukraine and Georgia of Washington's commitment.
Analysts say, however, that over the years the West has misfired to an extent in its effort to develop democratic institutions in the former Soviet Union.
Mitchell, who has worked on democracy-building projects throughout the region, says the United States and the European Union have focused on what he calls a "technical solutions-based approach" that stresses things like "helping parliaments mark up bills better and hold better committee hearings" at the expense of building civil society from the ground up.
The technical approach worked well in places like Poland, Hungary, and the Czech Republic, which had precommunist democratic traditions to draw on. It also worked in the Baltic states, which were only incorporated into the Soviet Union after World War II and had a living memory of a democratic system.
But in countries like Ukraine, Georgia, and Moldova, Mitchell says such an approach would have limited results.
"Is a country simply OK with being democratic but just not able to do it? That's the ideal type -- Poland in 1992. Or is it trying to use the facade of democracy and some of the tools of democracy to strengthen a nondemocratic regime?" Mitchell says.
"Increasingly, when you give authoritarian or semi-authoritarian governments the tools of democracy, they don't use them to democratize. They use them to become less democratic."
The coming year will provide several key tests for the countries of the region. Ukraine will hold its first post-Orange Revolution presidential election in January, with incumbent Yushchenko widely expected to lose to either Tymoshenko or opposition leader Viktor Yanukovych.
Georgia is scheduled to hold local elections in May, seen by experts as the first round of the battle to replace Saakashvili, whose term expires in 2013.
And Moldova is expected to stumble into the new year without a head of state as the Alliance for European Integration, a Western-leaning parliamentary coalition, continues to struggle to elect its preferred candidate, Marian Lupu as president.
But the biggest test of all may be whether Obama's efforts to improve Washington's relations with Moscow will -- as the White House clearly hopes -- mellow Russia's posture in the region over time.
2009 In Review
Year In Review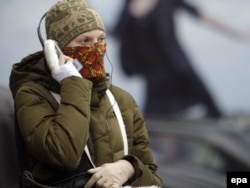 RFE/RL looks back at the stories that shaped 2009. More