KANDAHAR, Afghanistan -- Only weeks ago, Mullah Noorul Aziz was thick in the fight against Afghan and U.S. forces, leading more than 600 Taliban fighters across the deserts, mountains, and river valleys of southern Afghanistan to plant land mines and carry out ambushes.
Today his life is in the midst of a complete reversal, having switched sides by signing on to an internationally backed effort to reintegrate militants.
The 30-something Aziz's steps into the unknown are treacherous, and highly significant to other Taliban members weighing President Hamid Karzai's calls for them to drop their fight and rejoin the folds of Afghan society.
"I believed the president when he said that every Taliban [fighter] is my friend and my brother and that the infidel foreigners should go back to their own countries," says Aziz.
"We have to live peacefully here because we are the sons of the soil. He promised to share with us whatever is available to him and his people. [He promised] that we will have cars, houses, and jobs like people now siding with the government. [He said] their open embrace is waiting for us."
In many ways, the fate of the government's reintegration effort lies in the fate of Azizwho just earlier this year had been appointed the Taliban's shadow governor of the northern Kunduz Province.
If he can live in peace and safety while managing to eke out a living, and is ultimately accepted into society, it could serve as a signal to Taliban members that they indeed have a stake in a peaceful future.
But if things turn out badly -- Aziz claims 15 suicide bombers are pursuing him in an effort to make him an example of what happens to Taliban turncoats -- it could sway the decisions of many former comrades he says are contemplating desertion from the militants' ranks.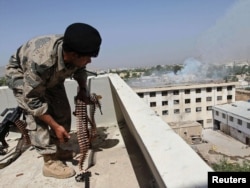 Dust billows from the roof of a government building which the Taliban took over during recent clashes in Kandahar city.
In this respect, officials supervising the process appear encouraged by the results of the reintegration effort.
In less than a year since the program was launched, some 1,200 Afghans have joined the Afghanistan Peace and Reintegration Program in 13 provinces.
Building Trust And Confidence
Afghan intelligence officials expect to bring nearly 2,000 more combatants on board after vetting them. And the international community has pledged nearly $250 million toward the effort.
Major General Philip Jones, head of Force-Reintegration Cell in the NATO-led International Security Assistance Force (ISAF), notes that the process is new, and expectations must be realistic. Building trust and confidence among Afghans, he says, remains a key challenge:
"We all hope that this really develops solid momentum across the country -- that it really consolidates many of the security gains and it starts to build a popular peace process from the grassroots upwards," he says.
"But it's extraordinarily difficult to put benchmarks against this because confidence is one of those things that are difficult to measure."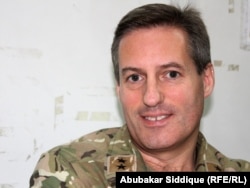 Major General Philip Jones, head of NATO's Force-Reintegration Cell in Afghanistan
In Kandahar, analyst Mohammad Omar Sathey sees an opening in the reintegration of the Taliban fighters. He says that so far three significant Taliban groups have joined the reintegration process, raising hopes that process will gain momentum once the peace commission's offices can properly begin functioning.
He says that Kabul and its international allies now need to act on their promises to provide jobs and vocational training to former combatants. He also counts a robust information campaign as essential to de-radicalize former combatants.
'Wait And See'
Maulvi Azizullah Agha, a former Taliban member living in Kandahar, is adamant that he made the right decision to give up fighting. The tall, bearded, 28-year-old is a former Taliban military judge who lost his brothers, house, and seminary to repeated NATO raids.
Yet Agha is not driven by revenge. He says he gave up fighting after sensing that only the enemies of Afghanistan benefited from it.
Ahja believes that the Taliban are infiltrated by Pakistani militants from the Punjabi ethnic group whose goal is to spread chaos and destruction in Afghanistan.
"I might admit that many Punjabi Taliban come here to please Allah [by waging Jihad]," he says.
"They should have only stood with us in fighting the Americans. But if they want to destroy our homeland, our livelihoods, schools and other institutions to deprive our youngsters of education, then I will keep on opposing them. I was opposed to such destruction in the past."
As for others who might be considering leaving the Taliban, however, Agha advises a wait-and-see approach.
"There are many mujahedin [Taliban] who are ready for reconciliation, but I have told them to wait," he says. "I want them to watch what happens to our lives and security."