Ali Abdulemam is one angry Bahraini.
Freed on February 23 after being jailed for five months, the first thing the 33-year-old activist did was join protesters on the streets, even before returning home to be reunited with his young wife, 1-year-old twin daughters, and 6-year-old son.
For a famously fractious region like the Arab world, Abdulemam sees anger as critical to the rise of protest movements in the Arab world and Iran in recent weeks.
Opposition leaders in Bahrain are saying it's "game over" for the ruling family amid calls for protesters to march on parliament today. The unrest is fuelled by frustrations shared by the Arab world as a whole, Abdulemam says, who is known as the Bahraini Blogger.
"The Tunisian wave is going through all the Arab nations because we have the same anger, the same problems, the same corruption," Abdulemam says. Citing widespread problems like religious discrimination and sectarian violence, he believes Tunisia showed the Arab world it shares the "same issues with our governments."
Ali Abdulemam, the Bahrain Blogger
Abdulemam first attracted notice when he started an online political forum in 1998. It was an unlikely time to pursue civic debate in the small Persian Gulf country as it was at the height of a bloody 1994-2000 uprising that pitted a coalition of leftists, liberals, and Islamists against the government.
The violence ended with the installment of Bahrain's current leader, the Sunni Hamad ibn Isa al-Khalifa, as king.
Running Afoul Of The King
Now in its 12th year, Abdulemam's
Bahrain Online
website has become a go-to site for political dissent and discussion.
The authorities responded to Bahrain Online by blocking access to the site and arresting Abdulemam briefly in 2005. In September he was arrested again, along with some 200 others, as part of a government crackdown on opposition activity.
He was charged with spreading false information and accused of links to a group of jailed Shi'ite opposition activists. A campaign in support of his release was launched amid concerns that he was tortured in detention.
"Ali has a free pen," Abdulemam's wife
told the BBC
in December. "That is exactly his crime. He has a free pen."
Abdulemam describes himself as only a "human rights defender" not affiliated with any specific party, but says he worked with the opposition "on a daily basis" and sees recent events in Bahrain as unprecedented.
People are hitting the streets by the hundreds, he says, "just to say, 'bring down this regime' -- this really didn't happen before."
'Multicultural' Protests
This is the first time Abdulemam says he has seen the upper classes offering the opposition "big support" by attending protests and providing demonstrators with basic supplies.
He believes that society's upper crust is also frustrated by political corruption. "They know, actually, if they didn't support us now, the change will not happen," he says, and "the country will continue for another 10 years with the same problems and same issues."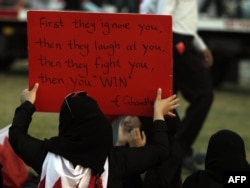 A Bahraini protester holds up a sign quoting Mahatma Ghandhi as tens of thousands marched toward Pearl Square in Manama on February 22.
He says the opposition movement has swelled in recent weeks, and describes protests as "multicultural."
"I saw some Shi'a, some Sunni, some liberals, some Islamics, some Persians originally from Iran, and there are some originally from Africa" among the demonstrators, he says.
Now, the online activist says he is seeing protests organized in his digital backyard.
"News about what's going on, who's coming, who's going, what kind of demonstration we have tomorrow, what kind of speech we will have tonight on stage, everything is organized by the new technology," he says. He cites Twitter and social-networking platforms like What's Up as the most popular.
Nationwide protests broke out in Bahrain a week ago. At least seven people have so far been killed as security forces clashed with antigovernment protesters.
Demonstrators on February 28 blocked the entrances to the upper house of the National Assembly forcing a temporary shutdown. Abdulemam says the opposition headlined today's protest "Only Bahrainis" in a call to overcome ethnic and religious divisions.
"We are all one population, and we have only one homeland, we want only one constitution that covers everyone, which is Bahrain, and which is Sunni and Shi'a," he says, so today's demonstration is "a big event in Bahrain."
Is Bahrain Next?
King Khalifa carried out a limited cabinet reshuffle last week and pardoned more than 300 detainees -- Abdulemam among them -- in an effort to appease protests.
U.S. President Barack Obama, meanwhile, has backed the Bahrain king's "commitment to reform" and push for dialogue.
Abdulemam doesn't see dialogue as very likely. A coalition of opposition parities on February 28 published a list of six demands they said had to be met before they would enter talks with the royal family.
"The most important one is this government should resign," Abdulemam says.
Egypt took the cue. Libya didn't. Will Bahrain?