MINSK -- When Belarus became an independent country on August 25, 1991, it seemed like a dream come true for Anatol Sidarevich.
A historian of the Belarusian national movement in the early 20th century, Sidarevich had hoped to see his country free from Moscow's grip since he was a teenager. As a university student he got into trouble with the KGB for speaking out against the Soviet invasion of Czechoslovakia.
His white hair slightly disheveled and sporting a bristly moustache, Sidarevich was one of a couple of hundred Belarusians on August 23 who attended a wake and memorial service for Vital Skalaban, an archivist dear to the intelligentsia for his research into the Soviet repressions who died on August 20.
After paying his respects, he spoke to RFE/RL about those heady times when it seemed as though anything was possible.
His penetrating blue eyes tear up when he remembers his hopes of 20 years ago. "I didn't want to cry, but I cried," Sidarevich said. "Everything I'd striven for since I was 13 when I decided Belarus had to be independent was completed."
The 63-year-old Sidarevich will spend August 25 with friends somberly laying flowers at the graves of the deceased that he believes made Belarusian independence a reality.
Like It Never Happened
But other than such small private remembrances, the 20th anniversary of Belarusian independence -- which is not even a holiday here -- will pass largely unnoticed. There will be no parades, no speeches, no street parties, no revelry.
In fact, in this heavily policed land of five-year plans, political prisoners, and streets named after communist luminaries, one would be forgiven for not noticing that the Soviet Union has been defunct for 20 years.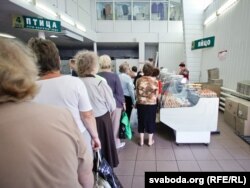 Belarusians stand in line to buy food in Minsk on August 25 -- just like old times.
Belarus's authoritarian President Alyaksandr Lukashenka, a former collective-farm boss who came to power in the country's first and last free and fair presidential election in 1994, has outlawed vestiges of independence such as its red-white-red flag and has discouraged use of the Belarusian language.
This was not how Stanislau Shushkevich, a reformist who briefly served as Belarus's first post-Soviet leader from 1991 to 1994, imagined things turning out.
Speaking to RFE/RL from the front seat of his modest car, parked in downtown Minsk, Shushkevich says crushing the spirit of those who yearned for a free and independent Belarus was a central element in Lukashenka's drive to consolidate power.
"It's not a state national holiday, it's a normal working day. The authorities did this deliberately to once again fawn upon Russia," Shushkevich says. "July 3 has been made our Independence Day, a day that has nothing to do with state independence. I don't think there will be any events or songs sung at home. I'm not aiming to mark it [August 25] at all."
A Soviet Past...And Present
August 25, 1991 was the day the Belarusian parliament enshrined the country's independence into its constitution. In the first several years after the Soviet break-up, however, Independence Day was formally celebrated on July 27, marking the day in 1990 when Belarus initially declared sovereignty from the Soviet Union.
When Lukashenka came to power in 1995, he scrapped that holiday. Instead he inaugurated a new Independence Day holiday on July 3 -- marking the day in 1944 that the Red Army liberated the country from Nazi troops toward the end of World War II.
Shushkevich, who pursued democratic and market reforms during his brief stint as Belarusian leader, says that Lukashenka has largely succeeded in restoring a facsimile of the old regime -- at great cost to the country's people.
"The old cohort of communist authorities has returned in Belarus. Lukashenka is new in this cohort, but he was brought up in the communist spirit," he says. "A wild capitalism has been established here where the authorities encourage wildness because everything is in the hands of the authorities. Of course, there is no prospect for developing the country. We lag far behind all the countries around us."
'Betrayal' To Moscow
For people like Sidarevich, who thought they had reached the promised land in 1991, all of this represents a betrayal. "Lukashenka has created a mafia and corporate capitalism," he says. "The workers, and the wage earners in Belarus are exposed to more exploitation than any are exposed to in the West."
Speaking to RFE/RL at Skalaban's memorial service, journalist Aleh Hardzienka talks of his "euphoria" in August 1991 and his childish glee when new red-and-white textbooks subsequently appeared in school.
But his pride soured as Belarus descended into authoritarian rule under Lukashenka. And like many, he sees the current economic crisis, in which Belarus must seek foreign loans to avoid a further devaluation of their currency, as a potential threat to the country's independence.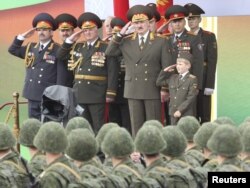 President Alyaksandr Lukashenka (right), accompanied by his son, watches a military parade during celebrations marking Independence Day in Minsk on July 3.
Many fear that Russia will only bail out its western neighbor if it's guaranteed controlling stakes in Belarus's prize national assets, such as its oil refineries and gas pipeline network -- a concession tantamount to a major loss of sovereignty.
Russian Prime Minister Vladimir Putin made his intentions clear on August 1 when he said the unification of the two countries was "possible and very desirable."
For Belarusians like Hardzienka, this would be unbearable. "We have been Belarusians since before antiquity and we are different from Russians," he says. "I want to look at the future with optimism. A lot has changed since 1991. [Now] I hope there will be [democratic] change."
'Everyone Knows What's Happening'
Meanwhile, protesters yearning for such change have been brutally beaten and jailed by police. This has led them to express their discontent in various creative ways to avoid repression -- such as clapping, setting their mobile-phone alarms to ring at a specific time in public, or in some cases, just going to the market en masse.
Syarhey Chaly, a widely known blogger who claims to be the ideologist of the summer's so-called "silent" protests, says he drew his inspiration from an old Soviet anecdote.
"It was really important that, formally speaking, they weren't even protests. They were postmodern and stylized protests," he says. "In the Soviet Union there was an anecdote about a person giving out leaflets on Red Square. When the KGB arrested him, they saw that they were just sheets, blank sheets. They asked him what he'd been doing it for. He replied: 'Why do I need to write something down? Everyone knows what's happening.' That was the idea of the protests -- everyone knows what's happening."
For Andrey Kabanov, whose business has been seriously damaged by the economic crisis, the boundless optimism of August 1991 now seems like a distant dream. "We're back in the Soviet Union. We live in an economy driven by five-year plans," he says. "It's nonsense, total nonsense. Economic laws don't work. We've been cast away."
But he also sees similarities between the yearning for change many in Belarus are feeling today and similar sentiments in the Soviet Union two decades ago. "There was the hope that the Soviet Union would disintegrate, that we would take independence, have elections and that things would change," Kabanov says. "Right now, what we have is a mirror of those times. I am experiencing those very same feelings and emotions right now."