BARANAVICHY, Belarus -- Belarusian police and KGB officers have searched the apartments of opposition presidential candidates' supporters in the central city of Baranavichy, RFE/RL's Belarus Service reports.
Vyachaslau Bolbat, a coordinator of an initiative group of former presidential candidate Uladzimer Nyaklyaeu, phoned journalists and said police and KGB officers had come to his apartment and searched it.
KGB officers and police also visited the Baranavichy apartment of opposition activist Tatsyana Malashchanka today, RFE/RL reported.
Malashchanka was the chief campaign coordinator in Baranavichy of former presidential candidate Vital Rymasheuski. Malashchanka at first refused to open the door for the security officers but later allowed them to search her apartment.
Several opposition presidential candidates and hundreds of their supporters were arrested in Belarus on December 19-20 after they protested the results of the presidential election, which they say was rigged.
Incumbent Alyaksandr Lukashenka was announced the runaway winner of the vote, which international election monitors said was flawed.
Four former presidential candidates -- Ales Mikhalevich, Nyaklyaeu, Andrey Sannikau, and Mikalay Statkevich -- remain in custody. They have been formally charged with organizing mass unrest.
Read more in Belarusian
here
Special Page: Belarus Crackdown
Crackdown In Belarus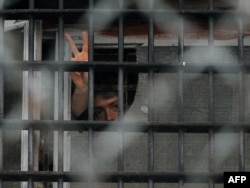 A special page devoted to coverage, views, and multimedia features on authorities' response to public doubts about Belarus's presidential election.
Click here