The White House is seeking to back away from comments from the U.S. intelligence chief saying that Libyan ruler Muammar Qaddafi's regime is likely to "prevail" in the battle against rebel forces.
National Intelligence Director James Clapper told a Senate hearing on Marchj 11 that there was no indication that Qaddafi would step down and offer a speedy resolution of the crisis. He added that Qaddafi's forces are better equipped than the opposition and would likely eventually "prevail" in the conflict.
"We believe that Qaddafi is in this for the long haul," Clapper said. "I don't think he has any intention, despite some of the press speculation to the contrary, of leaving [power]. From all evidence that we have, which I'll be prepared to discuss in a closed session, he appears to be hunkering down for the duration."
President Barack Obama's national security adviser, Tom Donilon, later criticized Clapper's analysis as a "static and one-dimensional assessment." Donilon said Qaddafi's international isolation and the determination of the Libyan people to oust him could be crucial in the outcome of the Libyan events.
President Obama has previously declared that Qaddafi has lost legitimacy and should leave power.
compiled from agency reports
Liveblog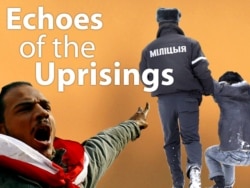 Tracking events and ideas convulsing the Arab world and with ripples around the globe, including RFE/RL's broadcast region.
Click here