WATCH : Azimjan Askarov's son, Sherzod, accepted the award on his father's behalf at the opening of the One World film festival.
PRAGUE -- A prominent ethnic Uzbek rights activist jailed for life over last year's deadly violence in southern Kyrgyzstan has been awarded a Czech human rights prize.
Azimjan Askarov is this year's recipient of the Homo Homini prize, awarded annually by the Prague-based NGO People in Need "to an individual in recognition of a dedication to the promotion of human rights, democracy, and nonviolent solutions to political conflicts."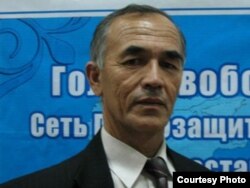 Azimjan Askarov in an undated photo before his imprisonment
People In Need head Simon Panek said Askarov had shown "unusual personal courage" in fighting for human rights in extremely difficult conditions.
Panek said it is "admirable" how Askarov has continued in the face of threats, detention, imprisonment, and physical abuse and added that he hopes the prize will draw attention to Askarov's situation.
Askarov's son, Sherzod, received the award on his father's behalf at the opening of the One World film festival in Prague.
Askarov was found guilty in September of organizing ethnic clashes and of involvement in the murder of a policeman earlier that summer, in a case that has been criticized by rights groups in Kyrgyzstan and abroad.
Askarov is the head of the local human rights group Vozdukh (Air), and his work over many years has focused on prison conditions and police treatment of detainees.
He had reportedly been documenting the killings and arson attacks that mostly targeted ethnic Uzbeks during the violence that struck southern Kyrgyzstan in June.
Askarov's wife, Khadicha Askarova, lives with the family of her husband's brother in the Jalal-Abad region for fear of reprisals against her by relatives of Kyrgyz victims of the unrest.
Askarova told RFE/RL's Kyrgyz Service on March 7 that her husband was in poor health.
"His health is deteriorating. I just talked to him three days ago. He was complaining about pain around his ribs where he was beaten up," Askarova said. "He is losing his eyesight, not seeing the sun, and he has heart problems also."
Askarov's mother, Karamatkhan, said her son's arrest took a toll on her own health.
"I'm 90 years old now. It's been eight months I haven't seen my son. It's very hard," Karamatkhan said, breaking down in tears. "They are keeping an innocent man [in prison]."
Askarov, who is a Kyrgyz citizen, has appealed his sentence.
The U.S. Embassy in Bishkek said in January it was concerned about the fairness of the appeals hearing.