Daghestani Security Forces Kill Suspected Militant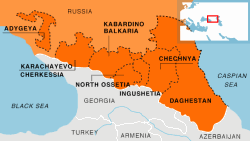 It has been reported that Daghestani security forces shot dead a suspected militant early on April 8.

According to the reports, security forces surrounded the suspect's vehicle and ordered him to get out of the car.

The suspect started shooting and was killed when security forces returned fire.

No one from the security forces was hurt.

Based on reporting by ITAR-TASS and IFX Rus