More than three weeks after the killing of Al-Qaeda leader Osama bin Laden by United States commandos, U.S. policymakers, military leaders, and legislators remain deeply divided when it comes to defining relations with Pakistan.
Recent differences of opinion within the political elite in Washington are raising serious questions about the future of U.S. policy toward the south-Asian country.
"I have real difficulty explaining to people back home in Idaho what we're doing spending billions of dollars in Pakistan, particularly on civilian matters, when they don't like us," said Senator James Risch (Republican, Idaho), at a Senate's Foreign Relations Committee hearing on May 17.
"And here they had this terrible tragedy with the floods; we went in; we were the first ones there; we sent the military; we saved people's lives; we helped them; spent hundreds of millions of dollars rebuilding the bridges that were washed out. Idahoans ask why are are spending our kids and grandkids' money to do this in a country that really doesn't like us."
Mired In Mistrust
Senator Risch also noted that, despite billions of dollars of assistance sent to Islamabad, every poll from the region reveals profound anti-U.S. sentiment among Pakistanis.
Agonizing over the state of U.S.-Pakistani relations is nothing new in Washington, of course. But the raid to kill Osama bin Laden has aggravated a relationship that was already mired in mistrust.
Many Americans are angry that bin Laden was discovered in a house in the midst of a city filled with Pakistani military installations, and some have accused the Pakistani government of protecting bin Laden there.
The U.S. staged the raid deep inside Pakistani territory without warning the Islamabad government beforehand, profoundly embarrassing the country's security establishment.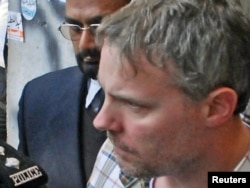 Pakistani public opinion had already been enflamed by the arrest in January of U.S. consulate employee Raymond Davis on a double-murder count.
U.S. drone strikes on targets inside Pakistani territory and the case of the U.S. intelligence operative Raymond Davis, who was imprisoned for several weeks in January on murder charges after killing two men he claimed were robbing him, had already enflamed Pakistani public opinion.
Many U.S. policymakers, meanwhile, have accused Islamabad of supporting Islamist terrorism, in particular the Taliban, which operates against U.S. and other international troops in Afghanistan from bases inside Pakistan's tribal areas.
In Washington, the debate on the future of U.S.-Pakistani relations now centers on the annual $3 billion aid package to Pakistan, which some members of Congress say should be suspended as a form of reprisal.
Speaking at the Senate Foreign Relations Committee hearing, Senator Christopher Coons (Democrat, Delaware) expressed frustrations similar to Risch's.
Mounting Pressure On White House
He questioned whether the Pakistani government and security establishment are genuinely committed to fighting on the side of the U.S. in the War on Terror.
"How can the civilian government of Pakistan be a true partner to America, with a parliament that just passed a resolution condemning the bin Laden raid, and threatening to take action against the U.S. if drone strikes continue, including cutting off supply routes to Afghanistan?" he said.
The pressure on the White House to take a tougher line with Pakistan mounted last week with a letter sent by five senators to the secretaries of state and defense. The letter demanded an assessment of Pakistan's commitment to fight terrorism before Congress approves more aid.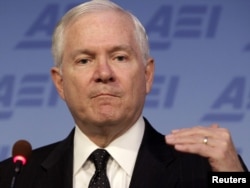 U.S. Secretary of Defense Robert Gates
At the same time, influential lawmakers such as Senator Carl Levin (Democrat, Michigan), chairman of the Senate's Armed Services Committee, have been pushing the Obama administration to force the Pakistanis to go after top Taliban leaders.
By contrast, military leaders, particularly Secretary of Defense Robert Gates and Chairman of the U.S. Joint Chiefs of Staff Michael Mullen, have been reluctant to attack Pakistan too openly.
Asked during a recent press conference whether the Pakistanis should be made to pay for allegedly harboring Osama bin Laden, Gates responded that they already have.
"If I were in Pakistani shoes, I would say I've already paid a price," he said.
"I've been humiliated. I've been shown that the Americans can come in here and do this with impunity. And I think we have to recognize that they see a cost in that and a price that has been paid.
"We have to proceed with some caution, because we do have significant interests in Pakistan. My own view would be that we need to continue the assistance we have provided, that benefits the Pakistani people."
Marvin Weinbaum of the Middle East Institute says that Gates is probably worried about the logistics needed to sustain America's involvement in the war in Afghanistan.
Weinbaum says Gates may be thinking about "Pakistan's role as a major transit route for the Pentagon which supplies over 50 percent of its shipments designated for U.S. soldiers in Afghanistan through Pakistan."
Public Versus Private Approach
"It's one thing for Pakistan not to be cooperative as it should be," Weinbaum says, "but it's quite another thing if Pakistan becomes a major obstacle to the military operations in Afghanistan."
While the military has its own reasons for pursuing a softer approach toward Pakistan, the anger of U.S. lawmakers draws on the emotions they're hearing about from the voters back home.
Richard Weitz of the Hudson Institute maintains that even Congress itself is deeply divided on the subject.
"At least in public, of course, they're saying, well, we've got to get tough with Pakistan, some people say we need to cut aid," he says. ""Others are saying, 'No, we need to back them while we're in the war.' You see much greater division."
Senator John Kerry (Democrat, Massachusetts), chairman of the Senate's Foreign Relations Committee, recently traveled to Pakistan for meetings aimed at getting the relationship between the two countries back on track.
But so far Secretary of State Hillary Clinton has yet to set a date for her next planned visit to Islamabad -- and the schedule for a long-anticipated trip to Pakistan by President Obama looks even more uncertain.