YUZHNO-SAKHALINSK, Russia -- Despite official reassurances that there was no health risk from Japan's crippled Fukushima nuclear power plant, people in Russia's Far East aren't taking any chances.
Russian media is reporting that residents along the country's Pacific coast are rushing to buy iodine, red wine, vodka, and seaweed, which many believe can reverse the effects of radiation exposure.
Pharmacies in cities like Vladivostok, Yuzhno-Sakhalinsk, and Petropavlovsk-Kamchatsky, meanwhile, are quickly selling out of Geiger counters. Scam artists are selling protective suits with lead plates that they claim are radiation-resistant.
A man in Yuzhno-Sakhalinsk, a city on Sakhalin Island, near Japan, tells RFE/RL's Russian Service that the current situation reminds him of the 1986 Chornobyl disaster.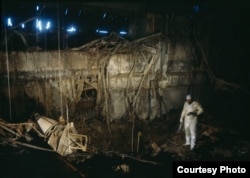 Memories of the 1986 Chornobyl disatster are still all too fresh for some.
"I was in that area [Chornobyl] during that catastrophe. I know the consequences of such things," he says. "I am concerned for myself and those close to me."
Memories of the Soviet government's failure to properly inform its citizens in the wake of Chornobyl are still fresh nearly a quarter of a century after the disaster. A woman in Yuzhno-Sakhalinsk says she hopes the authorities will be more forthcoming this time.
"I can't say I am very scared but I worry about whether we will be properly informed, that they tell us the truth, and warn us about the consequences," she says.
Official Assurances
The Emergency Situations Ministry, meanwhile, is scrambling to quell fears that windblown radiation from the Fukushima nuclear plant could reach Russia's Pacific coast.
Tatyana Yukhmanova, a spokeswoman for the ministry in Petropavlovsk-Kamchatsky, stressed that radiation remained well within normal levels and urged residents to refrain from panicking.
"According to atmospheric monitoring, there is no threat of radiation spreading to the Russian Federation," Yukhmanova said. "The Emergency Situations Ministry in Kamchatsky Krai urges people to remain calm. Do not spread rumors and do not cause panic among the population."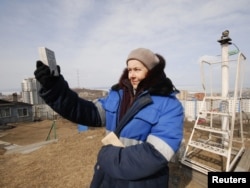 A meteorologist measures radioactivity at a weather station in Vladivostok.
Yukhmanova noted that radiation levels in Kamchatsky Krai averaged between 8 and 14 microroentgens per hour, well below the accepted norm of 30 per hour.
Likewise, emergency officials say radiation levels on Sakhalin, a large Pacific island close to Japan, averaged 11 microroentgens per hour.
Radiation levels in Vladivostok, located 800 kilometers northwest of Fukushima, rose to 13 microroentgens an hour on March 15 before falling back to 12 later in the day, news agencies reported.
The Emergency Situations Ministry says it is receiving updates on radiation levels every two hours and has warned residents not to rely on information "from untested sources."
Meanwhile, officials from the Far Eastern military district say they are closely monitoring the situation and, if necessary, are ready to evacuate people from Sakhalin and the Kurile Islands.
For some residents, the authorities' reassurances have been convincing.
"I'm not scared," says one woman in Yuzhno-Sakhalinsk. "They say the wind is blowing from west to east, carrying [the radiation] out to the ocean."
with material from RFE/RL's Russian Service and agency reports