WASHINGTON -- Some three weeks ago, tensions boiled over at an inquiry in the U.S. House of Representatives called by Republican Representative Peter King (New York) into the extent of Muslim radicalization on U.S. soil. Rallies were held to protest the hearing, rights groups accused King of McCarthyism, and as the cameras flashed inside the hearing room, a Muslim congressman broke down in tears.
And while a hearing today in the Senate, which is controlled by the Democratic Party, generated significantly less public scrutiny, many observers saw it as a direct response to the controversial probe of earlier this month. Titled "Protecting the Civil Rights of American Muslims," the hearing featured lawmakers and witnesses who warned that anti-Muslim bigotry is on the rise in the United States and must be swiftly challenged.
The hearing was called by Democratic Senator Richard Durbin (Illinois), the chairman of the Subcommittee on The Constitution, Civil Rights, and Human Rights in the Senate's Judiciary Committee.
"We should all agree that it's wrong to blame an entire community for the wrongdoing of a few," he said. "Guilt by association is not the American way, and American Muslims are entitled to the same Constitutional protections as every other American."
Trend Of Discrimination


Citing Justice Department statistics, Durbin told committee members that Muslims account for less than 1 percent of the U.S. population, but are the target of 14 percent of cases of discrimination against religious institutions that are investigated by the government.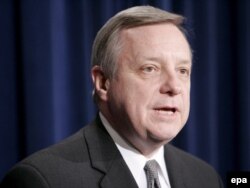 U.S. Senator Richard Durbin (Democrat-Illinois)
He said hate crimes, employment discrimination, bullying in schools, restrictions on mosque construction, and threats to burn the Koran were some of the forms that a "nationwide phenomenon" of anti-Muslim bigotry had recently taken.
The trend was confirmed by Thomas Perez, the assistant U.S. attorney general for civil rights, who testified at the hearing.
"Regrettably, while nearly a decade has passed since 9/11, we continue to see a steady stream of violence and discrimination targeting Muslim, Arab, Sikh, and South Asian communities," he said. "In each city and town where I have met with leaders, I have been struck by the sense of fear that pervades their life -- fear of violence, bigotry, [and] hate."
Perez said the Justice Department will continue to use "every available tool in our law enforcement arsenal" to prosecute anti-Muslim crimes, and in the past two years has stepped up its outreach to Muslim communities.
King Hearing Looms

While today's hearing was not officially presented as a counterpoint to Representative King's earlier Muslim radicalization hearing, it was billed as the first to focus on protecting Muslim-Americans' civil rights in a time when even official voices are adding to anti-Muslim sentiment.
Durbin told the hearing that "some have even questioned the premise of today's hearing -- that we should protect the civil rights of American Muslims." He said "such inflammatory speech from prominent public figures creates a fertile climate for discrimination."
In an interview with "The Washington Post" ahead of today's hearing, King questioned whether hate crimes against Muslims are on the rise.
He told the newspaper that he believed hearings like the one held by Senator Durbin "could perpetuate this myth of victimhood among the Muslim community."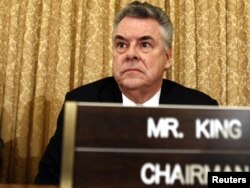 U.S. Representative Peter King (Republican-New York) at his March 10 committee hearing on Muslim radicalization in the United States.
The top Republican on Durbin's Senate subcommittee is Lindsey Graham (South Carolina), who supported the decision to call today's hearing.
But he said that while protecting the civil rights of Muslim Americans is a necessity, so too is acknowledgement that radicalization of the community is a growing problem.
"To the American Muslim community, I will stand with you [as you] practice your faith and be an integral part of this country, but you're going to have to help your country -- probably uniquely compared to anyone else -- [to] understand what's going on and fight back," Graham said. "The front lines of this war are on our own back door [and] in our own neighborhoods."
Representative King is expected to call a second hearing on the radicalization of U.S. Muslims in June.
Senator Durbin hasn't yet said whether he plans to hold more hearing on the rights of U.S. Muslims.