Thousands of Egyptians defied a government warning and took to the streets again today, clashing with security forces for a second day in a row.
Several protests took place in the capital, Cairo. In one area, riot police drove trucks into a crowd of about 3,000 people to force them to disperse.
Groups of mostly young protesters demanding the dissolution of parliament, democracy, and higher wages, and the ouster of veteran Egyptian President Hosni Mubarak held brief protests in the center of the capital.
In Suez, where three demonstrators died on January 25, police used batons to disperse some 2,000 protesters. Smaller protests were reported in several other cities.
Egyptian security officials said 860 protesters have been arrested over the past two days.
The Associated Press reported that Egyptian police arrested an AP Television News cameraman and his assistant early today while they were filming clashes between security forces and protesters in Cairo.
Earlier, an AP photographer was beaten by a policeman and injured while photographing demonstrations.
A protester in the center of Cairo told Reuters: "The main tactic now is we turn up suddenly and quickly without a warning or an announcement. That way we gain ground."
Egypt's Interior Ministry earlier banned street demonstrations and warned that protesters would be prosecuted, after activists called for a second day of antigovernment rallies across the country.
An Interior Ministry statement issued today said, "No provocative moves, or protest gatherings, or marches or demonstrations will be allowed." It also warned that "anyone" who violated the ban would be prosecuted.
U.S. Calls For Reforms
After staying silent on the first day of protests, the United States weighed in today and in an abrupt policy reversal toward its key Arab ally, bluntly urged Egyptian President Hosni Mubarak to make political reforms.
Speaking at the State Department, Secretary of State Hillary Clinton called on all sides to refrain from violence and urged Mubarak to listen to his citizens.
"We believe strongly that the Egyptian government has an important opportunity at this moment in time to implement political, economic, and social reforms to respond to the legitimate needs and interests of the Egyptian people," Clinton said.
Clinton aligned Washington on the side of protesters, and also called on authorities to not block social-media sites like Twitter and Facebook, which have aided organizers of the demonstrations.
"We support the universal rights on the Egyptian people including the rights to freedom of expression, association, and assembly," she said, "and we urge the Egyptian authorities not to prevent peaceful protests or block communications including on social-media sites."
President Barack Obama's spokesman, Robert Gibbs, told reporters, "This is an important time for the government to demonstrate its responsibilities to the people of Egypt in recognizing those universal rights."
Also today, Amnesty International accused the Egyptian authorities of "reckless policing" and urged restraint against protesters.
It called on authorities to open an investigation into the killings of protesters and hold those responsible to account.
The Egyptian government today denied earlier reports that social-networking services Facebook and Twitter had been blocked. Facebook and Twitter have been used by protesters to share information and coordinate activities.
Second Day
Today's demonstrations followed protests on January 25, during which tens of thousands of people took to the streets. They were the largest protests against Mubarak since his authoritarian regime came to power three decades ago.
Police fired tear gas and water cannon on crowds in Cairo as demonstrators pelted them with stones and threw tear-gas canisters back at security forces.
Two protesters were killed in Suez, to the east of Cairo, when police fired rubber bullets at close range on demonstrators. A third protester wounded by a rubber bullet there died today from his injuries. A police officer was killed in Cairo when he was hit in the head by a rock.
Toward the end of the day on January 25, demonstrators across Cairo converged on Tahrir Square in the city center, vowing they would stage a sit-in demonstration there until Mubarak's government collapses.
But shortly after midnight, riot police used tear gas and water cannon -- charging at the crowd and dispersing the protesters there.

April 6 Movement
Calm had returned to Cairo by early morning today. But the pro-democracy youth group that launched the call for the January 25 protests, known as the April 6 Movement, was using its Facebook page again to urge people to reassemble in central Cairo.
Ehab el-Zelaky, managing editor of the Cairo-based "Al-Masry al-Youm" newspaper, says the use of social networks like Facebook and Twitter to organize demonstrations has changed the dynamics of the opposition in Egypt, empowering a younger generation of political activism.
Some 80,000 Egyptians had vowed on Internet petitions that they would take part in the January 25 protests. Far fewer -- some 20,000 -- actually turned out, but political analysts were surprised that the organizers were able to translate their cyberprotest into such large street actions.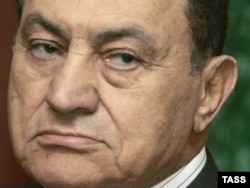 Egyptian President Hosni Mubarak
Indeed, even protest organizers appeared to be taken aback by the number of demonstrators who took to the streets. Before those rallies began, they had said they would consider their effort a success if there were just a few thousand demonstrators.
Most of the protesters appeared to be under the age of 30. But the rallies did draw Egyptians from all age groups and walks of life -- young and old, Muslims and Christians -- united behind the call for Mubarak's resignation.
New Political Opposition?
Conspicuous by its relative absence was Egypt's biggest organized opposition bloc. The outlawed Muslim Brotherhood did not formally support the January 25 rallies, even though it said some of its members were taking part on their own initiative.
That has Egyptian activists like Gameela Ismail wondering whether a new organized political opposition may emerge in her country as a result of events that unfold in the days and weeks ahead.
"Where will it lead? That is the question. Will our demands be met? We have a lot of demands, starting from Mubarak leaving all the way down to other social, economic, and political demands," she says. "Which will come true and which will wipe away the tears and which will continue to be a problem are all questions we don't know the answer to now. We can just say we are going through trial and error. If, for example, a child is born, what will happen to him? We don't know yet."
written by Ron Synovitz, with contributions from RFE/RL's Radio Farda